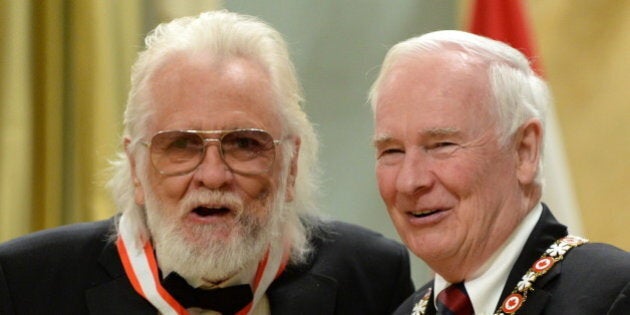 Rockin' Ronnie Hawkins was in a studio recording "Big Boss Man" and "High Blood Pressure" on May 7, 1963 with five backing musicians who later became The Band. Fifty-one years later, the legendary rocker -- an Arkansas native who has called Ontario home for a half-century -- was honoured with the Order Of Canada
Hawkins was one of 45 new appointees to the Order of Canada and received the honor by Governor General David Johnston today at a ceremony in Ottawa. The 45 new appointees include 35 introduced as members at the Rideau Hall ceremony and 10 named as officers of the order, one of which will be Hawkins.
The musician, who fronted The Hawks which featured members of The Band, remains an American citizen despite living in Canada for 50 years. In 2002, Hawkins was inducted into Canada's Walk of Fame. In 2004, he was inducted into the Canadian Music Industry Hall of Fame.
Other honorees include filmmaker Deepa Mehta, University of Alberta hockey coach Clare Drake and Radio-Canada news anchor Celine Galipeau.
Popular in the Community