Roll Up The Rim is back starting Monday, and Tim Hortons is using the contest to mark their 50th anniversary in a big way. For the first time ever, Tim Hortons is offering customers two chances to roll up the rim on each cup. Yes, that's right. Two rolls on every cup.
Each cup will have a yellow arrow pointing to the usual spot to roll up the rim -- plus a blue arrow pointing to another spot on the cup where there's an additional chance to win. Like this: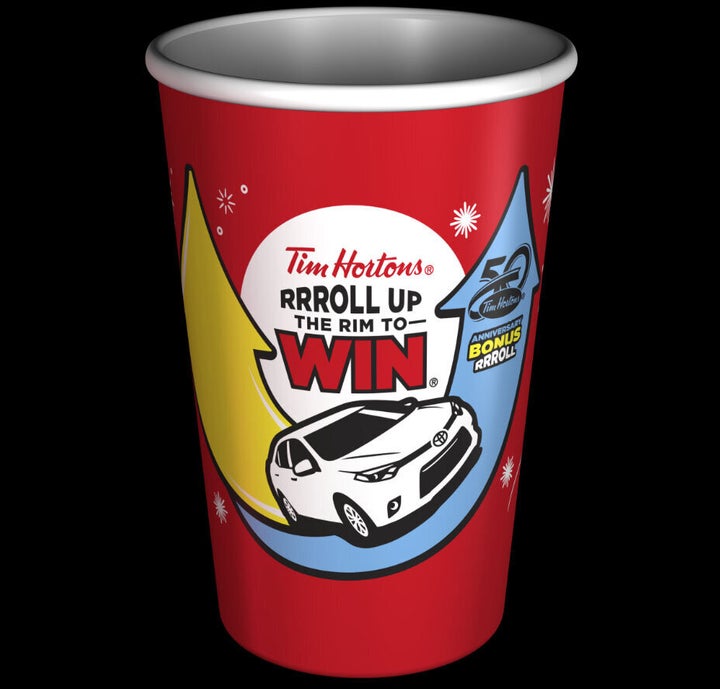 The second roll-up-the-rim spot offers the chance to win one of 10 Toyota Corolla Sports. Tim Hortons usually offers 40 cars as Roll Up The Rim prizes but they upped the number this year, the company revealed exclusively to the Huffington Post Canada.
"So it's 50 cars for 50 years," said Glenn Hollis, Tim Hortons vice-president of brand strategy.
"This now puts another arrow on and another chance to win for our loyal guests."
Hollis added that the design of the cups is "very cool and very tasteful". The 50th anniversary seemed like the perfect opportunity to test out using more rim real estate for prizes, he added. The idea has been in the works since the middle of last year.
"When brainstorming, someone said 'Hey, you know what we could do? We could still use the rim ,we don't need to have some other mechanic. Canada is so used to being able to roll up the rim.
"And then everything kind of snowballed and there was this collision with the obvious opportunity to add another roll and 10 more cars."
The bonus roll is not intended to be a permanent fixture of the contest, but rather a celebration of the iconic chain's 50th birthday.
Among the 47 million prizes being given out this year are 50 grand prizes of 2014 Toyota Corolla Sports, 100 Visa prepaid cards worth $5,000 each, 25,000 $100 Tim Cards, and of course millions of coffee and food prizes.
Tim Hortons says there are more than $57 million in prizes to be won. The contest starts Monday, Feb. 17 and runs until Apr. 25 or until supplies last.
Last year's Roll Up the Rim prizes included 100 pre-paid MasterCards loaded with $5,000 each, 40 Toyota Rav4s, a thousand Napoleon grills, 25,000 Tims gift cards worth $100 each, and 47 million food and beverage prizes.