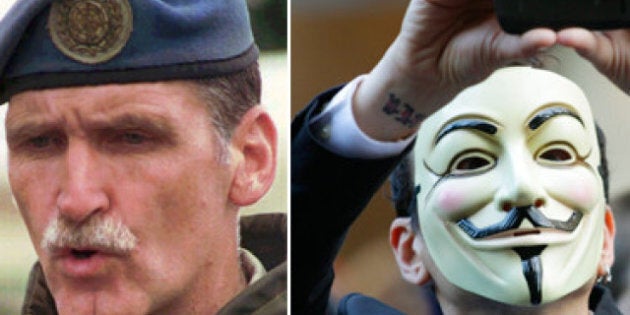 If there were two things that defined 2011, they were the Arab Spring uprisings that threw the Middle East into turmoil and the Occupy Wall Street protests in North America and Europe. But Canadian Senator Romeo Dallaire, the former U.N. general lionized for leading the besieged peacekeepers during the Rwandan Genocide, says a third revolution connects the two movements — the communications revolution.
"We are in an era of conflict with a certain world disorder, a time of revolutions, with the communications revolution being one," Dallaire tells Huffington Post Canada.
"It's starting. We are entering an era where the revolution in communications is empowering the under-25s and they're able to start realizing that they can coalesce in real-time around the world. They're also getting more information about what's going on around them, whether they want it or not, because it's all being punched out every minute," he says, adding that their power extends beyond protests.
"The 2.9 million votes that they represent (in Canada) have never been used and there are MPs who are elected with less than 50 votes. That means one class out of a political science course at U of T could have gone and voted and there would have been a different result at the end. So they hold the balance of power in our democracy with that vote."
"The gesture of that young page in the Senate has got to be one of the most significant expressions of opinion of that generation of under-25s has yet seen in this country. You've got all the Senators, all the MPs, the Governor-General, you've got the Prime Minister, the Chief of Defence staff, the Superintendent of the RCMP, all the Justices of the Supreme Court, you've got the whole gallery, you've got the whole country's media in this incredibly decorous room and she goes and walks in the middle of that, very stoically, and puts her sign up, turns around and shows her sign to the other gallery and then is escorted away. No screaming, no yelling, (just) enormous dignity."
About a month later, her singular statement was amplified a thousandfold when Vancouver-based Adbusters suggested protestors take inspiration from the Arab Spring and tweeted the hashtag #OccupyWallStreet.
Dallaire says Occupy is a "magnificent" movement that finally calls out the one per cent for taking advantage of the other 99. "It's been since the '60s that we've waited for something like this," he says, adding "the greed side of capitalism irks me significantly." In particular, he's upset at the ongoing economic crisis being used as an excuse for isolationism.
"In these capitalist-based democracies, which are not necessarily social democracies, it's fast and very efficient to simply say 'hey, jeez, we've got economic problems here, so we (should) hunker down and try to sort out our own.' In so doing, they can drop soft objectives like human rights because they can get away with it."
But as this tumultuous year winds down, Dallaire hopes we look at the bright side of all this global unrest.
"It can be perceived as a very negative time or it can be perceived as a very positive exercise in maximizing all that energy. We're moving towards more of these revolutions that I consider positive assets in significantly shifting the state of the people in those nations: their human rights and their ability to progress and to have hope. They can do this by not just force of arms, but by using the technologies that are available to get engagement by the international community," he says.
"They don't use landlines. They use cell phones. So they can coalesce, if they want to, exceptionally rapidly. It's interesting how that (communications) revolution will influence the future. It's something to be watched. Are the political elites fast enough on their feet to stay ahead of the game? Let's say they're holding their own, barely."
Popular in the Community