OTTAWA — Interim Conservative Leader Rona Ambrose places much of the blame for the problems facing indigenous women with the male chiefs that run many First Nations.
In a wide-ranging year-end interview, Ambrose, elected leader by the Conservative caucus in November after Stephen Harper stepped down, answered a number of questions from Huffington Post Canada readers.
She said she changed her mind and decided to support an inquiry into missing and murdered indigenous women and girls just before the election after meeting with family members and realizing that an inquiry had become "very symbolic" for them. In May, she voted with the Conservatives against an NDP motion that called for an inquiry.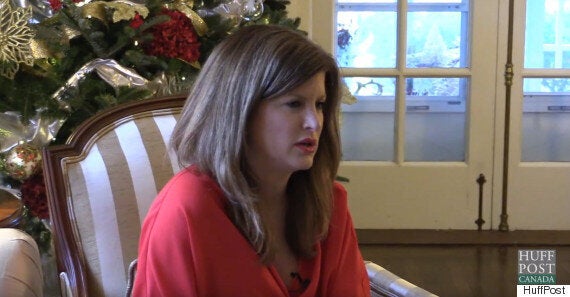 Interim Tory Leader Rona Ambrose speaks to The Huffington Post Canada.
"It's really an issue of them having a chance to speak … and I think it's important for them to have the inquiry," she told HuffPost. "But also a lot of responsibility lies at the feet of the chiefs. I've always said that. Always. And I'll continue to say it.
"It's not enough for them to stand up and say 'We need an inquiry.' It's good for the families and the women to have an inquiry, but the chiefs need to step up. They really need to step up. Some of them have done good things on their First Nations, but there is a lot that is lacking."
The federal government cannot be the only body that comes up with solutions, Ambrose said.
"There is a lot of issues surrounding the availability of resources and how resources are allocated on First Nations, and how women are treated and in some respect there has been some good leadership and in others there hasn't, and so it's going to take everybody…. But the men have a big role to play."
"A lot of responsibility lies at the feet of the chiefs. I've always said that. Always. And I'll continue to say it."
Ambrose said she still believes the Tories had a "valid argument," they wanted to focus on action rather than more study. She hopes the Liberals won't drag the inquiry for years on end — and she suggested that most people know where the solutions lie.
"A lot of people who have been involved in this issue, like me, would say: 'I know exactly where to put the money. Give me the money, I'll take it, and I'll put it where it needs to go.'"
Ambrose said she's dismayed some of the money the Conservatives set aside — such as $45 million for women's shelters on First Nations reserves — has not been spent.
The Conservatives have undeservingly received a negative reputation among some First Nations people, Ambrose said.
"We had a very good relationship with the Assembly of First Nations under Chief [Shawn] Atleo for many, many years," she said.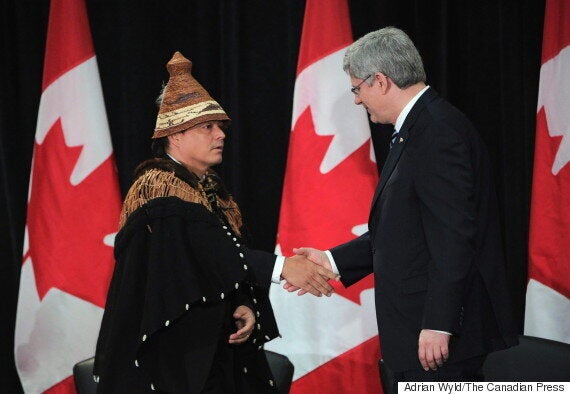 Former prime minister Stephen Harper shakes hands with ex-AFN chief Shawn Atleo at an event in 2012. (Photo: Adrian Wyld/CP)
The Tories settled more land claims than any other government, Ambrose said, and championed matrimonial property rights to ensure that women couldn't be thrown out of their homes. They sought to create investment opportunities and funding for groups that support aboriginal women and were willing to invest billions in First Nations education until a "political coup" forced the Tories' partner, Atleo, to resign, Ambrose said.
"We had the full support of the entire AFN, there was even a peace pipe smoked among everyone for the new agreement on education [but] there was a political coup and Mr. Atleo resigned and Mr. Bellegarde took over."
Ambrose said she's waiting to see what Trudeau will actually deliver for First Nations.
"I am skeptical about anyone who says that this is a brand new relationship without showing me results."
She said she wants to ensure the Liberals have "accountability frameworks" so that millions handed over for safe drinking water will "actually be spent on drinking water … and money that is given to First Nations for women's organization actually gets to the women.
"I think there is a lot of politics involved, and I think the politics hurt the First Nations people."
Unhappy that Liberals are rejecting First Nations Financial Transparency Act
Last week, Indigenous Affairs Minister Carolyn Bennett announced the Liberals would stop withholding funds and suspend court action against bands that had failed to comply with the law. Under the act, First Nations are required to disclose publicly both financial statements and the salaries and expenses of chiefs and councillors.
"Aboriginal people deserve to know where the money in their community goes, and there are many chiefs that are very good leaders, very good representatives of their communities and others that are not," Ambrose told HuffPost. "This is public funding. Every charity, every other group that receives taxpayers' money discloses their finances publicly."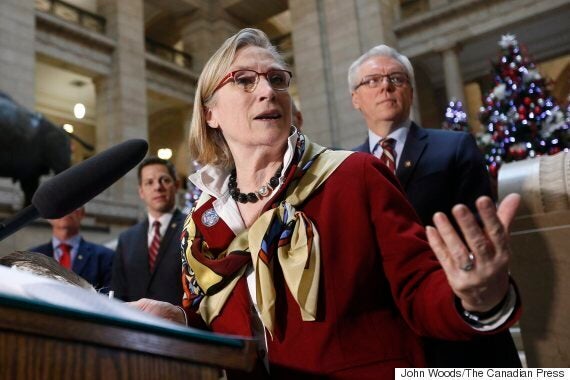 Indigenous Affairs Minister Carolyn Bennett. (Photo: John Woods/CP)
More than 90 per cent of First Nations were already disclosing their finances publicly and were happy to go along with the Tory government's plan, she said.
"So why does a handful of chiefs that were opposed to this set the agenda? And why would the Liberals support that? I mean they are supposed to be all about transparency, so why not about First Nations finances?"
"Transparency and accountability are paramount to any government," Bennett said, adding that the Liberals will work in "full partnership" with First Nations leaders to improve accountability and transparency.
"This cannot be achieved without the engagement of First Nations and its members,'' Bennett said in a statement. "These initial steps will enable us to engage in discussions on transparency and accountability that are based on recognition of rights, respect, co-operation, and partnership and that build towards a renewed, nation-to-nation relationship with indigenous peoples."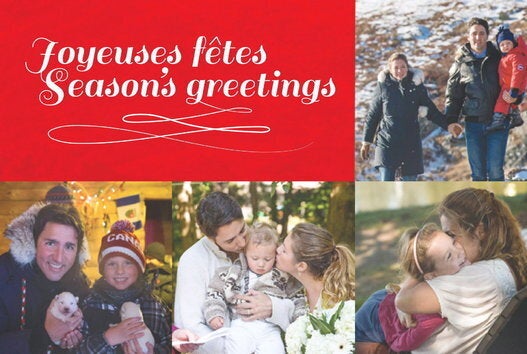 Federal Leaders' Holiday Cards