Conservatives are pushing the Liberal government to abandon plans for a national carbon tax and forcefully advocate for the approval of the Keystone XL pipeline now that Americans have elected Donald Trump.
In the first question period since Trump's stunning victory last week, interim Tory Leader Rona Ambrose painted the U.S. president-elect as both a competitor and ally when it comes to Canadian energy.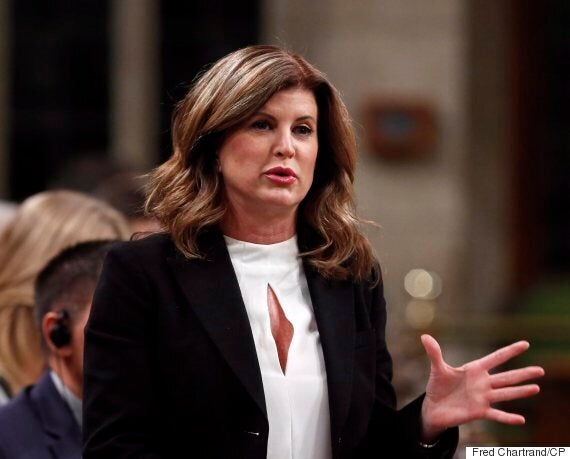 She also said Prime Minister Justin Trudeau needed to "accept a new economic reality in North America."
A carbon tax in this country, Ambrose said, will give the U.S. a "significant advantage over Canadian businesses doing global work." Trudeau is setting Canadians up for failure, she charged.
Fisheries Minister Dominic LeBlanc responded on behalf of his boss, who was away from the House of Commons and courting investors in Toronto. LeBlanc said that putting a price on pollution will stimulate growth and create jobs.
"The prime minister said Canada has no closer friend, partner and ally than the United States and we look forward to working with the new administration on global energy challenges and the environment," he said.
Ambrose wants PM's public support for Keystone
Ambrose then shifted to Keystone — a pipeline Trudeau supports. She asked if the prime minister was moving "as fast as possible" to push the project ahead.
LeBlanc said it is up to TransCanada, the company behind Keystone, to again apply for a U.S. presidential permit. In 2015, U.S. President Barack Obama rejected the pipeline, which would take Alberta crude to the American Gulf Coast.
Tories applauded when LeBlanc noted the Canadian portion of the project was approved in 2010 under the last government.
Ambrose accused Trudeau of ignoring unemployed energy workers and suggested an "opportunity has presented itself" with Trump preparing to take office in January. Republicans will also control both the U.S. House of Representatives and Senate.
"Will the prime minister move quickly to lend his public support to this pipeline or will he continue to leave these unemployed energy workers wondering about their jobs?" she asked.
Liberals aren't changing course
LeBlanc said Liberals are creating a system that will get resources to market in a sustainable way and earn the confidence of Canadians. The United States has its own process, he said, and it will be up to TransCanada to work with the incoming administration.
"And we look forward to working with that administration as well," he said.
Trudeau has made it clear that he does not see the election of Trump as cause to pivot away from his government's plans to fight climate change. He unveiled last month that Liberals will impose a national floor price on carbon emissions in 2018, rising to $50 per tonne by 2022.
"President-elect Trump would love a carbon tax… for Canada. Why wouldn't he?"

— Tory MP Pierre Poilievre
"President-elect Trump would love a carbon tax… for Canada," Tory MP Pierre Poilievre said later in the House. "Why wouldn't he? Higher energy costs in this country will mean more factories and jobs will move to his country."
Poilievre accused Liberals of seeking to tax away good "blue collar" jobs.
Jonathan Wilkinson, parliamentary secretary to the environment minister, reiterated that Liberals look forward to working with Trump. He said Liberals are committed to the Paris agreement and will work with the provinces and territories on a pan-Canadian strategy to fight climate change.
"The Liberal carbon tax will create good-paying, blue collar, American jobs," Poilievre said. "U.S. competitors will have a yuge advantage."
Trump win threatens Paris deal: NDP MP
But NDP MP Sheila Malcolmson expressed concerns about what recent changes will mean for those gathering this week at the United Nations climate change conference in Marrakech, Morocco.
"The election of Donald Trump threatens to dismantle the entire Paris agreement," she said.
Malcolmson wanted to know what Liberals will do to protect the Paris deal and when they will strengthen the greenhouse gas emission targets adopted from the previous Conservative government.
Wilkinson said Environment Minister Catherine McKenna is in Morroco, ready to work with international counterparts to implement the agreement reached in France last year.
"Canada is a strong supporter of that agreement," he said.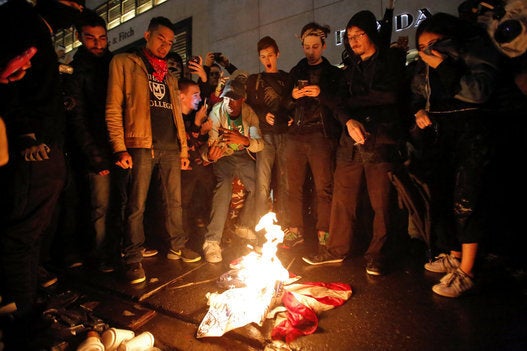 Donald Trump Win Sparks Protests Nationwide
With files from The Canadian Press
Popular in the Community