Interim Conservative leader Rona Ambrose threw a backhanded compliment at Prime Minister Justin Trudeau as he deals with the new reality of American president-elect Donald Trump.
"Prime Minister Trudeau loves hanging out with billionaires," Ambrose told her caucus Wednesday. "This could work out."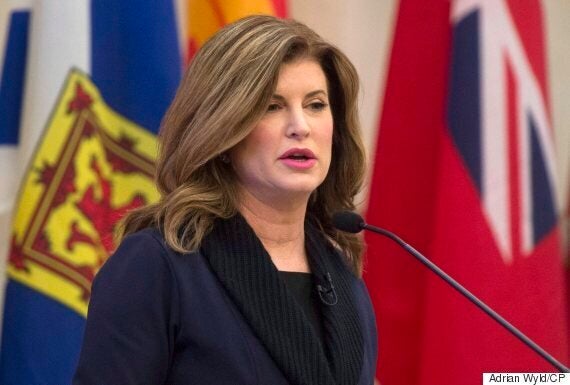 Interim Tory Leader Rona Ambrose speaks to caucus on Nov. 16, 2016. (Photo: Adrian Wyld/CP)
Ambrose said Trudeau is no stranger to schmoozing with the rich.
"(He) spends time with them in Davos, at a billionaire retreat in Sun Valley, with Chinese billionaires at Meech Lake, and earlier this week, with hedge fund managers and billionaires at the Ritz-Carlton here in Toronto," she said.
While Liberal MPs maintain the prime minister works hard to promote Canada with possible investors — be it at the World Economic Forum last January or a summer visit to an Idaho ski resort — Ambrose tried to paint Trudeau as out of touch.
And she suggested the government's plan for a so-called infrastructure bank is a prime example.
Blasts infrastructure bank plan
Liberals committed in their economic update earlier this month to use $35-billion in public money to create an investing system many times that size by pulling in private sector dollars.
In Toronto this week, Trudeau wooed institutional investors with a combined capital pool of $21 trillion to contribute to the plan to build new bridges, highways, and other transit projects.
"Let me just decode this for you. It's a plan to take loans for bridges, hospitals, and schools from foreign billionaires," Ambrose said. "Billionaires who, let's make it clear, are not doing it out of the best interest of Canadians. They are going to be looking for a return."
The Tory leader charged that Canadian jobs will be kept at a minimum, and taxpayer dollars will come second to profits.
"Decisions about tolls and user fees will be made in boardrooms in Beijing and Dubai, not here," she said.
Ambrose told her troops Wednesday that Tories needed to be the voice of ordinary taxpayers.
She said that "even though the prime minister is spending some more time in the sun today" — an apparent dig at Trudeau's trip to Cuba — Conservatives will hold them to account.
Her language mirrored concerns about the infrastructure bank flagged earlier by New Democrats. NDP finance critic Guy Caron accused Liberals of not being straight with Canadians about plans to sell-off public infrastructure. He also said private investors won't just fork over money out of the goodness of their hearts.
Infrastructure Minister Amarjeet Sohi , however, says those fears are off-base. Sohi told The Canadian Press the plan won't inevitably mean new fees and road tolls or state-owned enterprises controlling vital Canadian infrastructure.
Trump, she said, is promising major personal and business tax cuts, and won't be pursuing a carbon tax. She charged that Liberal plans to phase in a national carbon price will drive away investment and send jobs to the U.S.
She also accused Trudeau of having "gone silent" on the Keystone XL pipeline, a project Liberals support, at a time when pro-pipeline Republicans are set to control all three levels of the U.S. government.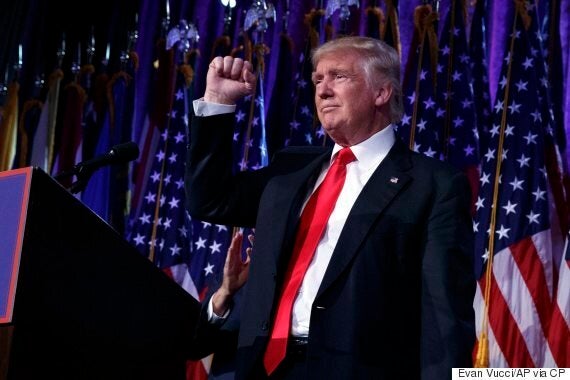 And she blasted Trudeau's musings about discussing the North American Free Trade Agreement with Trump, who threatened to kill the deal on the campaign trail.
The Tory leader said Trudeau offered to open up the agreement before even being asked.
"Wow, that is some tough negotiating. Clearly, he never read 'The Art of The Deal,'" she said, referencing Trump's famous business book.
The Canadian Press reported Wednesday that Canada and Mexico discussed similar public messages on NAFTA in the wake of Trump's win.
With files from The Canadian Press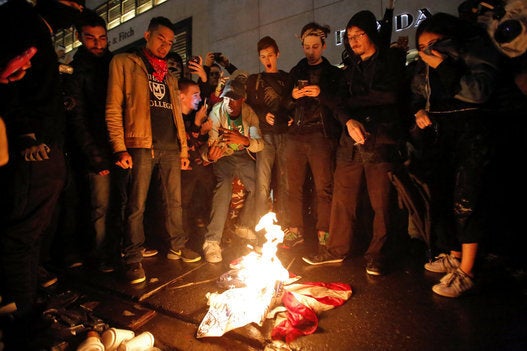 Donald Trump Win Sparks Protests Nationwide