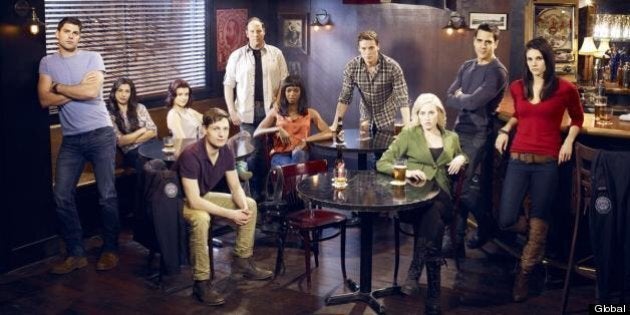 On the Toronto set of "Rookie Blue," Dov Epstein (Gregory Smith) isn't chasing down criminals, dodging bullets or processing evidence. Instead, he's dealing with bird poop. No, seriously. In the script, a bird bombs him with droppings.
It's one of the lighter moments in what promises to be a turbulent fourth season for the boys and girls in blue. On a crisp November afternoon in 2012, most of the cast -- Smith, Missy Peregrym, Charlotte Sullivan, Matt Gordon and Peter Mooney -- sat down with HuffPost TV to discuss character arcs, repercussions and life lessons.
In last year's finale, Andy (Peregrym) and Nick (Mooney) accepted an offer to join a covert task force without telling their respective romantic partners, Sam (Ben Bass) or Gail (Sullivan) about their decision or whereabouts. Six months later, the pair is still undercover in a meth operation and the situation becomes dire when one goes missing.
"When we come back, Nick and Andy are essentially still in character," explains Mooney while taking a break. "When we first see them, they are fully in that world. It's not the uniform. It's a big shift when you spend 24/7 in that environment. It's a morally tough place to be in."
"They've topped last year's premiere with a really exciting story," adds Smith a few hours later. "We do have an amazing actor named Louis Ferreira guest starring. He's in the first episode and the script is really strong, fast and tense. People are saying it's one of our best ever."
Once their mission is over, Andy and Nick return to their friends and colleagues in Division 15. It should be business as usual, but while some welcome them back with open arms, others have started new relationships. And if the promo of Gail slapping Nick in the face is any indication, she's fairly peeved with his abrupt departure.
"When Nick comes back, it's not the same," acknowledges Sullivan. "There's definitely a massive amount of tension between the two of us. My relationship with Andy becomes incredibly strained. It's an interesting thing to play. There are two new characters that come on board that have been amazing additions because it's like they've been here the whole time. But, Gail also feels incredibly threatened by anyone who comes in and she feels her job might be compromised in some way."
"I can't discredit the complication," confirms Mooney about the Nick/Gail dynamic. "It's happy, but it's tricky. Nick and Andy essentially disappeared. It was an eleventh-hour operation and the only way to go into it was to cut ties. From what I understand, these things are very much like this in that you can't live in both worlds. For the time, you disappear into that world. That's a bitter pill to swallow when you're in a relationship. I get in a lot of trouble on Twitter for this, but I did think Gail was going to France anyway."
As for Andy, Sam had just said those three magic words, "I love you." Apparently, it was too little, too late.
"Andy is over it," says Peregrym. "It's fine. It's good. I've recovered from that whole thing and then I see him again and it's like there is nothing I can do about it. There's this chemistry. It sucks because I come back to the division and obviously things have changed. He's moved on. I don't think I really expected that, considering we broke up because he couldn't do his job and be with me. I don't think I took that as a personal thing. I thought it was, 'I can't be in a relationship and do my job.' The fact that I come back and see that he's moved on, I'm like, 'Wow. It was me you couldn't be with.' It's a tough thing for Andy to process. She has to work with this new girl and Marlo (Rachel Ancheril) is great. She's really good at her job, and strong. As much as I would love to hate her, I can't. I just have to be a grown-up and deal with it.
"I like the way they [the writers] are handling the relationship," she continues. "It's realistic. It hasn't just been one of those dramatic things where we're breaking up for no reason. It was a serious thing that happened and that's real life. You kick important things out if you don't know how to deal with them and I got kicked out. It doesn't mean we don't love each other, so I think there's always going to be something there. I trust the creative team to be careful with it. I want this to be as organic and real as possible, not just soapy."
Dov had a rough time with shooting and killing a boy in Season 3. Psychologically, he was a mess, but seems in a much better headspace now.
"The theme this year for the show, and a lot of the characters, is 'Change or die,'" reveals Smith. "This is the year that metabolizes the heartbreaks and optimism that Dov came out with as he tries to find an even balance."
Nick has the chops to be a good officer. A former soldier, he stumbled onto the police force after completing a tour in Afghanistan. Initially seeking to replace that adrenaline rush, he's discovered how important being a cop is to him.
"Nick comes in feeling more experienced than most of them because of his military background, but they are two totally different worlds," reports Mooney. "While he is familiar with the gear and how to interact with all that stuff, he's not as familiar with the problems of being a cop in a big city. He's still a little green in that part. He's still a bit hot-headed. There's a learning curve there for him. That continues to come up this season. He's fundamentally a good cop, but he doesn't always go about things in the correct way."
Sitting in her trailer, Sullivan is positively giddy about what's in store for Gail. The problem is, she can't divulge any of it.
"So, this is going to be the most boring interview known to humanity," quips Sullivan.
Not so. Gail had only recently been reinstated after a suspension. She was previously abducted and the court case was to be held in three weeks, which would have been over "Rookie Blue"'s hiatus. That proceeding is still looming over Gail's head.
"She has to revisit that situation all over again, in a slightly 'Silence of the Lambs' kind of way," teases Sullivan. "On a personal level, there's a huge change this season. I cannot wait for this to come out because it's a very exciting character arc. The way in which they are going to handle it is going to be quite elegant and they are going to do it right. It's slowly beginning to introduce itself. The change is happening more in Episode 8."
Further complicating matters is her hunky former flame, Chris (Travis Milne), who is contemplating leaving the city to be with a previous girlfriend after discovering she had his child. Could there still be unresolved emotions between Gail and Chris?
"There will always be, but Gail is not one to show how she feels about anything," says Sullivan. "She's such a weird entity. Gail has always been not part of the group and yet, she's a rookie. Probably from their point of view, she's a hanger-on, but she's never been part of the tribe. She's a very eccentric, weird creature."
In essence, Gail is the Ally Sheedy of this little "Breakfast Club."
"That's a great reference," laughs Sullivan. "Totally. Yeah, we just need her to pour out her purse with all the tampons in it. I think she's a cutter. [Laughs] I'm kidding. Gail has such a morbid sense. She's obsessed with the morgue. She's obsessed when she goes to crime scenes. She wants to see the dead body."
A veteran of the police force and a training officer among the rookies, there's no question Oliver (Gordon) is one of the best at what he does. Unfortunately, that energy and dedication hasn't seeped into his family life. Suffering from neglect, Oliver's wife kicked him to the curb in Season 3.
"With my family last year, I was thrown out of my house because I'm too committed to my job and friends," explains Gordon. "As this season progresses, I end up back with my wife, trying to work things out. Things are a little bit strained. Oliver still has a lot of challenges he is trying to overcome. Part of dealing with these kids is I get to bounce my own life experiences off of them. He can learn about his own life through watching these guys go through their own trials and tribulations."
Through the season, the rookies will become involved in an anthrax scare, a lost tourist who doesn't speak English and yes, a Friday the 13th episode. They have experienced some dark days in their careers already, especially with the death of Jerry (Noam Jenkins) in "Out of Time." Nonetheless, Mooney notes Season 4 will be "relentless" as the characters are put through the emotional ringer.
"A lot happens to us," says Mooney. "The rookies are faced with a lot big things. Old skeletons come out of the closet. What happened to Jerry last season leaves a lasting impression on everyone. Even the people who didn't know him well ... there's a mark on the station that still lingers in the air. There will be a lot of payoff for our longtime viewers."
"This season just seems different," Peregrym concludes. "Everyone is in a different place. Chris has a kid. He is a family man now. Traci (Enuka Okuma) doesn't have her fiancé anymore. There's a lot of heaviness and reality. We've grown up and had painful things happen. Heartbreak ... everyone has had it. It's a different vibe and I like it."
"Rookie Blue" Season 4 premieres on Global at 10 p.m. ET/PT in Canada and ABC in the U.S. at 10 p.m. ET/9 p.m. CT.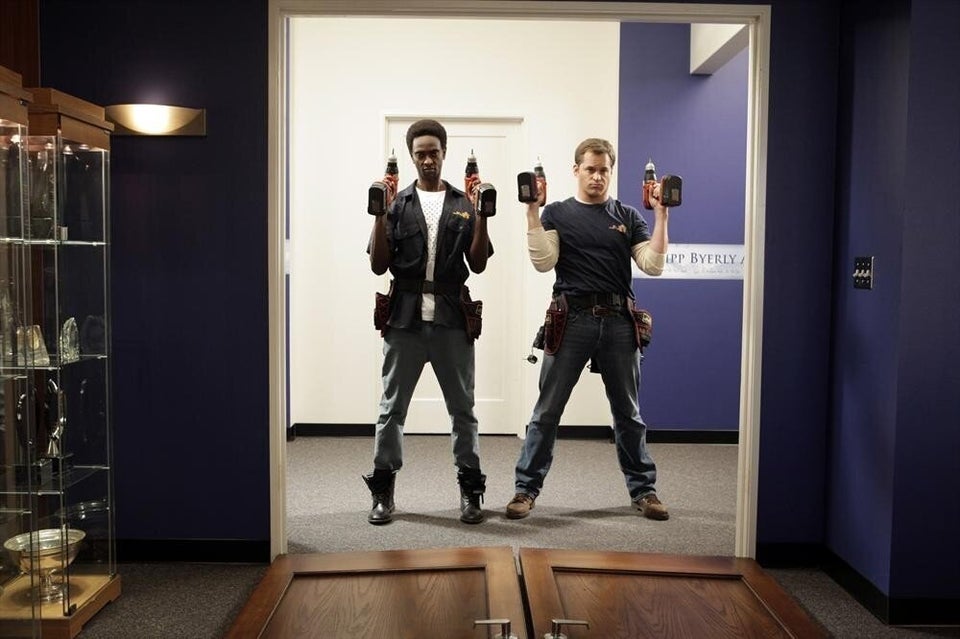 The Ultimate Summer TV Guide