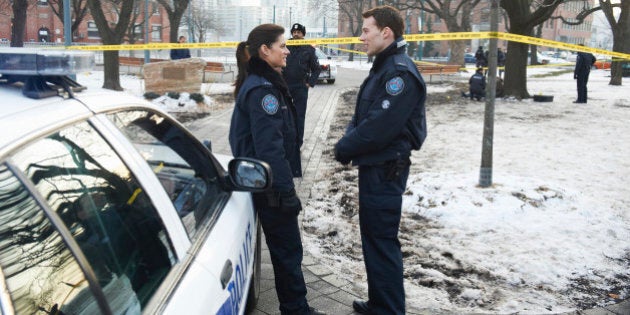 No police academy course or simulation exercise could have prepared Division 15 for the events that unfolded in "Under Fire" and "You Can See The Stars", the two-part season-four finale of "Rookie Blue".
The intense episodes found criminal Kevin Ford targeting the precinct's officers. On two separate occasions, he shot Officer Chloe Price (Priscilla Faia) and then later Officer Sam Swarek (Ben Bass). Both were gravely wounded and their survival uncertain by the end of the season but viewers won't have to hold their breath much longer once "Rookie Blue" returns on May 19.
"We did a really interesting thing this year, where it picks up right where we left off," says Peter Mooney, sporting a full uniform during an on-set interview in April. "We pick up at the hospital. It will be exciting for the audience because last season ended with so much stuff up in the air and we didn't resolve anything in the downtime."
Charlotte Sullivan also took time to chat with HuffPost Canada TV on set. Together, they discussed broken hearts, character evolution and fresh faces.
On a sunny Monday morning, it's back to business. The boys and girls in blue have gathered in the main conference room. Officer Oliver Shaw (Matt Gordon) stands at the front talking about their latest assignment. The "plum job" revolves around clearing out any stragglers from a subsidized housing complex about to be demolished. There's some grumbling amongst the officers and in true snarky Gail fashion, Sullivan pipes up and says, "I'd rather mop the gym floor with my tongue."
For some reason, Sullivan begins giggling before erupting into uncontrollable laughter. It's contagious, too, since Missy Peregrym follows suit. Moments later during a break, Sullivan confesses it wasn't the dialogue that had her in hysterics, but a co-star.
"It's Matty," explains a grinning Sullivan. "When Matt Gordon is not on camera, he does some really stupid stuff. It's never the text. He was doing things that were very inappropriate behind the monitor."
It's not all fun and games. The episode in filming, Moving Day, deals with a serious topic Mooney has been witnessing first hand.
"This is something that is going on in the community I live in right now," reports Mooney. "They are demolishing a bunch of public housing buildings and the police are there to make sure the last people have moved out. As you can imagine, the stories of the last people are more complicated than the people that were ready to go on the deadline. It's never easy."
An Officer And A Gentleman
Poor noble Nick (Mooney). He and Andy developed feelings for each other while on a six-month undercover sting. The two began dating, but when Sam was shot in "You Can See The Stars," Andy rushed to his side and told her former flame, "I love you. You're my story." So, where does that leave Nick?
"Nick stepped away in the season finale last year," states Mooney. "Those life and death situations sometimes bring things into a sharp focus. Right off the top, Nick takes himself out of the equation. That's tough because we all come to work every day. It's difficult, especially at the beginning of this season, but it will be on to different adventures for him."
"This season, there's a lot more cop stuff than personal for Nick," continues Mooney. "As the season goes on, there will be some big reveals about his past and personal life and where he comes from. There's still a lot of procedural stuff, including the revisiting of an old tradition at the station, which is a fun episode."
Gail Kissed A Girl…And She Liked It
Okay, so maybe it didn't go down exactly like that. Gail has been in romantic relationships with both Chris (Travis Milne) and Nick, but Sullivan always suspected her character was a lesbian. Nick hooking up with Andy and breaking Gail's heart seemed to be the final straw. Season four saw Gail hit it off with forensic pathologist Holly Stewart (Aliyah O'Brien) and the two soon became an item. Sullivan was ecstatic with the development.
"They could have just put me in another relationship with another man," notes Sullivan. "That would have been great. Of course, it's Gail. There will always be tension. What's amazing is because it's a woman, it raises and changes things inside of my character. I get to play it totally different as to what I would have been doing if it were a man."
"Someone did say to me, and it kind of bothered me, 'Oh, we think the relationship is groundbreaking.' I'm like, 'Groundbreaking? This is so normal. This isn't groundbreaking.' I want people to watch it and feel represented. Now, more than ever, I've felt… I'm a white woman with blonde hair. I'm literally represented everywhere. Whereas, different races, different ethnicities, different genders… like transgender or gay… they need something to see that's just normal and not needing to have an episode of coming out. It's just regular. That's why I really loved it. It wasn't liked we needed to have this big reveal. It was just a normal experience."
For the longest time, the writers considered a gay storyline. They even hinted at it back in season three, although there were moments of hesitation.
"My reaction was, 'are we doing this just to kiss a girl on screen because I don't want to do that,'" says Sullivan. "I want it to mean something. I had even talked to executive producer Tassie Cameron in season one. I said, 'What is Gail's sexuality?' She was like, 'Isn't it clear?' I was like, 'no. Who is this woman?' Once I told Tassie my instinct was that Gail was gay, Tassie took it and ran with it. I'm honoured that she included it in the storyline.
You feel like you have a voice in this show. I have opinions and I get to talk to the writers about them and they listen. Not all my ideas are great. I once asked if I could wear a green wig and dance around like a robot and they said, 'Absolutely not.' But I get to make this woman mine and that's the exciting part of it." .
Gail and Holly's honeymoon phase won't last forever. Expect their relationship to be tested. A tragedy will also change Gail forever.
"There are bumps in the road," admits Sullivan. "This is like a soap opera. My character does something this year that is quite bold. Something really affects her. A case. She's so deeply affected that she does something about it and it alters her entire life."
Every season, "Rookie Blue" introduces new characters to shake-up the team dynamic. This year is no exception. Eager rookie Duncan Moore (Matthew Owen Murray) will have problems fitting in and rub his fellow cops the wrong way. Meanwhile, Inspector John Jarvis (Oliver Becker) is out to make his mark on Division 15.
"Duncan is a real burst of energy and a different cop than what we've seen on the show before," explains Mooney. "When people first see him, they might be familiar with the type, but as we get to know him more, there's a lot more to him than is immediately apparent."
"Duncan and I get along off the top," Mooney adds. "He lets me down early on. I feel he has the potential to let others down in bigger ways throughout the season because of personality issues."
Outside of the work environment, Sullivan won't be sharing much screen time with the other actors. Not a social butterfly, Gail tends to keep to herself and build walls up when it comes to everybody else.
"She's always been like that," says Sullivan. "Gail doesn't really get close to anybody. Once she does, they just shit on her. It's almost like she's put up this defensive shell and it's for a reason. Her instincts say, 'Don't trust these people.' Look at what happened last year with McNally. It's her friend in the sense that Gail started opening up a little bit more to Andy and trusting her. Then what does she do? She slept with my boyfriend. B**ch!"
"Rookie Blue" Season 5 will premiere in Canada on Monday, May 19 at 10 p.m. ET/PT on Global.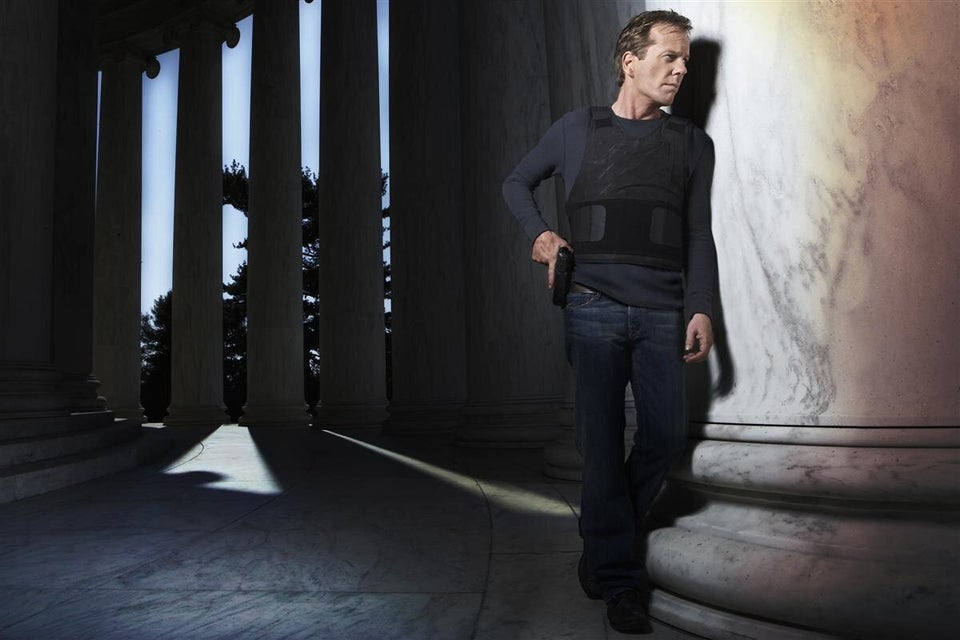 Global TV: Fall 2013-14