Somehow, Rosamund Pike has always flown under the radar and we can't seem to figure out why. After all, the actress did get her start as a Bond girl before landing bigger roles alongside stars such as Keira Knightley, Bruce Willis, and Tom Cruise. But while it may be hard for us to remember what film she's in, one thing is certain: her style over the years has been flawless.
From gorgeous red carpet gowns to blazers and even socks and sandals (!), this British babe has proven she can pull off anything. Plus, the fact that she can maintain such stunning style even with her growing baby bump demonstrates why she's one to watch.
Just this month, the 35-year-old rising star landed covers for both Vogue UK and Glamour US. She was also featured on the cover of W Magazine back in May and has since made a number of best dressed lists. And now with her highly anticipated film "Gone Girl" coming out on Friday, Oct. 3, we have no doubt her style and fame will skyrocket even further!
Take a look below at Rosamund Pike's stunning style evolution.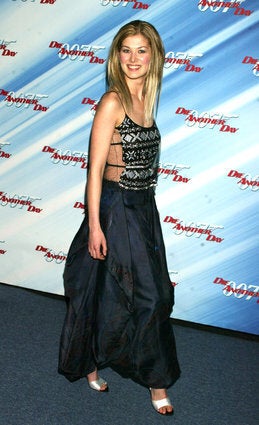 Rosamund Pike Style Evolution