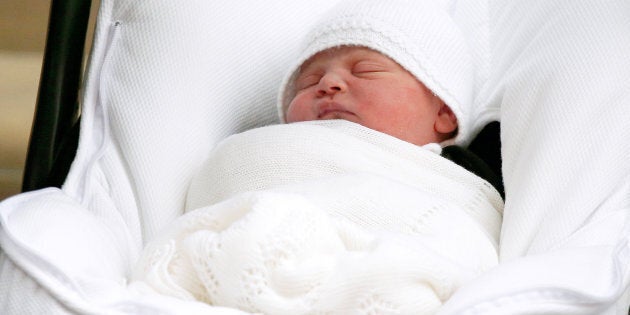 It's official: the third royal baby's name is Louis Arthur Charles.
Kensington Palace made the announcement on Twitter today, five days after the Duchess of Cambridge gave birth to the baby boy at St. Mary Hospital in London. The newborn's official title will be His Royal Highness Prince Louis of Cambridge.
Louis (pronounced LOO-ee) is fifth in line to the throne after his grandfather Prince Charles, his father, and his older brother and sister.
The name pays tribute to Prince Charles, who also has Arthur as one of his middle names.
It also honours Louis Mountbatten, Charles' beloved great-uncle and mentor, who was killed by an Irish Republican Army bomb in 1979.
The baby boy has three given names, just like his siblings, Prince George Alexander Louis and Princess Charlotte Elizabeth Diana.
Speculation over the infant's name began in September, immediately after it was announced that the Duke and Duchess of Cambridge were expecting their third child. London-based betting company Ladbrokes dubbed Arthur and Albert the top contenders, likely because they are the middle names of princes William and Harry. The former had 5/1 odds, while the latter had 10/1 odds.
Before Prince Louis' name was revealed, Christian Turner, the global naming director at New York's Siegel+Gale, gave insight into how the royals choose their kids' monikers.
"They won't want to appear old-fashioned or haughty, so choosing a name the public can embrace is equally important [to choosing a traditional one]," Turner previously told Hello magazine. "This is common of the style of this generation of royals, who want to be more down-to-earth than their predecessors."
Both Prince George and Princess Charlotte saw their names jump in popularity after their birth, so it's likely Prince Louis will experience the same thing.
Twitter users have quickly responded to the name of the new royal baby. Author JK Rowling's digital publishing company, Pottermore, noted that the Weasley family in the Harry Potter books had members named Louis, Arthur and Charles.
"Louis Arthur Charles, you were named after three iconic Weasleys," the company tweeted.
A baby camel born at England's Blackpool Zoo on the same day as Louis has been named in his honour.
"A tiny, double humped Bactrian camel calf, born on Monday morning, has now been named in honour of the new Prince Louis!!" the zoo tweeted.
Former One Direction star Louis Tomlinson — a noted devotee of the Adidas brand — tweeted: "Young Louis welcome to the world. I'll take you under my wing lad. The Adidas tracksuit is in the post!''
With files from The Associated Press