By Cindy MacDougall, communications officer, Royal Roads University
Jennifer Smith grew up hearing about her great-grandfather's Chilkat blanket. She saw the ancient piece of regalia rarely, as it resides at the Royal B.C. Museum, where her great-grandfather entrusted it more than 40 years ago. The 350-year-old family symbol of respect and honour will envelop her as she accepts her degree at Royal Roads University's 42nd convocation in Victoria Nov. 9.
"The idea of the blanket came to me as part of a healing ceremony I did last year," she says. "Out of respect I asked my great-aunt, who was my great-grandfather's daughter, if it would be OK if I wore the blanket, even though it belongs to the Royal B.C. Museum. She was happy I would be wearing it and said yes.
"It's a tie to my past, to my ancestors, my lineage and the history of my family."
The use of regalia at convocation is apt and exciting, says Asma-na-hi Antoine, Indigenous education and student services manager at Royal Roads University.
"When Indigenous students choose to wear regalia at convocation ceremonies, it makes a statement about historical traditions that come from their families and the students wear such pride about where they come from and who they are," says Antoine. "I wear my regalia at convocation because of the cultural traditions that come from my ancestors and families. They are a reminder of why I am here and who I represent throughout my life."
"It's a tie to my past, to my ancestors, my lineage and the history of my family."Jennifer Smith
Ancient blanket ties Smith to her family history of leadership
Smith, a graduate of the university's master of arts in leadership — health program, is a member of the Tlowitsis First Nation on her father's side and the Mamalilikulla of Village Island on her mother's side. The blanket belongs to her mother's family.
"The oral story is that it was actually taken in warfare 350 years ago from the Tsimshian people," she says. "It was taken from a Tsimshian chief and he had two wives and two children with him on the waters near Rivers Inlet."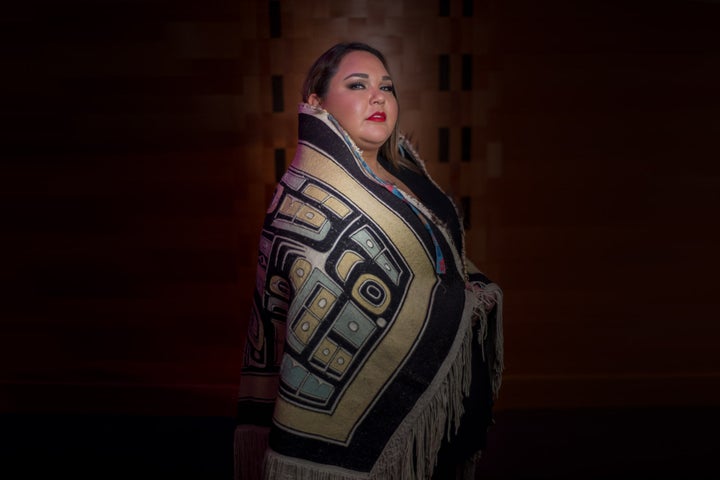 The blanket is used by Smith's family in culture, ceremony and memorializing, and is signed out of the museum for these occasions. A museum conservator will bring the blanket to Smith's convocation, carefully robe her in it and return the regalia to the museum afterwards.
Smith says her great-grandfather was almost arrested by federal authorities for practising the potlatch on Village Island in 1921.
"He took great leadership and risked going to jail because we were not allowed to practice our culture by law," she says. "He had the option of going to jail or giving up his artifacts. There are more than 30 items of his in a museum in New York that were taken from him. This blanket he gave up willingly later and sold it for the benefit of the blanket."
Family gifts new regalia to graduate
Another graduate will be wearing a piece of regalia created just for her, steeped in the love and pride of her family, when she crosses the stage during convocation.
A member of the Sturgeon Lake Cree Nation in northwestern Alberta, Cindy Forsey graduates with a bachelor of science in environmental science on Nov. 9. She will be wearing a graduation cap beaded by her cousin, artist Tiffany Hamelin, during the convocation ceremony.
Forsey says a family gathering this summer was the impetus for choosing to wear regalia.
"I felt it was important to show the significance of this degree not just to me but to my family and what it can accomplish for all of us," she says. "It's also representative of the heart of Native people to be attached to the land and to protect that land and to take care of it. I wanted that to be represented in this graduation."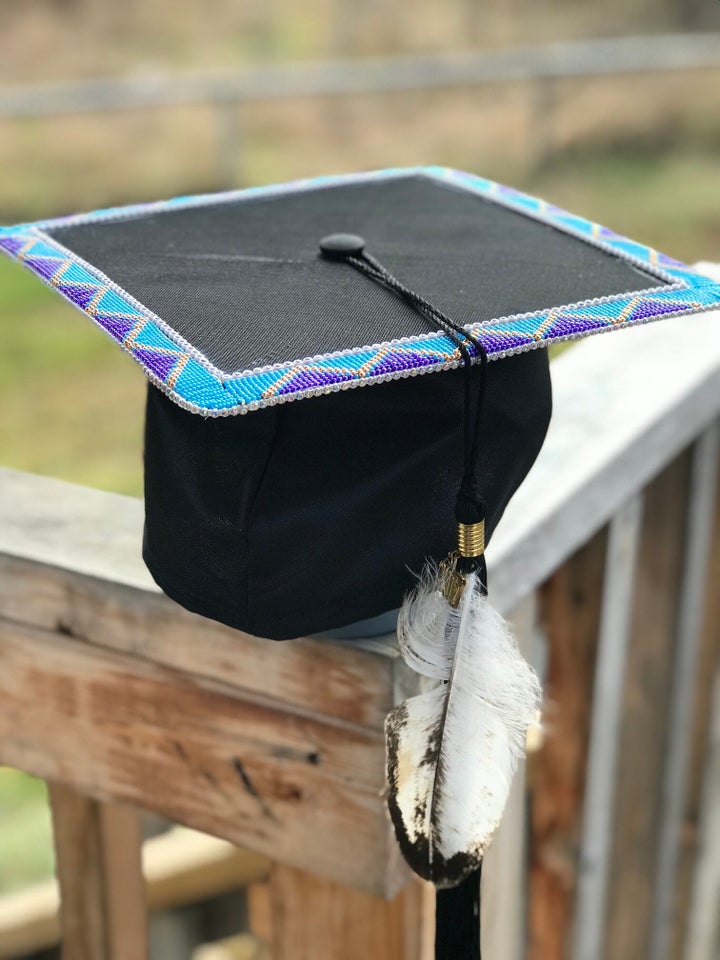 She says she hopes to now be a mentor.
"If I can complete this kind of course, I really believe anyone can. I want to inspire other people, especially in my family and from our reserve," she says. "Education is really important. It might be hard, but it's something to really be proud of."
Artist Hamelin says the cap's artwork is influenced by Forsey's journey to graduation.
"The purple and the gold are her graduation colours, and the turquoise comes from the peacock feather colours," Hamelin says, referencing Royal Roads' ever-present birds. "The feather on the cap is a spotted eagle feather, a family symbol. It comes from our culture and represents strength."
Forsey says the gift of the feather from her family touches her deeply.
"This is an important degree to me," she says. "I know my family is really proud of me and standing with me."
Jennifer Smith also connects family pride to the upcoming convocation ceremony as she prepares to graduate in her family's Chilkat blanket.
"It means my great-grandfather gave back and was thinking about future generations, which is how we are as a people," she says. "And now here I am wearing it."
Popular in the Community