Saudi Prince Faisal Al Shalan is an equestrian rider at Rio, the latest in a long list of kings and queens, barons and counts to throw their titles into the court of the Olympics.
The Games' deep regal roots began with Nero, the Roman Emperor and if history is to be believed the most successful Olympian of all time. At the AD67 Games in Olympia the autocratic ruler is said to have walked away with close to 2000 medals, some attained with questionable tactics that puts modern day sporting corruption in the shade.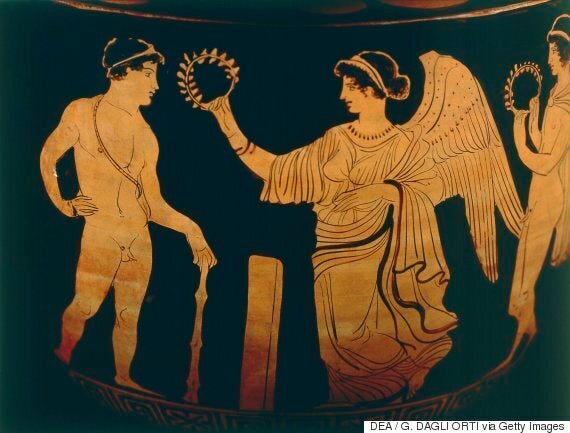 Greek civilization, 5th century b.C. Red-figure pottery. Detail of a vase: victory crowns an athlete with an olive branch.
Nero did not care an olive wreath for the Olympic ethos of taking part — winning was his driving force, at any cost. In chariot races, he was said to have resorted to bribing rivals. In races where his rivals were allowed four horses, he had ten.
If Constantin von Liechtenstein had adopted Nero's questionable fiscal policy he would have needed to sell off a castle or two to bribe his way to the top of the medal podium. At the 1948 Winter Games he trailed in 99th in the alpine skiing downhill. Perhaps he was burdened by the weight of his full title: Prince Constantin Franz Nikolaus Karl Heinrich Dagobert Anton von Padua Ildefons Maria von Liechtenstein
Unlike Nero, he was the perfect embodiment of modern Olympic father Pierre de Coubertin's taking part ethos.
As was Prinz Maximilian Emanuel Maria Alexander Victor Bruno de la Santísima Trinidad y Todos los Santos zu Hohenlohe-Langenburg. Max came in a sedate 54th in the 1956 downhill.
Unlike skiing, sailing has proved fertile territory for European royal households. Swiss Count Hermann Alexandre de Pourtales grabbed gold and silver at the 1900 Games, and has the distinction of being the first ever royal to win an Olympic title. Onboard his boat he was ably assisted by his wife, Countess Helene.
Crown Prince Constantine II, who became King of Greece in 1964, took Dragon class gold at the Rome Games in 1960. For good measure he possessed a black belt in karate.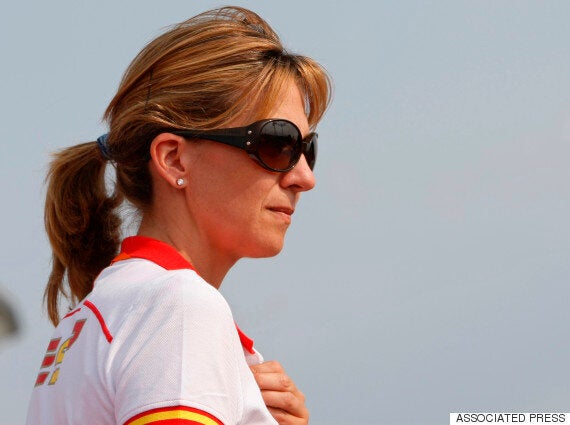 Spain's Princess Cristina is seen during the medal ceremony for the 49er men's sailing competition of the 2008 Beijing Olympics in Qingdao, about 720 kilometers southeast of Beijing, Monday, Aug. 18, 2008.
In 1972, three years before he acceded to the Spanish throne, Juan Carlos I was unable to match the Greek noble's feat, finishing 12th in the same event. His daughter, Infanta Cristina, Duchess of Palma de Mallorca, continued the family tradition in Seoul in 1988.
Her husband, handball star Inaki Urdangarin, the Duke of Palma de Mallorca, competed in the 2000 Games — his third Olympics — captaining his country's team. The couple are currently awaiting judgement on a tax evasion trial, with prosecutors calling for a 19-year prison sentence for Urdangarin. They are among 17 suspects who went on trial in January as part of a case that involves business dealings by the Noos Institute, a not-for-profit organisation based in Palma which Urdangarin founded and chaired from 2004 to 2006.
Britain's royal family are no strangers to the Olympic arena. Princess Anne, Queen Elizabeth II's daughter, competed for the U.K. equestrian team in 1976. Zara Phillips, IOC member Princess Anne's daughter, with a team silver, made a starring appearance at London 2012 — as did her gallant grandmother.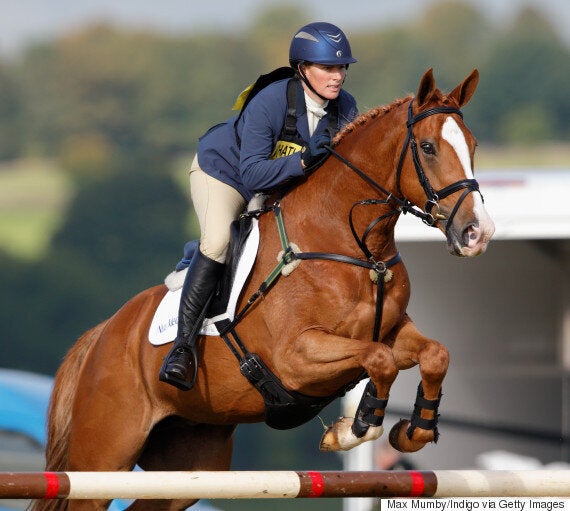 Zara Philips competes in the show jumping phase of the Whatley Manor International Horse Trials at Gatcombe Park on September 12, 2015 in Stroud, England.
Queen Elizabeth II, or at least a stand-in, arrived at the opening ceremony at Wembley by jumping out of a helicopter with James Bond.
Prince Faisal will use a more conventional mode of transport to enter the ring in Rio — his trusted steed Talan.
At Greenwich Park in London four years ago Zara spoke for athletes both titled and non-titled through the ages when she said: "The Olympics is the greatest show on Earth and it is incredible to be here and to be competing for my country."