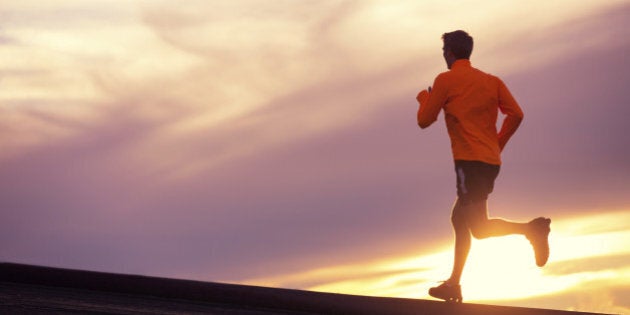 Within the beauty of movement, every runner will inevitably arrive at that mysterious point where he or she must brush up against the same artificial boundary -- a space in which we valiantly try to quiet the mind while at the same time trying to allay what at times can feel like incapacitating self-doubt and fear. This subtle negotiation, this dance with discomfort, is the birthplace of an inner fortitude that demands we keep moving even when everything inside is screaming for us to quit.
I've never been able to put my finger on it, but running is somewhat like alchemy. Something inside us changes, adapts or realigns when we lose ourselves in the rhythm of our stride. For my entire life, I've been on the run -- at first it was as a child, "running away" from the violent and daily physical abuse that took place behind closed doors in my home. Later, at the age of nine, it was trying to run away from all the shame that flooded in after I was sexually abused by a hockey coach; then once again at the age of 12, when I was raped by two young men in a ravine not far from our house in North Toronto.
From that moment onward, if you were to look at my life, it would be as though you were looking through the wrong end of a telescope. I kept everything inside of me, and around me, off in the distance. And thus began many years of escape that came in the form of a destructive alcohol and drug addiction.
Like Alice tumbling down the rabbit hole, the further I fell into the world of addiction, the more I relied on self-delusion to insulate my self from the brain's warning signals of pain and self-protection. It feels so beautifully ironic to me that what almost killed me -- my self-delusional ability to partition off part of my brain -- is today the same mental process I draw on to keep me moving forward in the hellish last few miles of a marathon or ultra marathon.
"I wouldn't change one thing about my past because I believe it's brought me to the place of deep joy in which I now find myself. How do I even begin to describe what running has brought forth inside me, and so graciously laid at my feet?"
19 years ago, I finally decided to stop escaping and to, quite literally, begin the long journey of running back into myself. I entered a treatment program to address my drug and alcohol addiction, and it was there that I met two other gentlemen who encouraged me to join them on their weekly long runs. It was through their support that I ran my first marathon -- the Scotiabank Toronto Waterfront Marathon.
The only thing more stubborn than an addict is an addict in recovery. I threw all my newly sober confusion, frustration, anger and hope into training for that race, and luckily it all paid off. I managed to qualify for Boston on the streets of Toronto in my first marathon! The rest, as they say, is history. I had traded a self-destructive addiction for a life-affirming addiction.
In 2013, I found the strength to finally tell my family and friends that I am a survivor of childhood sexual abuse and rape. Since that time, I have become an international advocate for other survivors of sexual violence. In 2014, I ran the iconic Boston Marathon twice in the same day in a highly publicized campaign in order to raise funds and awareness for survivors of childhood sexual abuse.
In the fall of 2015, I brought that same passion to my hometown race, the Toronto Waterfront Marathon, which I ran three times in the same day (126.6 kiloemetres) to demonstrate the resiliency of survivors of trauma. I even managed to convince Ontario Premier Kathleen Wynne to come out and join me for the first five kilometres of my third marathon of the day.
So, what's up next for me? In May, I'll be running a "double-double" Ottawa Marathon (168.8 kilometres), and later this fall, I'll set my sights on a "triple-double" (253.2 kilometres) once again at the Toronto Waterfront Marathon.
At this point of my life, I've now run over 120 marathons and ultras, and I honestly feel that I wouldn't change one thing about my past because I believe it's brought me to the place of deep joy in which I now find myself. How do I even begin to describe what running has brought forth inside me, and so graciously laid at my feet?
It's been said that art is nothing more than reduction -- the transcendent scraping away of veneers, the unmasking of the pillars of truth and beauty. In light of that, I would submit that running, in its purest form, is the fluidity of art in motion. I might even go as far as to suggest that a life given over to running is the purest form of reduction and self-reflection.
If you'd like to follow along on my journey of advocacy or to donate to one of the charities I'm running for, please visit my site runjprun.com.
Follow HuffPost Canada Blogs on Facebook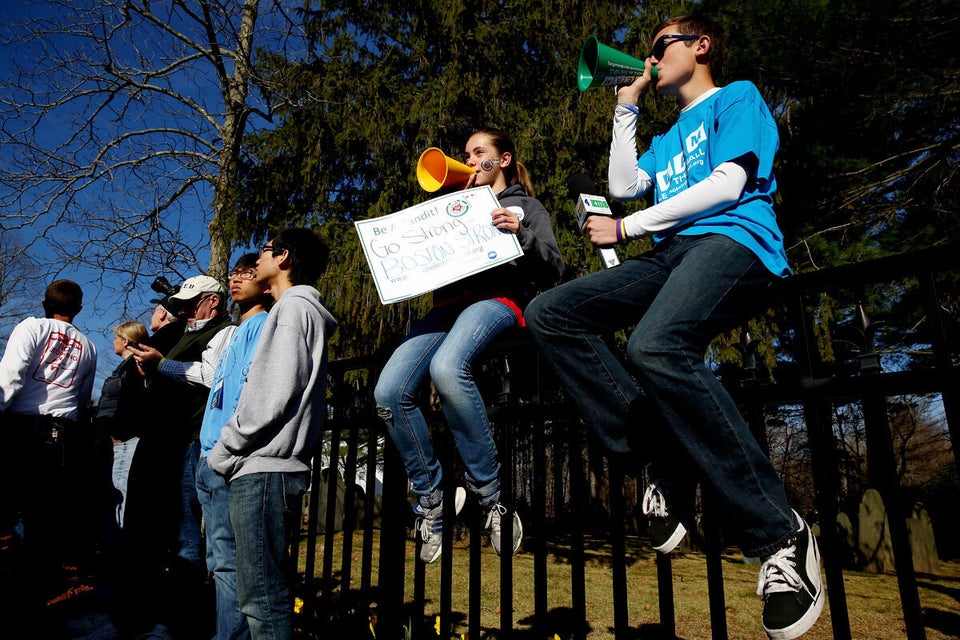 Boston Marathon 2014
Popular in the Community