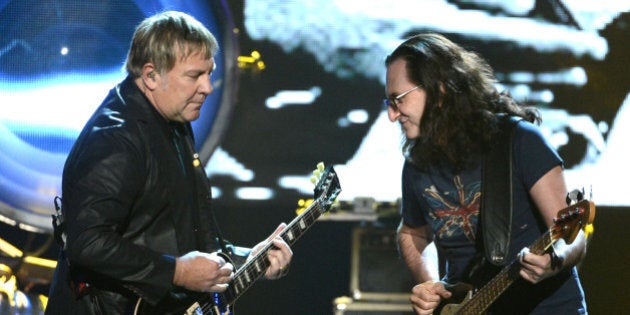 Rush singer/bassist Geddy Lee and guitarist Alex Lifeson have had numerous honours bestowed on them including Juno Awards and a spot on Canada's Walk of Fame. Now a Toronto city Councillor is one step closer to having a Toronto "arts-themed" park named after the two musicians.
As reported by Rushisaband.com, the Willowdale area will see construction commence in 2015 to create the new park. Earlier this year Councillor John Filion (Ward 23) proposed the park be named the Lee Lifeson Arts Park.
"The new park will have an Arts theme, specifically related to music and sound," Filion wrote in a June 16 to the North York Community Council's City Clerk's Office. "It is appropriate to consider naming the park after musicians with a connection to the Willowdale area. Geddy Lee and Alex Lifeson are founding members of the band Rush, which has a highly successful career spanning decades."
Filion continues acknowledging the band's induction into the Rock and Roll Hall of Fame as well as the fact the band originated in Willowdale while Lee and Lifeson were both students at Fisherville Junior High School there. "Early rehearsals and songwriting took place in the area, as did many of the band's early performances at local high schools. The idea of naming the park after local musicians has been favourably received at two community meetings."
The Councillor adds both musicians have agreed to put their names forward for the honor. The park, located on land purchased by the city, is bounded by Princess Avenue to the north, Hillcrest Avenue to the south, Glady Allison Place to the west and just east of the "linear park to the east." The name was presented during a consultation meeting on April 22. The general manager of Parks, Forestry and Recreation will report to North York Community Council on the new name on August 12.
There's no word as to what activities or possible playground features the park will contain. A Farewell To Swings? Test For Echo? Snakes and Ladders? Vapor Trails?
Rush are currently off the road after touring behind "Vapor Trails" in 2013. Lee, Lifeson and Hamilton-born drummer Neil Peart all received honorary degrees from Nipissing University last month according to their official site.