The internet rejoiced on Monday after two regular Canadians were photographed on some random movie set in Vancouver.
OK, maybe not exactly regular.
Yes, that's Defence Minister Harjit Sajjan and his "fellow Vancouverite" actor Ryan Reynolds hanging out on the set of "Deadpool 2."
Sajjan posted the picture on Twitter and used it as an opportunity to praise the city's film and TV industry. Reynolds liked all three tweets. Geez, talk about coming on too strong.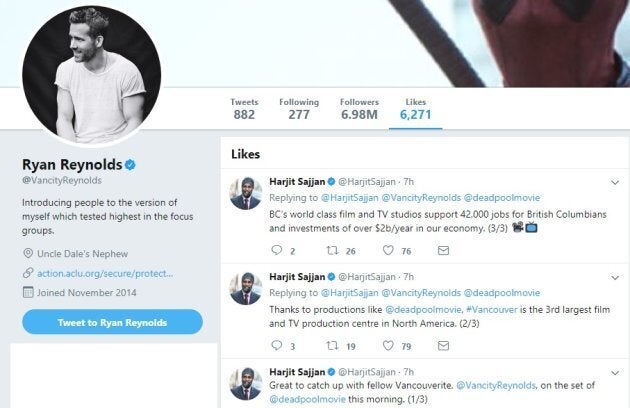 This isn't the first time the duo have crossed paths.
The two ran into each other at the White House in March 2016, when former U.S. president Barack Obama was hosting a state dinner for Prime Minister Justin Trudeau.
"How badass is this, Canada?" Sajjan wrote in the caption.
With files from Joanna Adams
CORRECTION: An earlier version of this story incorrectly stated that Donald Trump was the U.S. president in March 2016. Astonishingly, his presidency only began in January 2017.