There's no question that seeing the world falls on a lot of Canadians' bucket lists, but what happens when you find yourself saddled with a career, family, and plenty of other responsibilities?
Many people settle for a week's vacation a few times during the year, and that suits them just fine.
But HuffPost Canada spoke to three families determined to take multiple months of vacation at once — commonly called a sabbatical, leave of absence, gap year, or deferred leave.
Each family shared their advice and tips for taking an extended holiday, including what worked for them and what other families should consider before they do the same.
The Around-The-World Travellers
Who: Geoff and Patty Turnquist, and their two kids, Reid, 9, and Lela, 7.
Occupations: Geoff has his own insurance business and, until recently, sat on Falher's town council. Patty works with ATB Financial.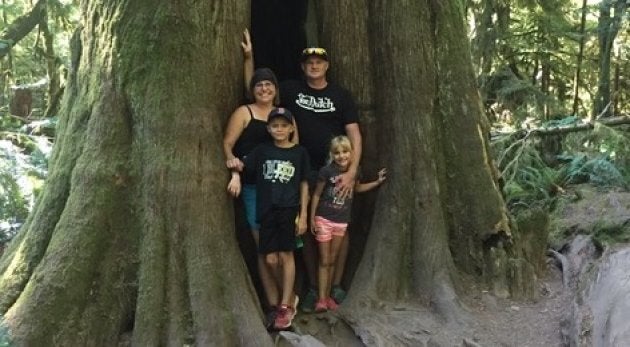 How they're making it work: Geoff will run his business while on the road, while Patty has taken a year-long leave of absence.
What's the plan: The Turnquists want to travel all over the world during their gap year.
"If we really like a place, we'll stay there longer. If not, we can just leave," Geoff told HuffPost Canada, adding they'll kick off their trip by flying to Beijing, and likely spend the first month exploring Asia.
Instead of socking away deferred savings over a period of time, the Turnquists sold their house and most of their possessions. Their Northern Alberta town has seen many move away in the province's economic downturn, and now it's their turn. They'll likely buy another house in Southern Alberta when they get back.
"It's amazing how much stuff you accumulate when you just consume, consume, consume," said Patty of letting go of most of their possessions. They've put aside the profits from their house for when they return home, but any money they've made from selling their goods has been added to their travel fund.
Their elementary school-aged kids will keep up with their studies while on the road, which Geoff and Patty say will be no problem.
"Right now (Patty and I) understand what the kids are learning in school. In a few years, the learning will be more difficult and we might not be qualified to teach that. But for now we can."
Tips and advice: After doing the math, Geoff said he's surprised at how affordable their travel will be.
"People keep asking us how we can afford to do it, but really it's not as costly as it sounds."
The couple have researched a few opportunities to give back to the communities they visit — whether it be working with kids, building schools, or assisting with clean drinking water programs.
Patty says keeping an eye on travel apps like Google Flights, Skyscanner, and Maps.me, has been helpful in the planning stages, and she's created a travel spreadsheet to record bookings and budgets.
"I hope it becomes something that we can share with people in the future who want to do the same kind of trip."
Overall, the couple says their biggest advice is to keep an open mind when planning a trip around the world.
"There's going to be stuff that you're going to see and you're going to shake your head at," said Geoff. "But you have to be able to let all that go — the fears, the worries, the stuff — and just take it one day at a time.
Who: Tanis Walmsley, her husband Johnathon, and their three boys, Theo, 10, Sam, 12, and Misha, 15
Location: Saskatoon, Sask.
Occupations: Walmsley is a part-time social worker and her husband is a teacher.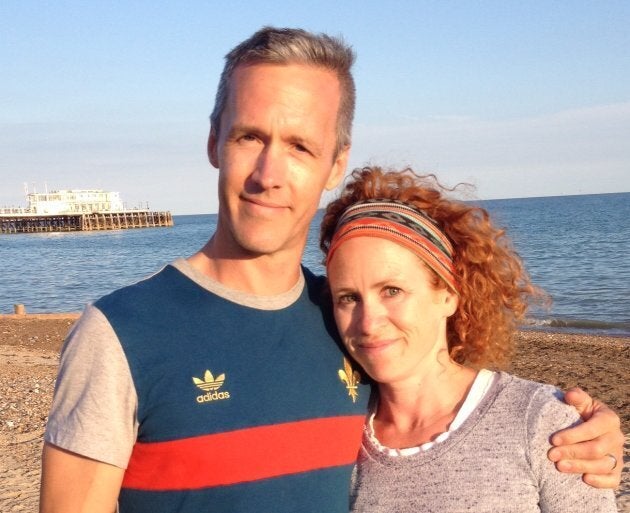 How they're making it work: Both parents are taking a deferred leave.
What's the plan: Walmsley and her husband have done two previous sabbaticals and will embark on their third this coming February, heading to a town in France for several months, before travelling around Europe.
Walmsley told HuffPost Canada her family's first extended vacation took place when her boys were all under the age of five. They loved it so much that they did it again again five years later.
"Sometimes I look back at that first trip and ask myself 'what the heck were we thinking?" she laughed, when asked about moving somewhere so far away with small children.
Walmsley tried to rent out her house for their upcoming trip — she'd love to recoup some of the price for their accommodations in France — but hasn't had any bites yet.
Learn why a leave of absence could actually save your career. Story continues below:
Her husband's taken a deferred salary for the past five years to help save for the trip, and it's a move that Walmsley said hasn't been that difficult.
"Your income goes down, but your taxes also go down, too," she said, but admits they're not big spenders to begin with.
Their two youngest children will attend French schools, while their highschooler will take online courses and be homeschooled.
Tips and advice: Walmsley said choosing an area with age-appropriate activities for kids is one of the biggest factors to consider when planning a gap year.
Also, travelling with children is not always easy, she noted. Family dynamics still exist, no matter how far you travel from home.
"Who you are and who your kids are, that's not going to change when you leave Canada. Manage those expectations. It's not rainbows and sunshine every day."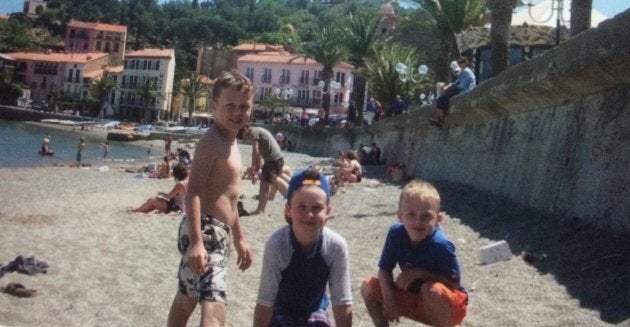 As far as day-to-day life on sabbatical, Walmsley recommends getting to know the local market schedule, as markets offer unique cultural experiences, like access to local food and the chance to chat with locals.
"Pretty much every local you meet has a secret place that's off the beaten path. If they're willing to tell you about their secret spot, go there. Some of our best memories are from finding places that aren't in the tourist books."
The Stop-And-Go Travellers
Who: Ita and Joe Kistorma, and their two preteen sons, Nate and Jake.
Occupations: Ita is an elementary school teacher, Joe works for the City of Calgary.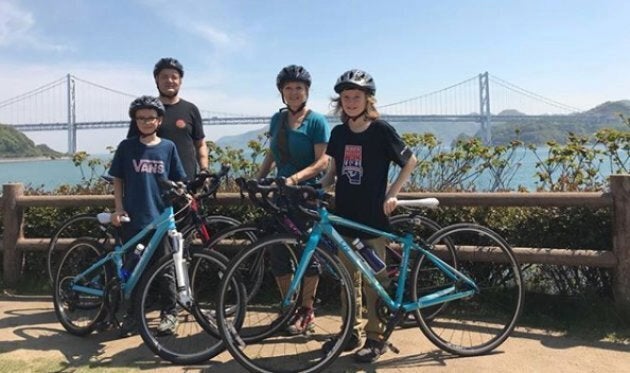 How they made it work: Ita and Joe both took a deferred leave offered by their employers.
Their plan: The Kistorma's started musing about a sabbatical six years ahead of their leave date, allowing plenty of time to plan and save money.
Each took a deferred salary over five years, meaning slightly less money each year leading up to the trip, but more money in the bank for travelling. They also put off big purchases, expensive family vacations, and household renovations.
"Losing a year's salary over five years wasn't a make-or-break situation for us," Joe told HuffPost Canada. "But we did have to think a bit more carefully about where our money was going."
They said their sons' ages were a big factor in the timing, too. The preteens were weren't yet saddled with the school, sports, and work commitments that will come when they get closer to high school.
"We looked for the window of opportunity where they wouldn't mind being away, still liked being with family, liked spending time together," said Ita.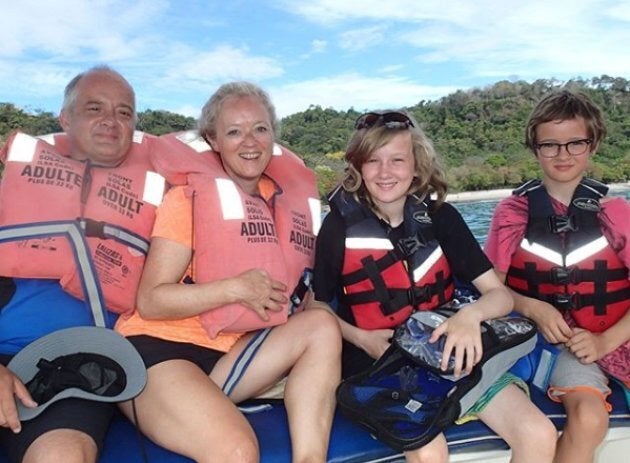 The didn't book any flights until they left Calgary in August of 2017, but started making plans for their house, schooling arrangements, and vaccination schedules about a year before they departed.
In all, the Kistorma's visited 10 countries that year, including France, Ireland, Zambia, Costa Rica, Cambodia, and Japan, spending varying lengths of time in each place.
"There's four of us, so we had to look for places that had something for everyone," said Ita.
For example, Joe wanted to tour many of France's WWII sites, but despite his own personal interests he knew his sons did not need to see that much death and destruction. So the Kistorma's scaled back the family's battlefield tours and found some kid-friendly activities.
A flexible schedule allowed them to chase weather patterns and cheap flights. They used France's Charles de Gaulle airport as a hub, often resulting in lower airfare and less layover time than flying country-to-country.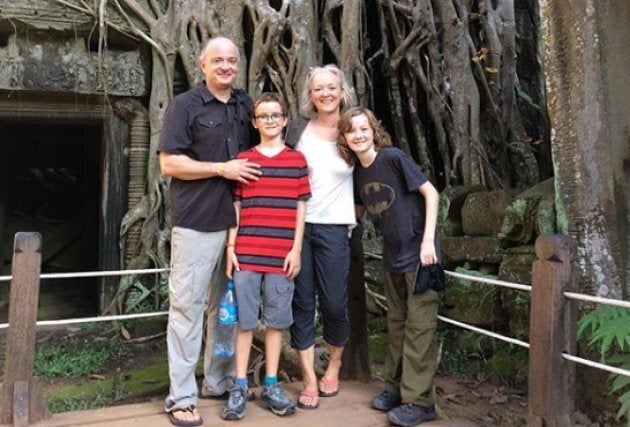 On the road, they used online tools like Google Flights, AirBnB, and HomeAway, and kept an eye on Canada's Foreign Affairs and the Centre for Disease Control for the latest travel advisories.
Joe said he learned not to book a trip based on what you see on Instagram.
He had big hopes for Costa Rica, which he'd been admiring in online photos. And while he really enjoyed their visit (the surfing didn't hurt) he said there was way more to do in other places.
"Now, when I look at all those pictures, I see that they were all taken in the same place. Otherwise, that area of Costa Rica is just dirt roads and houses. There's no libraries, cool cafes, not much more to see than the beach."
The Kistormas also said travelling with kids presented some unique challenges they didn't consider before they left. For example, their boys were most comfortable in countries that offered similar base conditions to Canada — clean drinking water, food that wasn't too foreign, similar levels of hygiene.
So, developed countries like Japan and Ireland were comfortable for everyone, while Zambia and Cambodia were a bit more challenging for the kids.
Ita recommends two things that made their collective experience that much more enjoyable. First, the family all journaled together, taking notes and sketches along the way, allowing them to relax and reflect as a family. Second, she said they'd always try to find an independently-owned bookstore.
"When you find a bookstore, you find great little cafes and restaurants nearby, you find people, you find interesting things to do."
More tips for Canadians on how to properly plan for a sabbatical year: