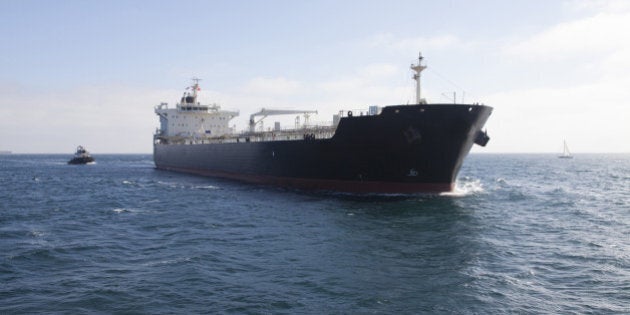 This article was co-authored by Ross Dixon, Policy and Program Manager, Raincoast Conservation Foundation.
The recent Salish Sea Ecosystem Conference in Vancouver, British Columbia provided an in-depth look at the threats facing this ecologically, economically and culturally important marine environment.
The urgency of this issue has been amplified given the rumours swirling in the media that Prime Minister Justin Trudeau has "told his senior lieutenants to draw up plans to make the Kinder Morgan Trans Mountain expansion a reality."
In addition to the proposed expansion for the Trans Mountain pipeline, which would increase tanker traffic by 574 per cent above 2010 levels to 408 oil-laden trips through the Fraser estuary and the Salish Sea annually, many other shipping increases are also on the table.
Additionally, Salish Sea waters are predicted to see an increase in container ship traffic by 300 per cent over the next 15 years. The number of bulk cargo vessels over this time will grow by 25 per cent and cruise ship traffic is expected to increase by at least 20 per cent. The proposed Roberts Bank Terminal II provides an additional 2.4 million container units.
Potential loss of oil cargo due to collision is increased by 97 per cent, and potential loss of oil cargo because of grounding by 73 per cent.
In Washington State, coal exports are the principal driver for the Gateway Pacific Terminal. This project will have a maximum capacity of 54 million tons of coal per year, requiring 487 vessels. It received 124,000 public comments on the scope of the environmental assessment and a changing U.S. energy supply is also driving American coal exports through Canada.
Plans to increase coal exports in the Salish Sea were approved by Port Metro Vancouver in August 2014. Fraser Surrey Docks has been approved to ship 4 million tons of U.S. coal, requiring 640 barges a year. The existing Westshore facility is already Canada's largest coal exporter, and Neptune Terminals, on Vancouver's North Shore, have also submitted plans to increase export by six million metric tons and one vessel each week.
Recent risk assessments of vessel traffic specifically indicate the potential impact of three key proposals, the Gateway Pacific Terminal, Kinder Morgan's Trans Mountain expansion and the Delta Port expansion. Draft results indicate that, relative to a 2010 base year, these projects increase the potential frequency of vessel traffic collision and grounding by 21 per cent and 17 per cent, respectively. Potential loss of oil cargo due to collision is increased by 97 per cent, and potential loss of oil cargo because of grounding by 73 per cent.
From the puncturing of the Nestucca oil barge off Grays Harbour to the Westwood Annette oil spill in Howe Sound and last year's Marathassa oil spill in English Bay, accidents involving major marine vessels occur in and affect the Salish Sea in B.C. and Washington State.
There have also been several near misses. Between 1999 and 2009, more than 1,200 vessel incidents were reported on the B.C. coast, 12 involving tankers. From 1995-2008, 14 oil spills from tankers in Washington State released 310 barrels of oil. During the same period, 132 near-miss casualty incidents also occurred for vessels carrying a total of 64 million barrels of oil.
Beyond the obvious catastrophic potential of oil spills, shipping increases will escalate the incidence of ship strikes for marine mammals, as well as acoustic disturbance. Evidence submitted by Raincoast to the National Energy Board indicated that, given existing conditions, the population of endangered southern resident killer whales cannot withstand the additional pressures that would result from proposed increases in Salish Sea shipping traffic, recover from their endangered status and survive in perpetuity.
There appears to be no requirement for cumulative effects assessment of shipping and energy developments in the Salish Sea at either the project review or regional management level. No one is examining these proposals from the perspective of their cumulative impacts, and how they affect the economies, cultures and values of the Salish Sea.
The need for such assessments, involving Coast Salish governments and those at the state, provincial and federal levels, is echoed in recent findings from the SeaDoc Society, which highlighted the potential cumulative impacts on 50 species with cultural significance to Coast Salish peoples, including wild salmon, herring, crab, prawns and numerous other species.
With intense increases in shipping traffic currently proposed for an already crowded Salish Sea, and public confidence in review bodies and their processes severely lacking, a robust cumulative impact assessment of shipping impacts is as appropriate as it is long overdue.
A version of this article previously ran in the Victoria Times Colonist.
Follow HuffPost Canada Blogs on Facebook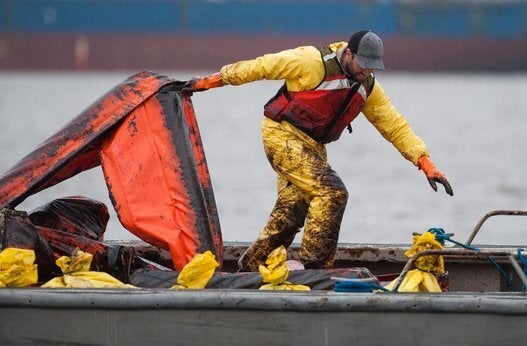 Recent Oil Spills
Popular in the Community