A B.C. RCMP officer on Salt Spring Island was injured after a man tried to avoid a checkstop for impaired driving early Sunday.
The suspect, who was driving an SUV, rammed a parked police car and then a second cruiser that was trying to box it in, said a police news release. Kyle Matheson posted dramatic Facebook video (watch above) of officers breaking the driver's window to try and stop the vehicle, but it continues to smash into the two police cars.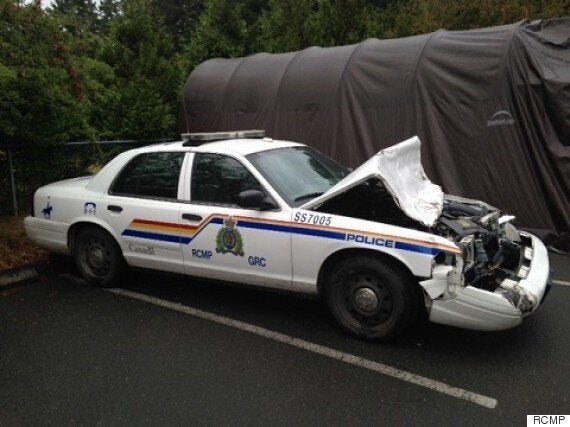 The suspect managed to drive away, but crashed upside down in a ditch a short distance away.
Inside the SUV, the man then armed himself with an axe and tried to use a lighter to start a fire, said RCMP. A firefighter who recognized the man managed to convince him to give up the weapon.
After several hours, the man "was forced" from the SUV and, under the Mental Health Act, taken to the hospital for assessment, said police.
A constable who was in the first police cruiser suffered neck and back injuries. He has been treated and released but is expected to be off-duty for a while.
Police said the suspect's SUV was stolen, and that mental health factors may have played a role in the incident. The investigation is ongoing and charges are pending.