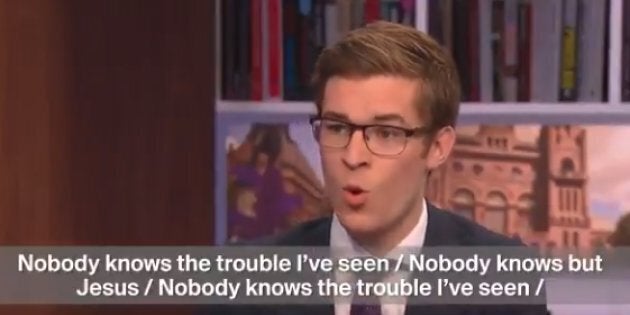 A young Ontario politician raised some eyebrows when he sang an African-American spiritual during a TV interview.
Sam Oosterhoff, Progressive Conservative MPP for Niagara West-Glanbrook, also happens to play the piano and sing, and during his interview on "The Agenda with Steve Paikin," host Paikin asked if he would sing something for the viewers.
But while Oosterhoff's voice seemed to impress the interviewer, he was ridiculed on Twitter for his choice of tune.
He sung a line or two from "Nobody Knows the Trouble I've Seen," a song with roots in the U.S. slave trade.
"Nobody knows the trouble I've seen, nobody knows but Jesus, nobody knows the trouble I've seen, glory, hallelujah," Oosterhoff, who is also a socially conservative Christian, sang.
And after reporter Sean Craig shared a clip of the performance, Twitter users unloaded on the MPP, noting that a number about slavery and oppression was an odd choice for him, a 20-year-old white man who was home-schooled.
A kid who has never had a mortgage to pay; tuition to pay; hydro to pay...probably has never had to clean his own house or make a car payment - and he's an MPP. The stupid is strong in his riding. How can he have any clue about the real issues taxpayers face?

— Nothing to Offer (@NullumOffer) April 19, 2018
Earlier in the interview, Oosterhoff said his faith called on him to love "the most vulnerable in our society, and that also means reaching out to the poor, the sick and the lonely."
Paikin then brought up the fact that along with those values, he had some socially conservative ones. Oosterhoff is pro-life and against same-sex marriage.
"Your critics have pointed out the fact that you miss votes on bills that usually deal with gays or lesbians, and restricting protesting near abortion clinics, and all of that kind of thing, and you take a lot of heat for doing that," Paikin said.
Oosterhoff said during the interview he doesn't want his views on social issues to define him. But it remains to be seen if he'll be known for breaking out in song, much as MP Rodger Cuzner is known for his Christmas poems.