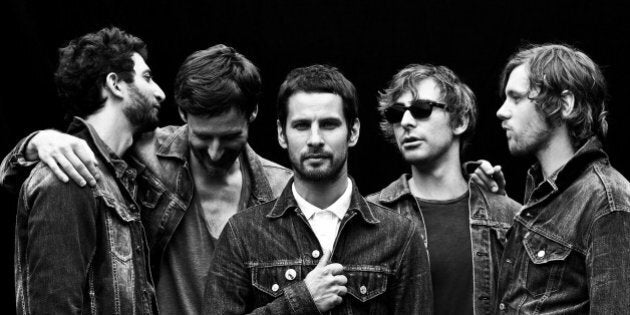 Sam Roberts has been told no before, but when British producer Youth, an original member of Killing Joke and producer of such a varied mix of clients as The Verve, Missy Higgins, Vanessa Mae and Crowded House, came out to Montreal to record the band's fifth studio album, Lo-Fantasy, in a mere 12 days, he put them through the ringer.
"He did, but in a good way," Roberts tells HuffPost Canada Music, sitting in a room at Toronto's Corus Entertainment, where he'll later be doing interviews with new rock station The Edge and classic rock station Q107, an indicator of how "Lo-Fantasy" works in both music worlds.
"The beginning of [a session] is supposed to be jarring. If somebody comes in to work on your record and they just pat you on the back and say, 'You know what, just keep doing what you're doing," then they might as well twist knobs and be an engineer.
"And that's always the debate," he adds. "We've always had a moment in our record where we've flushed it out enough that we say, 'Okay, I think we should produce this ourselves. Why are we going to go and get someone else to muddle our vision for these songs?' And then you bring somebody else in like Brian Deck [who produced 2011's "Collider"] or Youth and you realize why you need it."
The band — guitarist Dave Nugent, bassist James Hall, keyboardist Eric Fares and drummer Josh Trager, officially billed as Sam Roberts Band — have been told something's not good enough before, most notably after they went to Australia to make 2006's "Chemical City" and had to do some additional recording and tweaking once back in Montreal. But that was more a label directive and personal intuition than a producer saying on the spot, "No, you can do better."
Youth (real name is Martin Glover) — who was awarded The Man With The Golden Ears Award at the 2012 International Festival of Music Producers and Sound Designers SOUNDEDIT — was that guy, the one pushing them out of their comfort zone on all of the songs and the band welcomed it.
"I'm developing a thick skin. It's all about scarification. You're not born with a thick skin. Especially if you're a musician, you're supposed to be sensitive to the world around you," Roberts laughs. "You're not supposed to have such a thick skin that you're not feeling anything."
The Sam Roberts Band have increasingly been experimenting with their sound, getting more trippy and psychedelic. They just haven't gone this far before. "Lo-Fantasy" has synth and washes of sound one wouldn't associate with a rock band that rips it up live onstage in unadorned dripping sweat fashion. It even comes with a bonus disc of eight remixes that could fool any Roberts fan into thinking they had the wrong CD on or were listening to an EDM SiriusXM station.
Youth, of course, is also a noted dub/ambient/trance remixer. With his strong influence, "Lo-Fantasy" is a very cool and expansive album with actual dance undertones, such as on the rhythmical and riffy opener, "Shapeshifters," beat and synth-based "Metal Skin," Brit-pop styled "The Hands of Love," beefy robotic "Kid Icarus" and synth-heavy "Chasing The Light."
Roberts says the band took Youth's suggestions for all their songs to heart and went for it, but "Shapeshifters" changed the most. "If you listen to the demo, it sounds like 'Shapeshifters,' but what happens in it – how that song moves, what became the chorus, what became the focus, the hooks in the song, those are the things that he drew into the forefront, whereas [in the demo] we had pushed a lot of it; we buried them; we buried the hooks. Not all the time, but we always sort of say, 'Oh, well we should be subtle.'"
There is still a subtly to all the wackiness on "Lo-Fantasy." They are cool headphone sounds that keep the songs interesting and give them depth, but don't distract from a good melody and chorus. But it's not all due to Youth.
"What seems new is sometimes a part of our cast musically. It just comes back," says Roberts. "For a while, we were inspired by other bands coming out of Manchester. And then we were really into My Bloody Valentine and the shoegazing period and, once in a while, that just comes back. On this record, it's circled; it's come back.
"And not in such an overt way as we used to do it, which was to take that and make it our own. It'll just be an element, as you say 'a washiness,' a sort of wall-of-sound feel that just kind of comes back or synths that were doing one thing, that were organ-oriented on previous records are now more electronic sounding.
"That palate is just constantly in cycle and what part of it you tap into when you sit down to write a record, sometimes it's intentional and sometimes it's just you'll put on that old record that you love and you haven't listened to in a long time and it's inspiring at the time."
Popular in the Community