At Monday night's Emmy Awards, Sandra Oh lost the Emmy for Best Actress in a Dramatic Role to Claire Foy of "The Crown." But make no mistake, she's still an astonishingly talented actress.
Oh is from a Korean family and grew up in Nepean, a suburb of Ottawa. She spent nine years on "Grey's Anatomy" as Dr. Cristina Yang, the kind of funny and sharp and complex character that actresses long for. By the time Oh decided to leave "Grey's" four years ago, she had been nominated for a Supporting Actress Emmy five times, but never won.
Then, according to her, she waited. She played bit parts, mostly in small movies, and waited.
"It's not like there were tons" of offers at that time, she told Vulture last month (It's a great article, but you are hereby warned that it contains major "Killing Eve" spoilers.). "It's not like I was, like [swats away invisible scripts with her hands]. People assume that there's more choices that came to me than there was."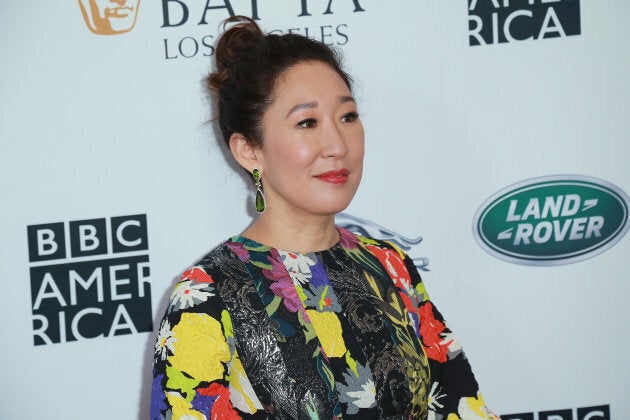 When she was sent the script for "Killing Eve," a clever, irreverent BBC series about a secret agent hunting a female assassin, she couldn't figure out what part she was being considered for. "I'm like, 'So Nancy, I don't understand, what's the part?'" Oh recalled to Vulture. "And Nancy goes, 'Sweetheart, it's Eve, it's Eve.'" Oh was being tapped to play Eve Polastri, the show's titular lead. But that hadn't occurred to her.
The Emmys crowd Monday night clearly thought the major studios have been sleeping on Sandra Oh for far too long, and it's a loss for everyone. It's a loss for the filmmakers who chose not to elevate their work with her talent. It's a loss to audiences who don't get to see her kill it. And it's a loss to so many people in Asian communities in North America, who don't often get to see themselves represented in roles that are interesting, varied and complex.
On the Emmys red carpet, Oh spoke about being the first woman of Asian descent nominated in her category. "It's interesting — it's not so much that it adds extra, I feel like I've carried it all the time, so I've never really been separate from it, my Asian-ness. How can you be?" she said. "But it's absolutely so special, I can feel it. My parents are here ... and I'm just so excited to bring them. It means something to our community too."
In her interview with Vulture, she talks about how disappointing it was so see the same kind of woman on the covers of magazine, again and again. "It hurt me to not see ourselves," she said.
Oh has been in TV and film for a quarter century — Canadians first noticed her in the TV film, "The Diary of Evelyn Lau," in 1993. From there, she won praise for her roles in Chinese-Canadian director Mina Shum's film, "Double Happiness," and other Canadian films, including "Last Night" and "Long Life, Happiness and Prosperity." When she hit Hollywood, she excelled at comedy in "The Princess Diaries" as a shallow and distracted high school principal. She was memorable and spirited in "Sideways." But despite all that, in mainstream movies and TV shows, she almost never played the lead. Until now.
On "Killing Eve," Oh plays a funny and realistic and very complex character. She's smart and capable without being flawless or idealized; she's brilliant and focused but still shows up to meetings hungover. And Oh embodies her completely. "The best actress on TV Is Sandra Oh on 'Killing Eve'," Vulture declared in its annual ranking of TV performances. Variety praised "Oh's ability to convey her character's grounded morality and repressed frustration, as well as her subversive streak and her itchy desire for a more exciting and dangerous life," adding that "it's a complicated role that also requires precise comic timing, and Oh nails every aspect of it."
When Claire Foy won the Emmy, she acknowledged how much talent was present at the awards — but Oh was the only actress she called out specifically.
"This wasn't supposed to happen! ... Sandra Oh, I just love you," Claire Foy said.