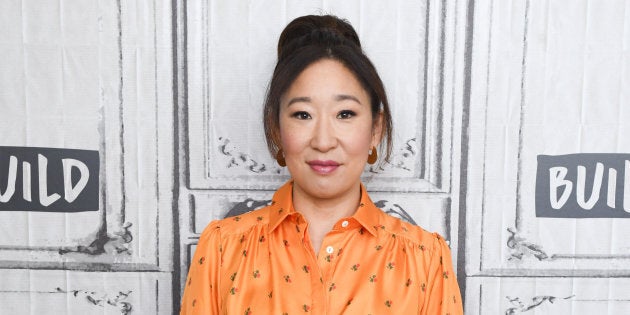 After 30 years in the acting biz, Sandra Oh can finally say she's made it.
Ahead of the premiere for "Killing Eve," Oh shared a photo of her mom and dad smiling, standing in front of a giant billboard promoting the series.
"Proud #immigrantparents Just took me 30 yrs ... " Oh wrote.
Considering her sister is a lawyer and her brother is a medical geneticist, Oh knew she had to make it big in order to fulfill her parents' expectations of success in a creative field, Vanity Fair reports.
Plus, "Koreans are ambitious, man," the 46-year-old told the site. "It means a lot to my parents that I do the work that I do and it has the visibility."
"It's changing the mindset that being an actor of colour, person of colour, that you're at a disadvantage in the creative life. That you don't have opportunity," she told Vulture. "It's all how you see the opportunity. And the clearer and deeper you get into what you really want, you just become a better artist."
On Instagram, Oh's fans were quick to congratulate the actress on her next career move, and thank her for her work and relatability.
"I used to live up the street from the National Theatre School in [Montreal]. Every morning on my way to the metro before work I would see a giant banner with a photo of you. It was such an inspiration to see a woman of colour, daughter of immigrants, and person I admire to start my day," one fan wrote.
"My mom is American-born Chinese and she has attitude and you were the first time I got to see something like I saw at home as a little girl ... " another said. "Keep representing for all Asian women! I'm proud of you! I know that you are not Chinese, though ... you're just a fly, cool ass Asian chick!!!"
One fan even offered advice about trying to please your parents: "Doesn't matter if it took 30 years for them to finally be proud ... you know you are awesome and that's all that matters. Parents are hard to please no matter how successful you may be."