Like many a celeb before her, Sandra Oh brought her parents as her dates for Monday night's Emmy Awards. And then her mom went and pretty much stole the show and every Asian child's heart on the red carpet.
The Korean Canadian favourite and "Killing Eve" star (who made history as the first Asian actor to be nominated this year for her lead role in the drama) was introducing her parents to a Variety reporter when the reporter asked Sandra Oh's mom how proud she was of her daughter.
Watch the moment in the clip below:
And that's when it happened.
"Oh, very much," her mom said. "I'm so proud of her." And then she kissed her.
"Oh my god, that happened on film!" Oh exclaimed, looking right into the camera.
We feel you so hard, Sandra. Lots of second-generation Asians grew up caught between the North American messages that your parents were supposed to tell you they were proud of you and your achievements and the reality that ... they never did. It's not that they weren't proud, they just didn't express it openly.
So, when this sweet Emmy moment happened, we lived vicariously through it, 'cause hey, that's what celebrities are for, right?
Second-gen kids totally understood the formal intro Sandra made to her folks, too:
(Do any of us even know our parents first names, really?)
And hearts were bursting with pride at the fact Mrs. Oh graced the red carpet in hanbok, traditional formal Korean attire. You can see it in part here: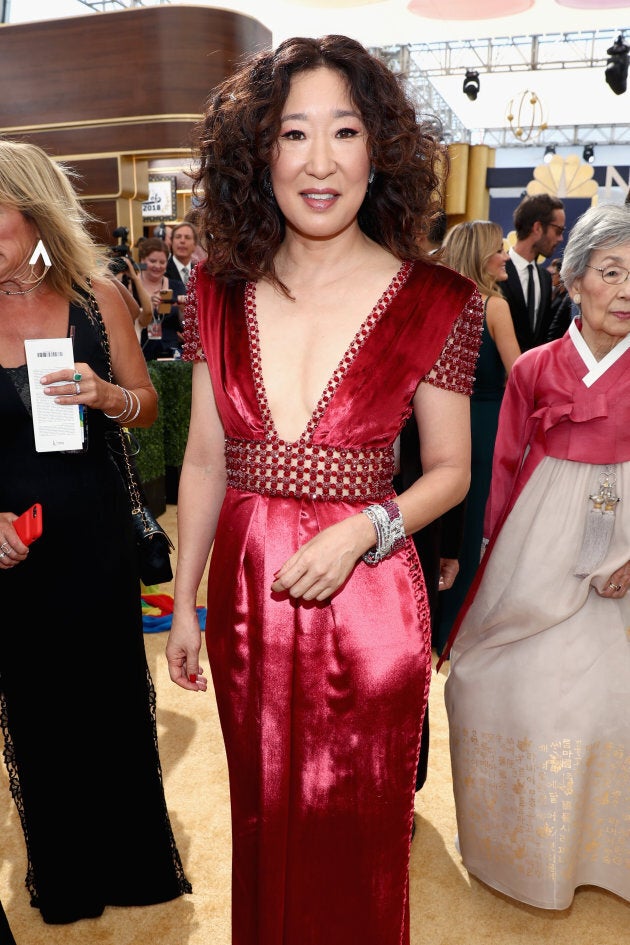 Mrs. Oh's gorgeous outfit pretty much won the red carpet on Twitter:
And although her daughter didn't win the award, it was clear the pair had sweeped the people's choice award of the night.
And that's how you know your parents are really proud.