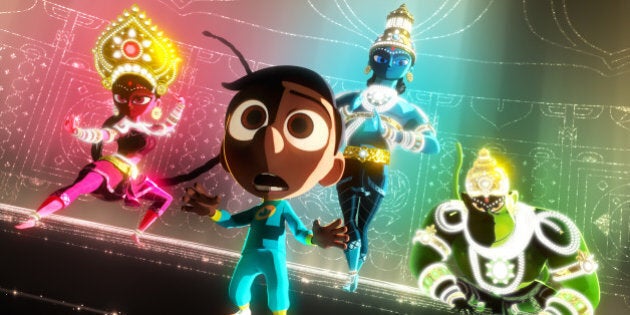 Pixar's new film "The Good Dinosaur," set in a world where an asteroid didn't hit the earth and kill the creatures off, lives up to its soft-sell title. But "Sanjay's Super Team," the Indian-American short that precedes it, is flat-out great as well as groundbreaking.
Diversity has seen a big push by progressives in recent years, especially in pop culture.
It's been an ongoing issue for Pixar which, despite being one of modern times' great creative houses, has often played into cultural stereotypes and failed as far as representing its audience onscreen, especially when it comes to lead characters.
An AV Club article reported that less than 25 per cent of Pixar characters are women and that only one film prior to "Inside Out" had a female lead.
But they added that "Pixar has an even worse track record when it comes to representing people of color," noting that almost all of the voice actors of non-human characters are white and that Frozone from "The Incredibles" and "Russel" from "Up" are "pretty much the only examples of central characters of color."
Studio boss John Lasseter is aware of the complaints, and is making moves. A Pixar job listing for a "Head of Inclusion and Diversity" garnered some online attention recently and Lasseter himself planted a diversity flag at a press conference last spring for "Inside Out."
"It's very important to us ... to have female and ethnic characters. It's grown in importance over time. As you'll see in future films, we're really paying attention to that," he said, adding that hiring a more diverse workforce has helped. "We have been seeing more and more women, and more and more people from all over the world starting to work with it. That's exciting. I think it will get reflected in the characters."
On a large-scale, Pixar's "Moanna," which will be released next November, stars Polynesian princess Moana Waialiki. But right now they're setting the stage with the "Sanjay's Super Team" short.
Admittedly, "The Good Dinosaur" still makes its cave-boy Caucasian, which seems unlikely. But props must be paid for giving their longtime animator Sanjay Patel room to tell his own (mostly) true story in Pixar's first production with a non-white lead.
The basic premise of Patel's semi-autobiographical seven-minute film, which seems like an Oscar lock, is that Hindu gods aren't much different than Marvel superheroes.
The film begins at the Lido Hotel where Sanjay grew up, and which his parents still run. The young boy settles in before his shrine, the TV, to watch his favourite "Super Team" show and play with the action figures while his dad sits down in front of his actual shrine and tries to convince his kid to participate in his own culture.
Sanjay begrudgingly joins in but eventually his imagination takes over and the Hindu gods become full-fledged superheroes, helping to develop an understanding between the two.
"John said he loved the idea about a movie about a kid not appreciating his culture, but he also really loved the idea that through appreciating your culture, you can build a connection with your father," Patel told the Mary Sue. "And that was absolutely true of my own story and isn't something we had to manufacture for this film. It took me 30 years to get here, but it is definitely based on a true story."
The reason it took so long for him to get there was in large part because Patel didn't see himself reflected in pop culture.
"If I could, I would go back to the 1980s and give my younger self this short," Patel told the LA Times. "I want to normalize and bring a young brown boy's story to the pop culture zeitgeist. To have a broad audience like Pixar's see this ... it is a big deal. I'm so excited about that."
By adding these Hindu deities to kid culture's superhero pantheon in a short that screens before a dinosaur flick, Pixar is aiming to reach the widest possible audience to open the most little minds.
So speaking as a non-brown parent -- Jewish, specifically, and one who grew up without seeing myself represented in kid culture, either -- it's a big deal for us, too.
My own son exclaimed "Daddy look, it's the Monkey God!" into my ear at the screening, excited that he had recognized Hanuman from his kids picture book "The Little Book of Hindu Deities," which was also drawn by Patel.
Children are very susceptible to the unspoken messages from their media, which is why progress on diversity is so important. It's important that my son and I read Patel's book as well as new Marvel comics with a black Captain America, female Thor and Muslim Ms. Marvel. It's important that his favourite cartoon is the Asian-focused "Avatar: the Last Airbender" and that when he turns on "Lego Dimensions," he wants to play as Wyldstyle. But think about how important those are for women and minorities who seem to always take a back see to white males in pop culture.
So yes, it's been nineteen years since Pixar launched with its iconic short about a lamp, "Luxo Jr." But by finally turning that spotlight onto multicultural heroes, brown kids can now see people who look like them be brave and powerful and white kids can see people who don't look like them be brave and powerful, too.