For many years, the discussion around Santa in my house centred around the anticipation of his arrival, what his reindeer ate and what he might bring. But as each of my children grew, our once fun conversations began to change into an interrogation of sorts.
"Is Santa real? How does he get in to our house because we don't even have a chimney?" I relied on the magic of Santa philosophy and the idea that if you didn't believe, then why would he come? Not a chance I would want to take, I told them.
My two oldest children let it go at this, progressing into their teen years knowing the truth but never pushing for deeper conversations. Their significantly younger brother was beginning to ask questions, but still believed.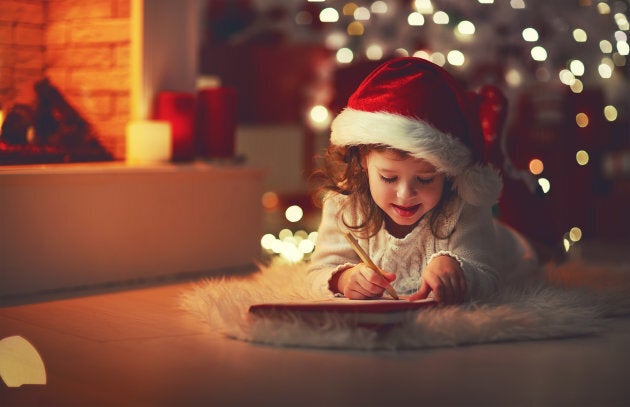 As mid-November approached this year and Santa arrived at the mall, I knew it wouldn't be long before the dreaded interrogations began. One day shortly after, while doing some house cleaning, my son approached me out of the blue.
I was caught off guard, so it took me a moment to respond.
"Mom," he continued, "tell me the truth, because I'm going to be a grown up someday and I'll be surprised when he doesn't show up."
I paused for a minute; I'm really not good at these conversations. My son eyed me suspiciously and then announced, "I'm going to Google it."
I'm certain my jaw dropped slightly at his exclamation as my mind began to race. What do I do? Intervening would scream guilty, but allowing him to google could turn up who knows what.
A minute passed that felt like forever, then he suddenly burst into tears.
Unable to do anything, I silently watched as he briskly walked over to the table, picked up his iPod and sat on the couch. He then began typing into the Google search bar. I resumed dusting furniture, panicking inside, wondering what was going to happen next.
A minute passed that felt like forever, then he suddenly burst into tears. "My childhood is ruined" he yelled! Like a deer caught in headlights, I couldn't move. I stood at the table, dust rag in hand, contemplating my next step. How does one argue with Google?
Then, just as any parent would do, I went over and did the best I could.
I sat down beside him on the couch with crocodile tears streaming down his cheeks and told him Santa is real. The character of Santa is real. The magic of Santa is real, and is a part of the magic of Christmas.
More from HuffPost Canada:

Santa Claus Parade Accident Kills 4-Year-Old Girl In Yarmouth, N.S.

Kids Should Still Mail Letters To Santa, Canada Post Says Amid Strike
He looked at me, listening silently. I then asked him, "Do you want to believe in Santa?" He paused for a moment, then nodded his head yes. I went on, "If you want to still believe in Santa because it makes Christmas magical and special, you can."
In that moment we exchanged a silent acknowledgement about the reality of Santa, but decided this magic is a special part of our Christmas that he's not ready to give up.
So, on behalf of all of the other parents and children out there who want to believe, Google, could you kindly omit the search results for "Is Santa Real?"
Have you been affected personally by this or another issue? Share your story on HuffPost Canada blogs. We feature the best of Canadian opinion and perspectives. Find out how to contribute here.