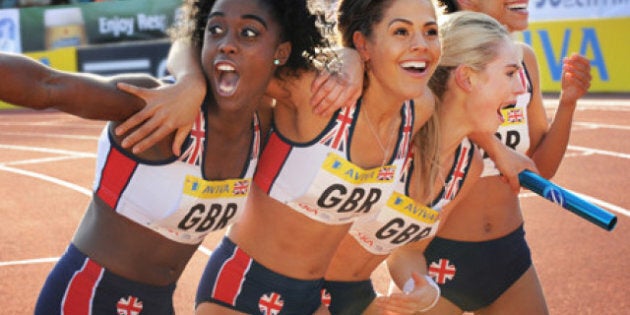 For the first time, two Saudi Arabian women have publicly stated their interest in participating in the Olympic movement. But with less than two months before the London 2012 Summer Olympics, it's unlikely that millions of fans around the world will witness a historic moment for Saudi Arabian women. The Middle Eastern nation has never sent a female to the Olympics and doesn't plan on it anytime soon.
Prince Nawaf, the President of the Saudi Olympic Committee and a member of the International Olympic Committee said at a press conference in late April, as reported by Human Rights Watch, that the nation doesn't plan on adding women to the Olympic roster. "We are not endorsing any Saudi female participation at the moment in the Olympics or other international championships," he said.
Aside from Saudi Arabia, Qatar and Brunei are the only other countries that have not been represented by women at the Olympics; however both have entered women in international events. "Female sports activity has not existed [in the kingdom] and there is no move thereto in this regard," said Prince Nawaf, as reported by Human Rights Watch.
But in London, Qatar and Brunei will have women as full members on their Olympic teams. "I can't understand why Saudi Arabia won't allow women to compete even though we are in the 21st century," said Honey Thaljeh an elite Palestinian football player.
This controversial decision by the Saudi Olympic Committee is consistent with the views of the conservative, Islamic Saudi government, who currently prohibit physical activity classes to girls in schools. Lina Al-Maeena, the creator and coach of the Jeddah Women's Basketball team, said that without these programs, there is no structure in place for women to learn the foundations of sport and to reap the health benefits of physical activity. "Why would they send women to the Olympics if we in Saudi don't have physical education in public schools and public clubs," she said.
Experts suggest that the discrimination of women in sport may be unique to Saudi Arabia. Afghanistan had an entry in the women's 100-metre dash in Athens 2004; Roqaya Al-Gassra from Bahrain was in the semi-finals in the 2008 Olympics in Beijing for the 200-metre race; and Hassiba Boulmerka from Algeria competed and won the 1,500-metre in 1992. The discrimination against women at the 2012 games is unique to Saudi Arabia said Dr. Nurah Amat'ullah, the Executive Director of the Muslim Women's Institute for Research and Development. "It's not a blanket thing about their engagement in physical."
Participating in physical activity can be challenging for ultra-conservative Muslim women, said Thaljeh. In some instances, women are unable to swim or perform other sports in the presence of men, and must wear traditional Muslim forms of dress, which follow the Islamic idea of modesty, to participate in physical activity. However there is nothing in the Koran that bans women from partaking in physical activity and competitive sport, said Amat'ullah. Instead, she said it's a cultural and national matter within the kingdom of Saudi Arabia. For years, she added, they have refused women equal access to sport with little backlash from other nations and international governing bodies. "Going back to the Prophet [Mohammed], women were engaged in physical activity and so there is no prohibition to women participation in physical activity," added Amat'ullah.
While there appears to be no official law banning participation, female athletes in an Arab nation can sometimes face ridicule from local citizens and even family members, said Thaljeh, the first female football player to compete internationally for Palestine. "They do think that sports or football are created only for men and not women." She said she was often sworn at and faced a lot of criticism from neighbours and other individuals in her community. "It's not ethical in their point of view," she said. "It's a shame."
The Saudi government is taking no proactive steps to engage women in physical activity and as such, they are in violation of international Human Rights set by the United Nations, of which Saudi Arabia is a member, said Christopher Wilcke of Human Rights Watch. In the meantime, he added, Saudi Arabia is also violating the non-discrimination policies set by the IOC: 'Any form of discrimination with regard to a country or a person on grounds of race, religion, politics, sex or otherwise is incompatible with belonging to the Olympic Movement.' By sending a men's team to the Olympic Games, Saudi Arabia has signed on to global standards of equality. "If Saudi Arabia wants to be part of that modern Olympic family, they are going to have to change," said Wilcke.
Under pressure from international organizations like the IOC, the Saudi Government has been working on an education based physical activity program that was supposed to be released in January. It has been delayed for unknown reasons. However, within the next few years, Wilcke expects to see new sporting facilities built into schools that could also be used by women in the community. Physical education in schools will increase activity levels among mostly sedentary women and girls, but it won't lead to women competing in international events. "We need to see a budget and women's sections in National Tournaments with official sponsorships so that they can compete internationally," Wilcke said.
There are currently 153 youth leagues supported by the Saudi government, yet all blatantly exclude female participation. The discrimination within the country coupled with their refusal to name equestrian show jumper, Dalma Rushdi Malhas, as an official member of their Olympic team, has left many to ask whether the country should be banned from the 2012 Games like South Africa was in 1964 for refusing to end apartheid.
Wilcke said the goal shouldn't be to ban Saudi Arabia from the Games, but for the IOC to give them clear guidelines, and possibly an ultimatum regarding demands for equal opportunity for women and girls within the country. But without internal structures to encourage and train female athletes, they will never be competitive with nations who spend millions of dollars preparing their athletes for the games. "It's about being able to compete and win with pride or lose with pride and not get whipped since we do not have any sports infrastructure," said Al-Maeena.