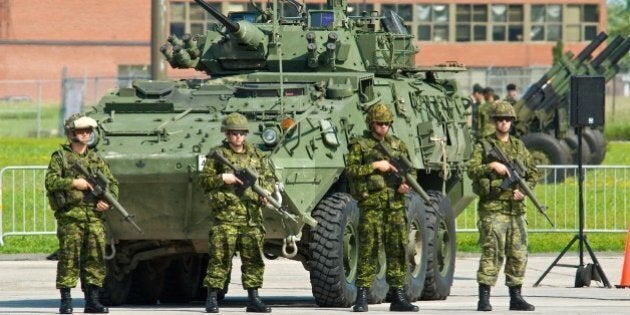 On the same week that Ottawa condemned the most recent human rights violation in Saudi Arabia, it confirmed that Canada was set to proceed with plans to arm the perpetrator. Every indication is that the $15-billion deal, which the Canadian Government brokered on behalf of General Dynamics Land Systems of London, Ontario to provide Saudi Arabia with Light Armoured Vehicles, will go ahead.
But can this largest-ever Canadian military exports contract comply with the human rights safeguards of Canadian exports control policies? This question has been posed clearly and repeatedly since the deal was announced in February 2014 -- in Canada and abroad; in French and English; in print and on radio, television, the Internet and social media.
From two successive governments, however, there has so far been no explanation on how this deal can meet existing export controls, in particular as they relate to countries "whose governments have a persistent record of serious violations of the human rights of their citizens." In such cases, Canada must first determine that "there is no reasonable risk" that Canadian-made goods might be used against civilians.
In the case of Saudi Arabia, not only is there a well-documented pattern of human rights violations by the ruling autocratic regime, but there are signs that the overall human rights situation is worsening.
Mass executions, carried out across Saudi Arabia on January 2, were the latest example of systematic and severe violations of basic human rights. Indeed, Saudi Arabia consistently ranks among the worst offenders in the world for all conceivable categories of human rights abuse.
We don't yet know how Ottawa has officially evaluated such abuse. Thus far, the main talking point has been about economic gain for Canada: the number of jobs created, the cross-country supply chain, the sheer size of the contract. This message has been loud and clear, but does not address human rights concerns.
So, again, we ask: Prime Minister Justin Trudeau and Foreign Affairs Minister Stéphane Dion, how can there be "no reasonable risk" that Canadian-made goods will not be used against civilians, given what is known about the recipient nation's human rights record?
Perhaps there is an adequate response to this question. If so, would it not be in the best interest of all parties involved, including the Canadian public, to know the types of human rights-related assurances that have been sought and received as part of this deal?
Part of the discourse that has sustained the shroud of secrecy has related to the commercial confidentiality of the contract. But an overly broad conception of such confidentiality should not override legitimate expectations of transparency, especially given the magnitude of this deal. It is not at all clear, for example, how releasing a human rights assessment conducted by the Canadian government would infringe upon the commercial confidentiality rights of General Dynamics Land Systems.
How should 'contractual obligations' be interpreted? Although Foreign Affairs Minister Dion recently declared, "What is done is done," we must not forget that this is not a one-installment deal. According to the official announcements, the contract will be executed over at least the next decade and possibly for as long as 14 years. Consider the following hypothetical scenario: three years into the contract, there is clear evidence that Canadian-made armoured vehicles are being used to kill civilians. Will Canada still be contractually obligated to complete the contract?
The consequential international Arms Trade Treaty, which came into force in December 2014, recognizes the possible need to reassess export authorizations. Canada's accession to the ATT was not only a priority in Minister Dion's mandate letter, but also figured in the election pledges of now-Prime Minister Trudeau.
ATT states parties are "encouraged to reassess the authorization" of arms exports "if, after an authorization has been granted, an exporting State Party becomes aware of new relevant information." In the case of Saudi Arabia, the recent mass executions constitute new relevant information. "What is done is done" does not meet the heightened expectations of caution that must inform arms exports.
Here are the facts about the Canadian deal with Saudi Arabia:
1.The deal is the largest military exports contract in Canadian history.
2.The recipient is one of the worst human rights violators in the world.
3.Under existing export control policy, Canada must determine that "there is no reasonable risk" of human rights violations with Canadian-made goods before authorizing a sale.
4.Despite Trudeau's declaration that the sale is for "jeeps," by any modern understanding of conventional weapons, this is an arms deal.
As matters stand, Canadian-made goods will serve to sustain one of the most repressive regimes in the world. Is this how Canada wants to present itself on the world stage--as a country more interested in profit than principle? One could hardly come across a more perfect test of Canada's character as a nation.
* This piece was first published in the Waterloo Region Record.
Correction: A previous version of this blog stated the arms deal was announced on December 2014, when it was actually February 2014.
Follow HuffPost Canada Blogs on Facebook
Popular in the Community