Saudi Arabia's oil minister has a solution for the global oil glut: Instead of cutting oil production, wait for the world's most expensive producers to go bust.
Ali Al-Naimi didn't specifically single out the U.S.'s shale oil fields and Canada's oilsands as the targets of his comments at an oil industry conference in Houston, Tex., on Tuesday. But as those two are among the most expensive oil plays in the world today, the target of his comments was clear.
"Efficient markets will determine where on the cost curve the marginal barrel resides," Al-Naimi said, as quoted at Forbes. He added later: "Inefficient producers will have to get out."
Al-Naimi rejected the idea of an OPEC production cut, saying they won't work to boost oil prices. Cutting production would mean low-cost producers like Saudi Arabia would be subsidizing higher-cost ones.
Low-cost producers cutting their own production "only delays an inevitable reckoning," he said.
Al-Naimi was careful not to single out any one country, in the wake of accusations Saudi Arabia is trying to run the U.S.'s shale oil play out of business. "We have not declared war on shale or on production from any given country or company,'' he said.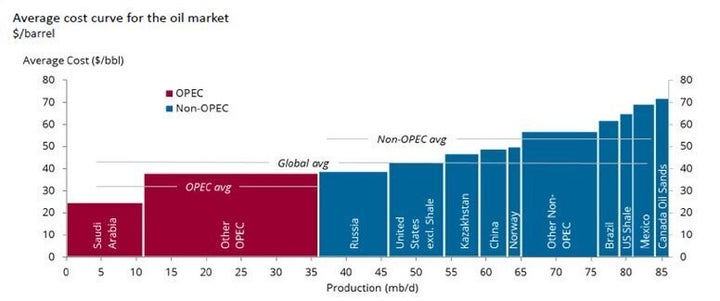 This chart from the International Energy Agency shows Canada and the U.S. are among the most expensive places to launch oil extraction projects.
Al-Naimi says the global oil glut will end, though he won't predict when.
While rejecting production cuts as unrealistic, Al-Naimi endorses a freeze on production at current levels if major producing countries go along. The freeze idea, floated last week by Saudi Arabia, Russia, Venezuela and Qatar, faces uncertain prospects. Iran, just coming off international sanctions, wants to boost its production.
Canadian oil production has continued to grow throughout the oil price slump, largely because oilsands operations are expensive to shut down once they're started, and new oilsands projects, started years ago, have continued to come online.
But a recent report from the International Energy Agency suggested production growth could flatline entirely in Canada in the coming years.
— The Associated Press, with a file from The Huffington Post Canada