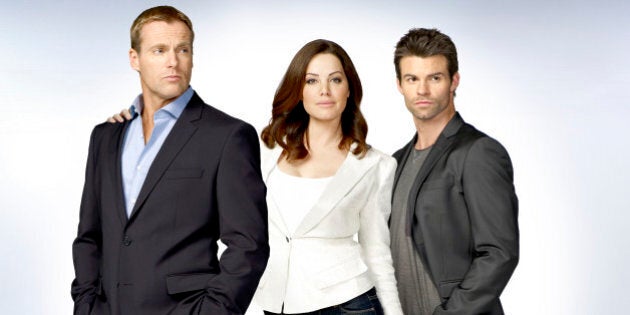 Daniel Gillies has plenty of blood on his hands these days. On the Canadian medical drama "Saving Hope," Gillies plays brilliant orthopedic surgeon Dr. Joel Goran. Over on "The Vampire Diaries" spin-off "The Originals," he's the charismatic, well-dressed Elijah.
"Saving Hope" kicks off Season 3 on January 2 at 9:00 p.m. EST on CTV, and Gillies spoke to HuffPost Canada TV about hospital life, his wish list and, of course, vampires.
HuffPost Canada TV: How does it feel to have two very popular series on television simultaneously?
Daniel Gillies: Like a blessing I don't feel very worthy of. I'm so lucky. The first logical answer to that should be "exhausted," particularly with an overlap between both shows and going back and forth between the two. Both shows were gracious enough to let me do the other. The monumental feat here isn't the fact I'm doing two shows -- the monumental feat is two gigantic production companies decided to allow me to do that.
Has Joel become a better doctor since joining the staff of Hope Zion Hospital?
I know he's certainly becoming a more experienced lover. The problem with procedural stuff is typically when one of the protagonists, in the case of "Saving Hope," a surgeon, has to demonstrate a proficiency and prowess as a doctor. Unfortunately, everyone else has to take a second position. It's weird. At times, Joel can be Mozart and then at other times, he has problems with these very rudimentary things and it's an education. That being said, I'd certainly say he's grown as a physical practitioner.
Is Joel a good Chief of Surgery? How is he handling the extra responsibilities and pressure?
It reminds me of soldiers that are promoted and not in the front lines anymore. Joel seems to like to be in the trenches. I think he thought it was a good idea in theory, but it's not where his passion is. I'm not sure the position is long-lived. As long as you are doing something that doesn't fulfill your greatest passion, I don't think there's any way it can have any longevity.
Joel and Alex (Erica Durance) really clicked on a recent road trip. Were you happy they didn't simply end up in bed together?
I definitely was. It's been a bit of a yo-yo relationship. There's this real desire to have them get together. There's almost a schizophrenia in their relationship. Sometimes they're adorable and other times they're driving each other insane. I'm happy we didn't sprint into anything irrevocable.
What elevated the upcoming Season 3 premiere?
It's directed by David Wellington, who is the best director I've ever worked with in my life. He probably wants to knock me out most of the time, but I love working with him. David makes an episode of television look like a movie. He's one of the most intelligent people I've ever met. He's such an asset to this show, and one of the main reasons why "Saving Hope" maintains this standard and quality.
Joel and Charlie (Michael Shanks) team-up during the crisis at hand. How does Joel view Charlie?
Regardless of his feelings towards Charlie, Joel's respect for him is undeniable. Joel knows Charlie is a great surgeon. Outside of any personal conflict, Joel definitely respects Charlie's abilities.
Looking ahead, what's in store for Joel? What has you excited about where this season is heading?
I've learned so much from playing this role. I've never played a role quite like Joel before. I've never played anything so similar to myself. Not that I'm a practicing orthopaedic surgeon, but I definitely use more of myself in this role than I have in almost anything I've ever done. I found it more challenging because of that. I found it a little confronting and deeply emotional. So, I'm looking forward to seeing the evolution or the undoing of this triangle between Alex/Charlie/Joel.
I'm looking forward to having a relationship outside of the hospital. I'm looking forward to learning a little about Joel's life. I just don't know anything about him. I've spent two seasons playing this character and we've never seen his apartment. We don't know what music he listens to. We don't know who he hangs out with. We don't know anything about him. I think I learned more about Joel in the first episode than I did every episode thereafter. It's a peculiar thing for somebody, one of the main characters on a show, to know so little about him. It's certainly created a mystery, but we know a lot about Charlie. So, I look forward to learning some history about Joel.
Switching gears to "The Originals," there appears to be a connection between Elijah and the hybrid Hayley (Phoebe Tonkin). What does she stir up in him?
Forbidden fruit. I don't think they're a good match. It's kind of gross if you think about it. Let's just take this intimacy to its natural conclusion. They have sex. What does that mean when your brother's child is within her? There's something obscene about it. But it's sort of wonderful in an independent film kind of way. For this show, I'm certainly not excited about the relationship. I also think the fans of the show are a little bit over it. Who knows? What do I know? I don't know anything. I think the people who turned to our show were really hoping and praying there wouldn't be a love triangle. Unfortunately, that's kind of the convention that's been thrown at them. That said, I know we're making the best of it that we possibly can. We just continue to see where it takes us.
Elijah is all about keeping the family together, but you can only be stabbed in the back, or in their case, in the heart, so many times. What have you enjoyed about the sibling dynamic between Elijah and Klaus?
Elijah is clearly sick. He's clearly demented in that he pledges allegiance to this man, because there doesn't seem to be any apparent reason why he would give himself to his brother. Klaus has demonstrated nothing in the show that constitutes that kind of devotion. I've made a decision, because I've sort of been forced to, that Elijah is sick. He feels in some way that he betrayed his brother for not rescuing him all those centuries ago from his fate. I think he'll never be able to forgive himself for that. That act of non-forgiveness mutated into this self-loathing. It's pathological. Elijah's ill to want to keep returning to someone who clearly has no interest in his happiness or well-being.
Can Elijah be pushed too far though?
One would hope so. Otherwise, we're creating a character that has enormous potential to be great and we're just squandering it on nothing. Every time it seems like Elijah has said, "I've had enough. This is the end," the following week it ends. He's forgotten. That's his illness. He has this amnesia week-to-week about all these betrayals. I think they are going to take it to a place where he finally reaches enough. He just has to reach a place of critical mass. Something has to break with this much abuse. Elijah has to reconcile himself with the fact that life has continued and it wasn't necessarily his fault that these terrible things happened to his brother.
"Saving Hope" Season 3 premieres on January 2 at 9 p.m. EST on CTV. "The Originals" Season 1 is currently airing on The CW in the U.S. and CH in Canada.