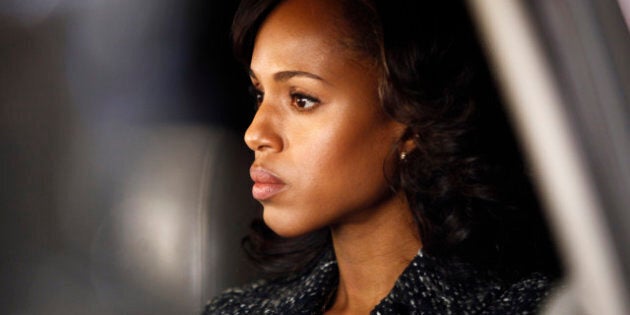 There are some TV shows that I can't do anything but watch. While there are some I can have on while I pay my bills/send emails/play Fruit Ninja, there are others that require my undivided attention. You know what I mean. In case you were wondering, for me it's "The Good Wife," "Parenthood," "The Walking Dead" (holy crap, last night's episode!!!) and "Scandal." Yes, "Scandal."
I'm not sure when my obsession with "Scandal" truly began. I've been a devoted viewer of all Shonda Rhimes' series at one point (I still religiously watch "Grey's Anatomy," did the first few seasons of "Private Practice," saw every episode of "Off the Map"), but I just can't get enough of "Scandal." Sure, I enjoyed the first season, but back then, I watched it with some apprehension, only because it seemed like the kind of series that would get cancelled. Thankfully, ABC didn't pull the plug.
The political drama began a little soapy and a lot over-the-top. The situations are borderline ludicrous and the speed at which Olivia and her colleagues speak often results in the rewind button getting pressed, but it's so fantastically juicy and addictive, I can forgive its teeny-tiny flaws. It really has become my number one must-see show of the season (sorry, "Walking Dead," "Good Wife" and "Parenthood").
Even though I wasn't warming to Olivia Pope (Kerry Washington) in the beginning -- she was like a Blackberry-wielding robot -- but we've seen more shades of vulnerable ever since she and Fitz (a.k.a. President Fitzgerald Grant, played by Tony Goldwyn) broke off their affair. Liv's biggest flaw might be her weakness for powerful men, but at least she's starting to seem human now. Oh, and her mama-bear instincts continue to dazzle and the second season has been epic thus far.
The episodes still begin the same, with someone committing some sort of crime/doing something stupid, with a bumpin' soundtrack to boot -- and Olivia, former White House aide and current political Fix-It Felix, and her posse of misfit investigators (her "gladiators in suits") Harrison Wright (Columbus Short), Abby Whelan (Darby Stanchfield), Quinn Perkins (Katie Lowes) and Huck (Guillermo Diaz) -- help their desperate client of the week and save the day. The situations are usually preposterous, and the team has access to the most classified information, but they control the damage and get the job done. That's a busy enough hour, but the second season has gone to the next level with the show's bread and butter: scandal.
OK, so there's been less romance between Liv and Fitz, but I'm fine with that. Because ever since Olivia walked into that room with Cyrus (Jeff Perry), FLOTUS Mellie (Bellamy Young), undoubtedly evil Hollis Doyle (Gregg Henry) and Supreme Court judge Verna Thornton (Debra Mooney) in it, I just about fell over. That's the conspiracy I want ... no, wait -- I need to know more about.
This is from Rhimes, so "Scandal" has the kind of love drama that "Grey's" fans clamour for (the chemistry between Liv and Fitz is insane, and it's hard not to root for Abby and David Rosen, played by Joshua Malina). But there's also action scenes for those who need more than just sudsy romance (ahem, the last new episode, "Spies Like Us," was perfection). "Scandal" has always been good, but now it's great. With only three episodes left this year, I don't know how I can bear it not being on (last week's absence was bad enough). It's a fun, thrilling roller-coaster of a ride, it's fast-paced, it's brilliantly acted and we care about what happens to all the characters. What more can we ask for?
Catch "Scandal" on Thursdays at 10 p.m. on Citytv in Canada and ABC in the US.