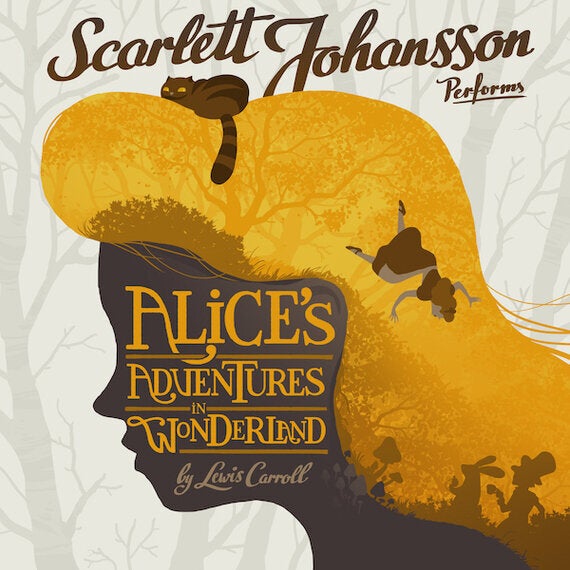 Alice in Wonderland continues its comeback streak with Hollywood star Scarlett Johansson's audio version of Lewis Carroll's Alice's Adventures in Wonderland via Audible Studios, an Amazon company. Audible says, "It tells the story of the young and imaginative Alice, who grows weary of her storybook, one 'without pictures or conversations,' and follows a hasty hare underground -- to come face to face with a host of strange and fantastic characters."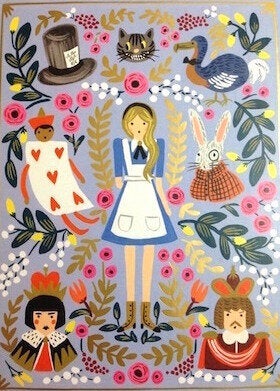 Other recent ventures with the classic tale include updated hardcovers, often seen in trendy shops like Anthropologie, bookstores like Barnes and Noble, and of course, Amazon.com, in addition to the 2010 remake of the movie starring Johnny Depp, Anne Hathaway, Helena Bonham Carter, and Mia Wasikowska, plus the upcoming sequel, Alice Through the Looking Glass.
In the most recent endeavor with the charming tale, Tony Awarding-Winning actress and Golden Globe nominee Scarlett Johansson teamed up her sister, Vanessa Johansson, who is narrator and director of the on the audiobook. Vanessa brought her own unique perspective on the art form to the recording process, having previously narrated dozens of audiobooks herself.
Of the collaboration, Scarlett says, "It was a great pleasure to work alongside my sister, Vanessa, to read aloud the great works of Lewis Carroll. Having grown up loving the story of Alice's Adventures in Wonderland and reading many books aloud with Vanessa, it seemed like the perfect opportunity to share my love for Alice with an audience. I hope that this recording is enjoyed by not only those who are existing fans of the material, but also by new and curious readers, who may just be discovering Carroll's work for the first time."
"Alice's Adventures in Wonderland is such a deliciously whimsical and curious story," added Vanessa, whose audiobook credits span a variety of categories including children's books, history, fantasy, biography, fiction, self-development and more. "We had such a blast dialoguing during the recording process, thinking about the characters, and creating an audio world for this book. I hope the joy that we experienced together comes across to listeners."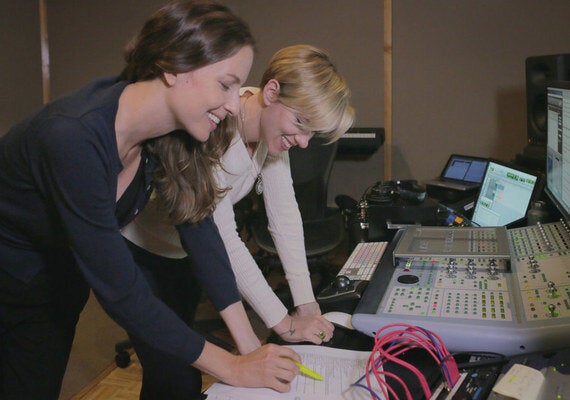 Johansson joins the long line of A-listers and acclaimed performers who have narrated for Audible.com, including James Franco, Jake Gyllenhaal, and Kate Winslet, Jesse Eisenberg, and Rosamund Pike.
Audible praises the performance, saying, "Scarlett Johansson brings a palpable sense of joy and exuberance to her performance...from the White Rabbit and Mad Hatter to the Cheshire Cat and Queen of Hearts, she imbues each madcap character with a distinct voice and personality that will leave a lasting impression long after the adventure is over."
"One hundred and fifty years after its original publication, Alice's Adventures in Wonderland remains one of the most widely read, deconstructed, referenced, and reinterpreted works of Western fiction," adds Audible.
Alice's Adventures in Wonderland has inspired many adaptations over the years. In fact, a sequel of the 2010 remake, Alice Through the Looking Glass, will soon make its debut this May. The movie will star Johnny Depp, Anne Hathaway, Helena Bonham Carter, Mia Wasikowska, Matt Lucas, and the voice of the late Alan Rickman. The sequel's recent trailer "enchanted Twitter," generating much hullabaloo on social media months before its release.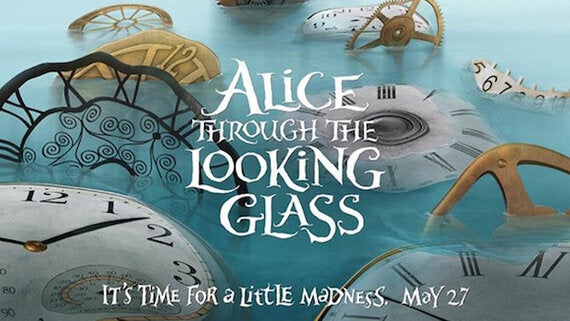 Alice's Adventures in Wonderland is now available on Audible.com -- less than three hours long, one can easily finish this captivating classic in a single sitting!
Popular in the Community