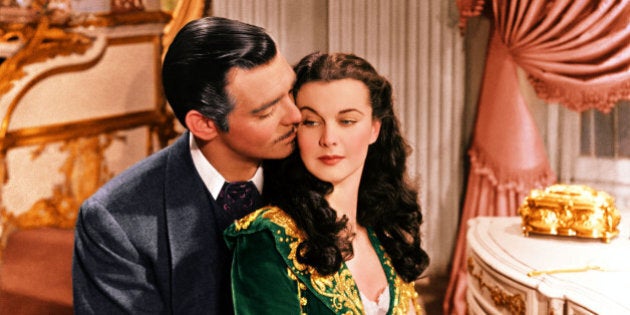 This year marks the 75th anniversary of "Gone With the Wind," and in celebration of the Victor Fleming-directed saga, we've chosen to celebrate the style of Scarlett O'Hara—the only character in movie history to have made a dress out of drapes.
So let's celebrate the fashion lessons Ms. O'Hara taught us all. (And specifically the fashion lessons of Scarlett—not "southern belles" in the Blake Lively lifestyle site sense of the word. We're not romanticizing the south, here.) Let's put on some big hats and do this.
Story continues below slideshow: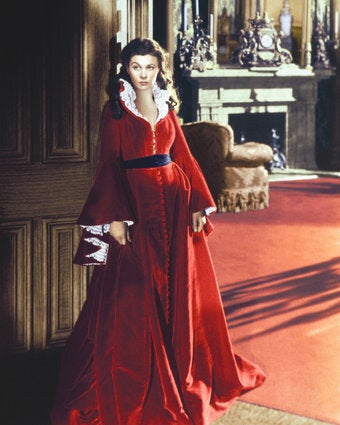 Scarlett O'Hara
1. There's A Reason We Don't Wear Corsets Now
The year is 2014 and Kim Kardashian is "waist training" (read: wearing a corset) for reasons we don't fully understand, especially since "Gone With the Wind"—and generations of women with broken ribs and damage to their internal organs—is proof of how terrible corsets are. Think about it: never is any character psyched to lace up a corset (remember Rose Dawson?). Even when Scarlett wants to go back to her pre-baby size, she looks like she wants to walk into the sea. And who wouldn't? She suffered for all of us (so listen up, Kim Kardashian).
Remember when Rhett loses it because it looks like Scarlett was flirting with Ashley Wilkes at the mill? (And honestly: Rhett is a monster.) And he makes her "dress the part" (of a sex worker, we think?) by wearing red? Well, the joke's on him: Scarlett showed up to Melanie's party looking super-fly—albeit a little over-dressed—in red velvet and feathers, as if she ran out of cares to give because she did. Go big or go home, and you can see yourself out, Rhett.
3. There's No Such Thing As Overdressed, Actually
So forget we applied an inappropriate description to Scarlett's red-dress get-up: girlfriend looked fierce, and it's not her fault that everybody else dressed like they were hanging out in a mall food court (or at least its post-Civil War equivalent).
4. Scarlett Was Wrong To Be So Upset About Wearing Black
No one here's going to dispute that Scarlett shouldn't have married Melanie's brother (and then later, her sister's boyfriend), but we should dispute Scarlett's tears over her all-black widow-garb. Not because of the tradition (99% of all "traditions" we see in this movie benefit only rich white guys), but because black is obviously the superior clothing shade and having only black dresses to wear makes getting dressed very easy. (Case in point: Gap's current Dress Normal/Black is a Colour campaign. They get it.)
So Scarlett realizes that she needs to ask Rhett Butler for money, and accepts that she'll have to dress up for said request because Rhett, as mentioned, is terrible. ("He'll never give me money if I don't dress like the war didn't ruin my entire life!" What the hell, Rhett?) But the woman is dirt-poor—she is literally covered in dirt. So that's why it's genius that she and Mammie make a Robin Hood-style dress out of Tara's freakishly fancy curtains. First, not only does this prove how smart Scarlett and Mammie are, it also proves that anyone can make anything out of nothing. Which is a fashion lesson Maria Von Trapp ran with when she made curtain clothes for the kids in "The Sound of Music."
Scarlett O'Hara knew what colours she looked best in. Think about it: her choice tones are red, green, white, or blue. She doesn't experiment with yellow or pastels or whatever other colours she doesn't need to. She knows, and she wears. But still, even though she was in tears over widow-garb, she also looked—as all of us do—great in black. But we're not going to think about that now, we'll think about it tomorrow.
Considering not even Scarlett O'Hara—the spokes-character for the Civil War-era "Southern Belle"—clung to that time period, it's actually baffling that we, over a century later, think it's still a good idea to try. Scarlett, at least aesthetically, embraced change: sure, at the start of the book/movie, she was a 16-year-old debutante in hoop skirts and big hats (her weakest look, we think), but by the end of the film she was representing major Victorian vibes, opting for sleeker silhouettes and European cuts. Get with the times, people! Or at the very least, please leave the pre-Civil War era where it belongs. (In history books.)
8. Never Wear The Same Thing Twice
This is an example of a rule none of us will ever be able to follow because, a) we are real-life human beings, and b) our wardrobes aren't curated by a costume department on a major film set. But! We can dream.
9. "Modesty" Can Go Right To The Devil
Look: there's absolutely nothing wrong with modesty, but O'Hara's southern pals were a little too hung up on it—especially since characters like Belle and Scarlett actually looked better than everybody, all the time. Can't handle low necklines? Don't like the colour red? Re-adjust your settings, everyone. If Melanie and the Doctor's wife want to wear turtlenecks and middle-part buns, that's their call—but don't shame the women who don't.
10. Know That Scarlett O'Hara Would Probably Wear Jeans Today
And we're saying this because Scarlett was a modern woman in an opposite time. Again, we can over-romanticize hoop skirts, or we can get with the times and acknowledge that if "Gone With the Wind" was set in 2014, it'd be a) very upsetting, and b) set in New York, where Scarlett has lived for years because life in the south was just that terrible. She would probably blog, she would probably wear jeans, and she would absolutely—at least we hope—not adhere to the "south will rise again!" mantra of the film. In fact, she never even says that in the film. And while we're at it, let's just say what we're all already thinking: she was way too good for Ashley Wilkes. Tomorrow is another day.
Popular in the Community