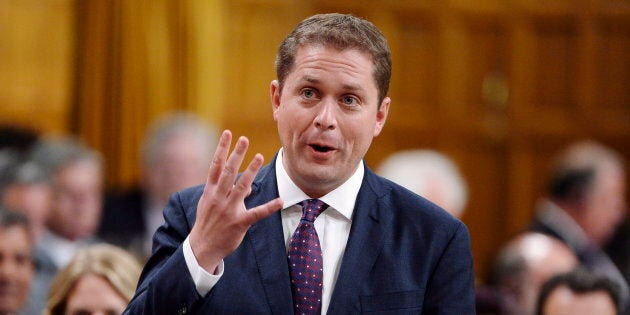 The federal Conservative leader appears to be backtracking on a commitment to release a plan to meet Canada's international climate targets as spelled out in the Paris accord.
Andrew Scheer spoke to CBC Radio's "Metro Morning" Wednesday and, in what is becoming par for the course, the Tory leader was pressed about his views on climate change in light the Liberal plan to price carbon emissions and a United Nations report warning of looming catastrophe.
Host Matt Galloway noted that, in April, Scheer said he would have a plan to meet Paris targets of limiting global warming to 2 degrees C. Canada committed to a 30 per cent cut in emissions from 2005 levels by 2030. Galloway asked if that was still the case.
"Our plan will speak to Canada's international targets, international obligations," Scheer said. "It will have a meaningful plan to reduce emissions."
"What does that mean, 'speak to the targets'? Will it limit global warming to below two degrees, which was laid out in the Paris agreement?" Galloway asked.
"As I said... as we put the final touches on the plan and make sure all the modelling works, it will absolutely speak to Canada's targets and will reduce Canada's emissions in a meaningful way," Scheer responded.
Watch: Scheer, Ford pledge to fight carbon tax
"Will you unveil a plan that will actually meet the Paris targets?" host Evan Solomon asked the Tory leader at the time.
"Of course I will unveil a plan that reaches the targets that we have already voted in favour of," Scheer said. "We believe that Canada has to be part of the solution. We will have a meaningful plan to reduce emissions and that will also tackle other major environmental issues."
Watch his April exchange with CTV around the 4:40 mark:
Scheer has blasted carbon pricing as a "tax on everything" and pledged to scrap the Liberal system if he becomes prime minister. Yet with climate change poised to become a top issue in the next campaign, Scheer is facing more and more pressure to release his own plan.
Speaking to CBC Wednesday, the Tory leader said his party is taking the time to "get the modelling right" to find the most efficient way to reduce emissions and unveil it to Canadians with "plenty of time" to spare before the election.
"I have to say it's a little bit ironic to me that the Liberals unveiled their carbon tax last week and immediately all the questions are, 'Well where is the Opposition's plan?'" Scheer said. "I've been telling people all along we will have a comprehensive plan that will speak to reducing global emissions and Canada doing its part."
'Look, I think climate change is real'
Liberals unveiled their intention to price carbon emissions in October 2016, but the plan has shifted since then. Last week, Prime Minister Justin Trudeau shared details of rebate cheques for Canadians in four provinces that will have a carbon tax of $20 per tonne imposed on them in 2019: Ontario, Saskatchewan, Manitoba, and New Brunswick.
Trudeau also announced that the start date for the levy will be pushed back four months. The Liberal plan would see the tax jump to $50 per tonne by 2022.
Galloway also asked Scheer how seriously he takes the threat of climate change, noting the UN report calling for sweeping and urgent action to slash global emissions.
"Look, I think climate change is real. The Earth's climate is constantly changing and I think human beings have an impact on their environment," Scheer said.
Asked if that means he believes climate change is created by human activity, Scheer responded: "I believe absolutely that human beings have an impact on their environment."
In a campaign-style speech in Ottawa this week, Trudeau said carbon pricing critics such as Scheer and Ontario Premier Doug Ford want to "make pollution free again."