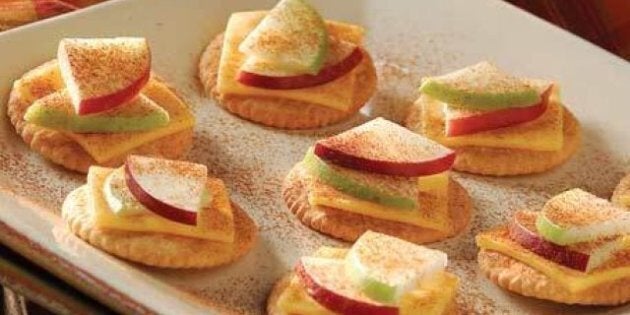 We all know back to school means changing schedules for your kids, your family, and yourself.
At times it can be about inspiration, or lack of — but who can bear to eat or make another pb&j? Canadian chef Jamie Kennedy, a long-time advocate for local eating, has often said that when it comes to cooking, educate yourself and think 'old school'. Look for ideas in older cookbooks — for parents, this can mean creating new back-to-school lunches from the classics they enjoy.
While the slow-food movement may appeal to grown-ups, it's not always practical, and getting kids to eat healthy can be difficult. But the first step may be in watching your step when it comes to eating and cooking. Children mirror their environments, so becoming a positive role model is important for them to increase their knowledge on foods that might be unfamiliar, according to the Milk Dairy Farmers of Ontario. Spending time in the kitchen with an 'old school' recipe and your kids may do just that.
Writer Jennifer Luchesi Long recommends getting kids involved in preparation and focusing on health over appearance.
"Teaching children how read a recipe; wash, prepare, and measure out the ingredients; and follow the necessary steps of the recipe sets them up to enjoy cooking for themselves someday rather than opting for fast food," she says on Redondo Beach Patch.
Once kids know the importance of healthy eating, it can inspire them to do more.Canadian Living food specialist Soo Kim says one way to win over a picky eater is to let them make lunches themselves. Take your kids grocery shopping and choose your favourite fruits and vegetables. And don't overlook leftovers.
"Leftovers are not off-limits. Let kids tweak and utilize last night's dinner into their own creations. Roast chicken might become mini chicken salad pitas, or steak could turn into tortilla beef wraps cut into rounds," she says. Left-over pizzas or pastas also make great brown bag lunches for the next day, according to Dieticians of Canada.
Eco-advocate and HuffPost Canada blogger Lisa Borden says buying bulk or in full sizes is a good way to not only eat healthier but save money. Reading your labels is also important, as you might be surprised what ingredients are found in food meant for kids.
Parents should be also be aware of allergies in schools, according to an article on the Foodnetwork.ca. Parents should find out other allergies that classmates may have, this way they can ensure their lunches will be allergy-free for everyone.
Looking for inspiration? Check out our picks from our sister site Kitchendaily.com. These quick and easy recipes are also a great way to get your kids involved.
Do you know what your kids are eating at school? OpenFile and Huffington Post Canada team up for an insightful and comprehensive examination of the issue of school lunches. Over the next week, we look at what school cafeterias are serving and what parents are (and should be) packing. We examine the idea of "lunchroom racism," report on the impact corporate sponsorships on school lunches, and reveal how are school boards tackling these and other issues. Join the discussion here or on Twitter by using the #FoodFight hashtag.
Popular in the Community