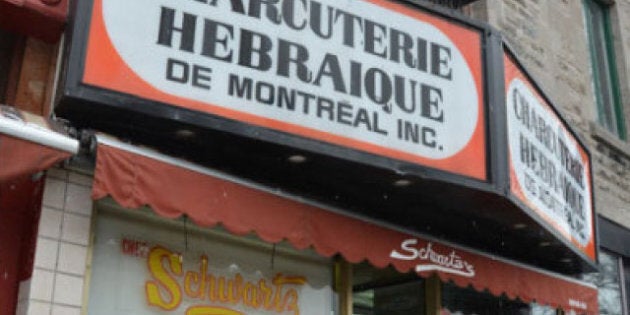 Schwartz's, the legendary Montreal restaurant famous for its smoked meat, was sold at the beginning of January for around $10 million to a group of investors that may include none other than René Angélil, husband and manager of superstar Céline Dion, according to sources close to the deal.
Le Huffington Post Quebec has learned that the transaction took place around Jan. 7, after which the now-former owner, businessman Hy Diamond, filed a request for dissolution of his business with the Registre des entreprises du Québec - the province's business registry. The sale of the uber-popular deli was motivated by a desire simply to move on, sources told HuffPost Quebec.
Several investors have shown interest in acquiring Schwartz's, but few were prepared to fork over the hefty sum, according to another source who spoke to HuffPost Quebec. Other sources say the restaurant is now the property of a group of investors, with two prominent names apparently in the mix: Angélil and Paul Sara (Angélil's cousin). The two previously ventured into the restaurant business in the 1990s with the Nickels franchise.
But the deli's employees aren't saying much on the record about the business' change-of-hands, and were advised not to speak about the sale. "We know there has been a sale, but have been asked not to comment on the matter," Schwartz's day manager told HuffPost Quebec, visibly uncomfortable with the question.
Other servers seemed indifferent about the names of the future owners. "Our customers are our only priority, much more so than knowing who the owner is," one said with a smile.
Schwartz's has enjoyed phenomenal success since it was opened in 1928 by Reuben Schwartz. Locals, tourists and celebrities alike -- Angélil is a well-known fan, and his and Dion's picture is on the deli's wall of fame -- flock daily to the Montreal institution on St. Laurent Boulevard for the famous smoked meats, fries, pickles and more. The long lineups are almost as legendary as the sandwiches at the sole location.
"The brand has huge potential for expansion," he said. "As long as they can preserve their famous recipe."
Schwartz's popularity has thus far spawned a line of merchandise and spices, a book, documentary film, and even a musical.
With files from Lisa Yeung