Thumbtacked to a corkboard in professor Tom Duck's Halifax office are laminated photos of a bright red building with small square windows.
It doesn't look like much from the outside. Surrounded by snow and ice at least nine months of the year, the building houses the Polar Environment Atmospheric Research Laboratory (PEARL). Located on Ellesmere Island near Eureka, Nunavut, it's one of the most remote weather stations in the world and has been the focus of Duck's scientific research for years. The findings that come out of the facility offer insight into how climate change is affecting Canada and the planet.
The photos are as close as Duck, a physics professor at Dalhousie University, or any member of his team has got to the internationally-renowned lab in the past two-and-a-half years.
"We use these instruments to study climate for the most part, climate and also pollution, air quality issues," he said. "For the most part, that research has certainly significantly slowed down, and, in many cases, it's just outright stopped."
The polar lab is one of more than 40 federal science programs to see their funds slashed, cut or put in jeopardy — the bulk of them in fundamental and environmental sciences — since the Conservative government came to power in 2006 and began changing science spending priorities.
The full scope of the cuts is nearly impossible to determine. Ottawa provides few details and cuts aren't publicly announced. Details trickle out piecemeal from nervous public servants and a few government scientists who speak out on the record despite fears of government reprisals. Several scientists interviewed for this story said they believe the government is cutting programs it fears will yield evidence in areas such as climate change and natural habitat protection that could thwart resource development.
"This is about the government's priorities, and the government's priorities include oilsands development, which, I should also add, they subsidize to the tune of billions of dollars each year," Duck said.
"So their priorities involve oilsands development, and anything that they see as interfering with that is getting attacked and is getting cut. Lets call a spade a spade here."
Climate change happens to be the main thrust of research at the Ellesmere Island facility, which uses lasers to monitor pollution levels in the atmosphere. The station, comprising four labs, was built in 1992 and began year-round operations in 2005. It is run by the Canadian Network for the Detection of Atmospheric Change and involves 17 scientists from Canadian universities and Environment Canada.
One of the main providers of funds for the station was the Canadian Foundation for Climate and Atmospheric Science, established in 2000 by Jean Chrétien's Liberal government. (Other funding partners include Environment Canada, the Canadian Space Agency and many provincial organizations).
Story continues under gallery.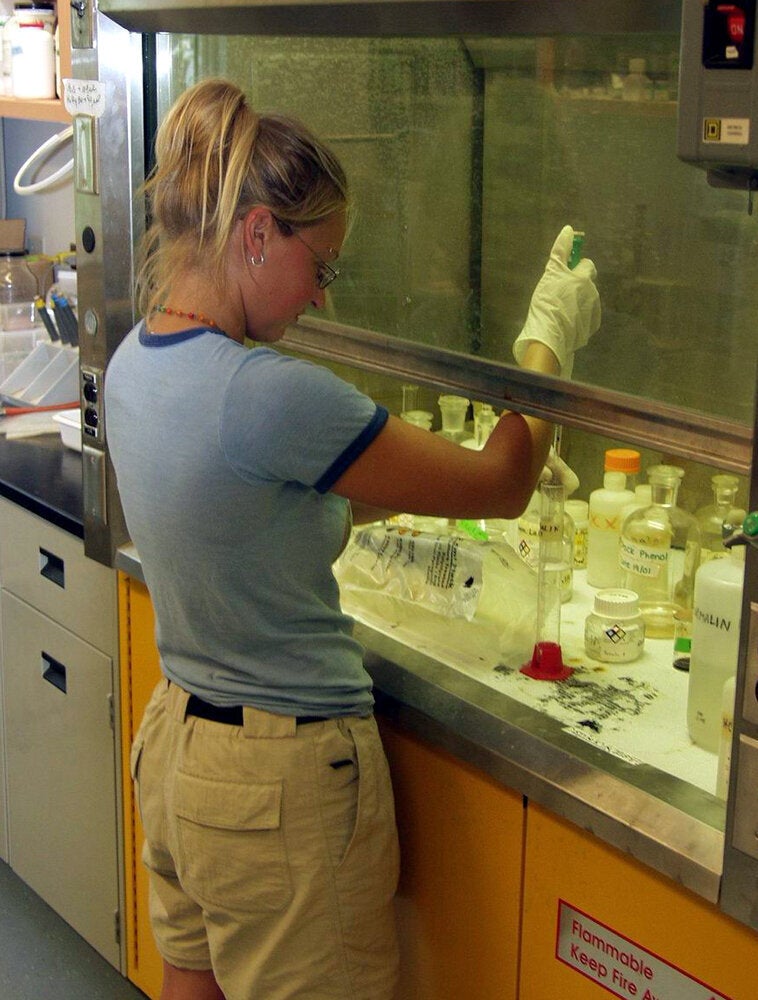 In 2011, however, the federal government's first omnibus budget bill killed the foundation, which over a decade had administered more than $102 million in government grants for climate science research – including most of the $1.5 million needed for PEARL.
At the time, the government said it would replace some of the funds with $35 million, to be distributed through the Natural Sciences and Engineering Research Council (NSERC) over five years, for all climate research activities.
Two years later, PEARL scientists are still waiting for money to arrive.
"What this means is that there has been, for most university-based scientists, a one- to two-year gap in funding. And that is very serious. Because what that's done is precipitate the collapse of many different research programs," Duck said.
"Climate is probably the biggest problem facing humanity at this time," he said, noting that the research facility cost Ottawa only $1.5 million a year to operate.
"This is not about there not being enough money," Duck said. "We spent $18 million on War of 1812 celebrations. We're spending on the order of $10 million this year on [government] 'Action Plan' ads," he said.
Green Party of Canada leader Elizabeth May said the PEARL cuts are "outrageous."
"It's the furthest north — closest to the north pole — atmospheric research lab run by any country on earth. That research was important globally," she said. The lab has been shut down because the Conservative government "determined it's neither business-led or industry relevant to know whether we're going to have life on earth in a generation, or two or three."
Story continues under image.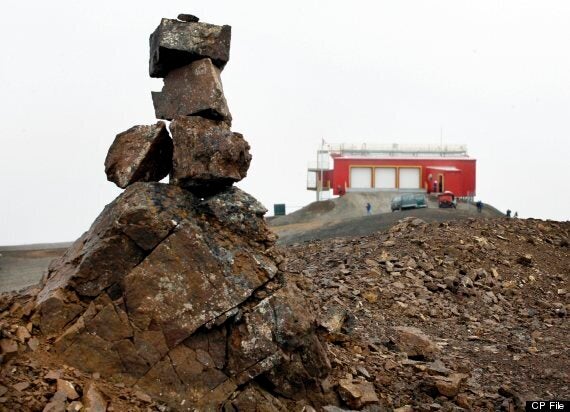 A rock cairn marks a high point near the Polar Environmental Atmospheric Research Laboratory (PEARL) near the Eureka Weather Station, on Ellesmere Island, Nunavut, in this 2006 file photo. (CP PHOTO/Jeff McIntosh)
Among other cuts and policy changes that affect science and industry in Canada:
Duck and many other critics say the Conservative government under Stephen Harper has deliberately marginalized scientists and any research that could negatively impact its pro-business agenda, especially in the areas of environmental research and climate change.
Others feel the Tories simply do not get or trust science.
"It's difficult to avoid coming to a conclusion that we have a government at the moment that doesn't understand science, doesn't understand how science works, doesn't understand what needs to be done to support science. It's almost as simple as that," said John Stone, a former career federal scientist and Nobel Prize laureate for his work in climate change.
Science doesn't have a place at the policy table anymore, said University of Toronto physics professor Richard Pelletier.
"I mean science is a source of distraction for them," he said. "They have a strong ideological bent and they are best able to operate on ideological grounds in the absence of information."
Gary Goodyear, minister of state for science and technology, said his government has given the strongest support the country's ever seen for science and technology.
"Every single opportunity that we've had, we've increased our support to science and technology," he said.
But critics like Elizabeth May see a funding shell game where certain types of science take a disproportionate hit while money is moved into research more in line with Conservative priorities.
Prime Minister Stephen Harper is "getting rid of the things that ideologically offend him, which is to say research on climate, research on ozone, research on freshwater," May said.
"What Stephen Harper does that's very clever is that he spends money in a similar area so its very hard to say in dollar amounts that the funding has gone down."
Few cuts have received as much media attention as the planned closing of the Experimental Lakes Area (ELA) run by Fisheries and Oceans Canada in northwestern Ontario. The facility, an outdoor laboratory consisting of 58 lakes, laboratories and living quarters, has been in operation since 1968 and is credited with helping solve North America's acid rain problem in the 1970s and 1980s, among other breakthroughs in areas of toxic contaminants, algae and flooding by reservoirs.
According to the government's own website, the project "has gained an international reputation as one of Canada's most innovative and successful commitments to freshwater research."
In the late 1970s, acid rain – precipitation with higher than normal acidity due to contamination from chemicals in the atmosphere from industrial and vehicle emissions – made headlines in Canada and the United States when the Great Lakes were becoming toxic. It was research at the ELA that helped get the acid out of the lakes.
"Our lakes were acidifying, we figured out why that was happening, and we cleaned it up," said Heidi Swanson, a biology professor at University of Waterloo. "For policy to be science-driven, you have to be able to conduct applicable science, and the problem is that when we get to whole ecosystems like lakes, it's very difficult to replicate conditions in the lab. Well, it's impossible. You can't."
The ELA is the only station in the world where such experiments can take place, she said. Scientists can close off entire bodies of water for experiments, then return the lakes to their previous state. It costs the federal government $2 million a year, about six cents per Canadian, although actual operating costs are reportedly $600,000.
"I mean its such a ridiculously small sum of money," said John Smol, a biology professor at Queen's University in Kingston who has worked at the site. "It has absolutely nothing to do with money. Let's make that perfectly clear. It's got to do, in my view, with pesky science, pesky environmental science showing problems and those problems that mean you can't build this as easily as you thought or as cheaply as you thought."
"What I've been seeing is a steady decline of an ability to even identify problems," Smol said.
When asked about the cuts to the ELA in an interview before Wynne's announcement, Goodyear said there's still money for freshwater lake science.
"There's more money for scientists to do exactly that kind of research and to be specific on that issue," he said.
"Scientists know that they have the capacity to do experiments, of whatever nature it is, on a lake without jeopardizing the entire lake. And we can do that, we have the ability to do that and that is the current and the most technologically advanced way to experiment on a freshwater lake."
"Science is really struggling in Canada," Duck said. "I know our politicians like to say that everything is fine, but the reality on the ground is there are real struggles here, people are really just trying to survive and get through this with some of our scientific capacity in tact."
The committee is responsible for evaluating what species in the country should be protected under the Species at Risk Act, which identifies endangered organisms and habitats. Approximately 60 species experts determine the level of risk for animals and plants.
These experts are appointed by the minister of the environment. Before nominations go to the minister, they are rigorously reviewed by the committee, said past chairmen Jeffrey Hutchings, a Dalhousie biology professor, and David Green, a McGill biology professor. Ministerial approval used to be essentially a rubber-stamping exercise, they say, but that is no longer so under the Tories.
"It wasn't until the Conservatives came in that suddenly some of COSEWIC's nominees were turned down," Hutchings said. "That didn't happen previously."
Despite being part of the committee since its inception in the 1980s and having a reputation as a foremost expert on amphibians, Green's nomination was rejected by the minister without explanation when he was nominated to sit again in 2008.
"I don't know what anybody had against me," Green said. "I was working hard."
"I was always very insistent that COSEWIC was where the animals and plants got their voices heard. No one else was going to speak up for them," he said. "It should be apolitical."
Instead of taking two or three months for the minister to approve appointments to the committee, as happened in the past, it is taking a year, and in some cases up to two years, for the government to decline or accept nominations, Hutchings said.
"I mean one big problem with that is it affects the ability of the committee to function properly, to fulfill its legislated responsibilities under the Act."
The conflict with the Tories and Canada's scientific community has been years in the making.
Five years ago, Smol signed a letter along with 84 other experts – all PhDs or medical doctors – urging the government to stop what they called the "politicization of science."
The problem has only grown worse, Smol said.
"Five years ago, I never would have thought they'd be closing the Experimental Lakes Area," he said in an interview before last week's intervention by the Ontario government. "You go to any conference in the world, you just have to say ELA and everyone knows exactly what you're talking about.
"That's a jewel in our scientific crown, if you like, in Canada. Gone. There's a lot of things that happened that I did not predict would happen. So it's worse than I thought it would be five years ago."
For PEARL, the future is as uncertain as the world's climate, but the polar lab's budget woes are just one piece of a bigger, more troubling whole, Duck said.
"It's not isolated," he said. "This is across the scientific community. This is a specific example for what happened to my group, but any research group, particularly in environmental science, is utterly crippled by this funding gap. That's a story that is just absolutely pervasive."
The Huffington Post Canada series "Stifling Science" will examine the plight of publicly-funded science in Canada and the changes that have occurred during the past seven years under the Harper government. This is Part Two of Four. Click here for the full series. Melissa Mancini is a student in the journalism program at University of King's College and worked on this series in partnership with The Huffington Post Canada.