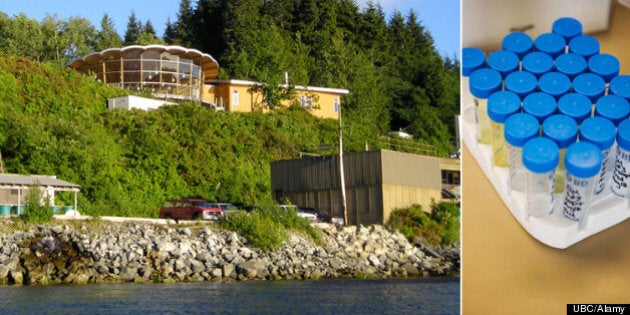 The email landed without warning in Brad Anholt's inbox last April. It left him speechless.
"I couldn't even talk about it. Not for hours," said Anholt, one of Canada's leading experts in marine biology and the director of the world-renowned Bamfield Marine Sciences Centre, a not-for-profit teaching and research facility on the west coast of Vancouver Island.
With a staff of 30, Bamfield is used by visiting researchers to study fish, marine animals and ecosystems. The centre also runs education programs for students at all levels. The facilities are funded through a consortium of five western universities and, until recently, Canada's Natural Sciences and Engineering Research Council (NSERC).
But a single email from a director at NSERC changed everything. Anholt learned that he was losing a third of his research budget, worth about $500,000 a year. The money runs out April 1, 2014.
Anholt said there had been no consultation, no previous inquiries or communication from NSERC, the federal body that doles out $1.08 billion annually in research money to universities, organizations and businesses.
The cuts to Bamfield – which has received funds from NSERC each year since 1970 – were especially surprising because the federal agency had increased its allocation by 40 per cent just a year before, the last time the centre was awarded a grant. (NSERC grants can last up to three years and have rolling deadlines). The increase was due largely to Bamfield's success with new projects and attracting world class researchers, Anholt said.
"The experts who had looked at us and had looked at all the applications that were out, they were saying we were doing an amazing job and we deserved more money," he said. "And a year afterwards, it's just yanked. With nothing."
Bamfield is just one of many research facilities and projects to have their budgets sliced as the Conservative government under Stephen Harper reins in spending to eliminate an estimated $26 billion deficit by 2015. The government, which has been cutting programs in all areas, insists that any science-related cuts are part of the broader belt-tightening needed to get Canada's books in the black.
But an analysis of more than 140,000 NSERC grants going back to before the Tories took office in 2006 reveals in stark terms how remaining federal research dollars have been increasingly funneled into business-focused research and away from environmental sciences. Critics see a politically motivated attempt to change the science agenda in Canada; the government has consistently defended its changes, saying it wants to fund projects that offer a more immediate return on investment.
Indeed, the change in grant priorities is a result of NSERC's focus on new "target areas" mandated by the government's 2007 science and technology strategy, which states that "Canada's federal government will focus strategically on research in areas that are in the national interest from a social and economic perspective."
The 2008 federal budget further delineated where NSERC, which is supposed to operate at arm's length from the federal government, would spend money, identifying four important sectors: fisheries, forestry, automotive and manufacturing.
The Huffington Post analyzed a list of all NSERC grants, which are broken down by category of research. The documents reveal:
Funding for research into manufacturing processes and products increased 54 per cent from 2007 to 2010, from $13.1 million to $20.2 million
Funding for grants for nuclear energy research is up 85 per cent in the same period, from $2.3 million to $4.2 million
Funding for research into aquaculture – or fish farming – increased more than 116 per cent between 2007 and 2010, from $2.3 million to almost $5 million
Funding for research labelled by NSERC as "environment" increased 12 per cent from 2008 to 2010 — from $30.9 million to $34 million — but funding for environmental impacts of economic activities was down 13 per cent from $3.2 million to $2.8 million
Meanwhile, funding for climate and atmosphere is down seven per cent in the three years; earth sciences research is down about three per cent; money for research into conservation and preservation is down more than seven per cent, and the three research areas that fund work related to bodies of water saw funding decreases of 48 per cent, 62 per cent and 18 per cent.
"The granting agencies are still making grants, but... just like the government programs, they're not granting in areas that are not considered business-led and industry relevant," Green Party of Canada Leader Elizabeth May said.
Story continues under gallery.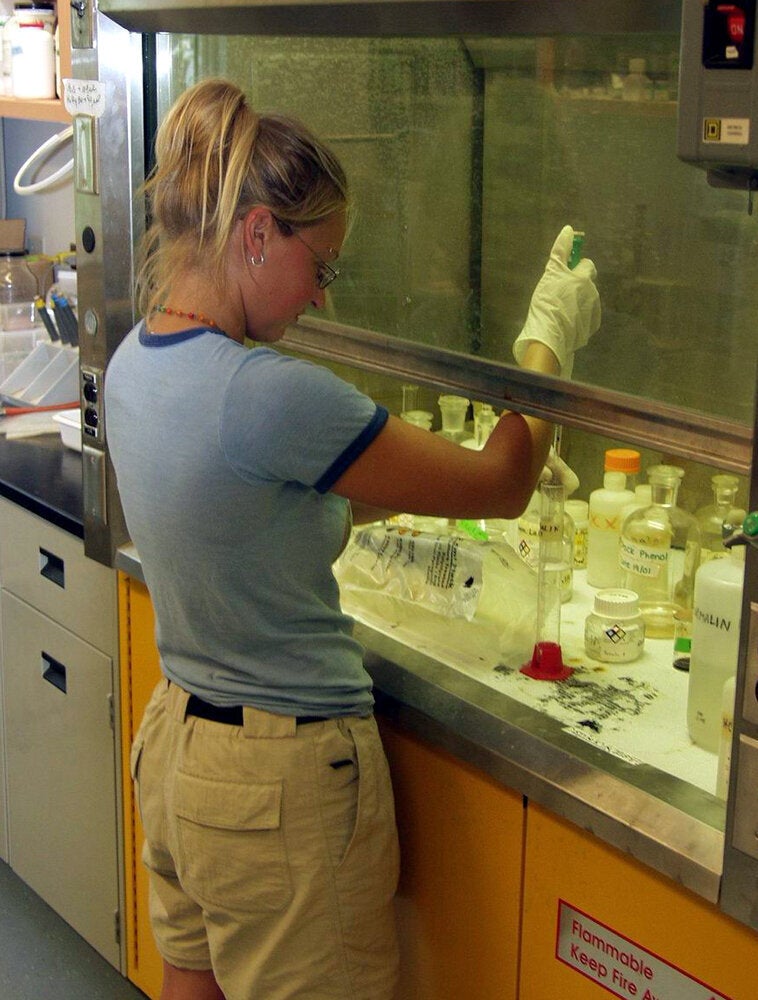 Cuts To Science
Dalhousie University Professor Jeffrey Hutchings, whose own research has been affected by NSERC cuts, sees politics at play.
"If NSERC receives less money from the federal government, as it has quite recently, knowing where ministers are likely to appreciate funds' going, NSERC has to cut some things and their decisions as to what to cut or to decrease in funding, will, at some level, reflect the minister's feelings and the minister's considerations," he said.
In Hutchings's case, NSERC – through its Major Resources Support (MRS) program – put up $109,200 of the $347,576 needed in the 2012-2013 fiscal year to run the university's Aquatron lab, which uses large, highly specialized tanks and pools for saltwater experiments.
The MRS program, which awards grants to cover the costs of specialized research facilities, equipment and staff, is on hold and no longer accepts applications "as part of the Government of Canada's efforts to return to balanced budgets," its website states. The program provided $35-million in science support in the 2010-2011 fiscal year.
Hutchings is scrambling to find new sources of funds for his lab and may have to turn to the private sector. If a business partnership is struck, it could mean less time on the aquatron for students, he said.
"If business is using the facilities, that means researchers and students cannot. So that seems a little inconsistent, to my mind, [with] the educational responsibility of a post-secondary institution, but that is what the reduction of these grants from NSERC, or the loss of these grants, mean."
NSERC did not grant an interview for this story. In an email statement, the agency said it conducted a spending review in order to "streamline operations and ensure maximum efficiencies." The 2012 federal budget cut $15 million from NSERC's budget for the 2012-2013 fiscal year and $30 million in 2013-2014 and in years to follow in what the department calls "ongoing savings," which included cuts to MRS and cutting positions in the department.
The 2013 budget included an additional $15 million for "partnerships and innovation," which allows the agency to claim it is "fully reinvesting" any savings from cuts into "priority research areas."
Of that restored money, $12 million is earmarked for NSERC's College and Community Innovation Program, which aims to spur innovation and the commercialization of research by getting colleges to work with businesses. It does not go to basic scientific research, said James Turk of the Canadian Association of University Teachers.
"It was very specifically tied to ... advancing the needs of industry. Of the money going to NSERC, 80 per cent of it is not going to universities – it's going to community colleges so that they can partner with companies to solve company-specific problems," Turk said.
"There are hard decisions to be made about how you allocate limited funds. Those should be made on scientific and research grounds, not on political grounds," said Turk.
The emailed statement from NSERC gives no reason for the MRS moratorium, which will hit 38 programs besides Bamfield, but states that "NSERC understands the importance of maintaining access to research facilities."
It goes on to say the department will work with the Canada Foundation for Innovation (CFI) — which funds research equipment in its programs — to find ways to move forward in a "cohesive manner."
The end of MRS threatens the survival of several of programs, including the National High Field Nuclear Magnetic Resonance Centre, the Canadian Centre for Isotopic Microanalysis and the Canadian Charged Particle Accelerator Consortium, according to a 2012 analysis by the NDP.
The Nuclear Magnetic Resonance Centre, used by scientists across the country to determine properties of atoms and molecules, has been acknowledged in many peer-reviewed journal articles on cancer research.
The Centre for Isotopic Microanalysis does research focused on mineral and energy resources, where scientists can tackle questions ranging from the age of rocks to the ecosystem of fish species.
The Canadian Charged Particle Accelerator Consortium uses charged particle beams to analyze and modify materials, and is used in a wide range of research areas, from automotive lubricant development and nuclear reactor technology to dark-matter physics.
Apart from direct cuts, MP Kennedy Stewart, the NDP critic for science and technology, sees an increase in "fettered spending" – research with strings attached, so that scientists are required to work with an industrial partner.
The reduction in so-called "discovery research" in favour of industry and applied research is a mistake, Stewart said.
"They see (pure science) as kind of a cash cow which is taking up a lot of money in Canada, and it's not really generating short-term economic benefit, so they think it has to be radically restructured, he said. "It's an ill-conceived move."
The moratorium on MRS funding is to blame for Bamfield's funding woes. The centre has shelved plans for research programs that Anholt had hoped to start this year and next, including a program to monitor salmon populations.
A $40,000 instrument that measures concentrations of biochemical products in animals, and which is used by about 20 fish physiologists who work at the centre, is broken and will not be repaired or replaced because of the budget cuts, Anholt said.
Staff levels may also need to be shrink, which he said would require cutting more projects, because the centre has such a small staff to begin with.
If history is any indication, the MRS freeze is most likely permanent, Anholt said, noting that the last time a moratorium was put on an NSERC program, more than 20 years ago, the money never came back.
"'Moratorium' in NSERC language is really a cut," he said. "I'd be shocked if they brought it back."
Canada will lose a lot if Bamfield has to get rid of more research and programs in the face of government cuts, he added.
"Its a truly amazing place. People come here as students and researchers, and I keep telling them when they arrive that 'it's going to change your life,' and for almost everybody that's true," Anholt said.
"They walk away with a completely different view of the world and themselves. It sounds almost religious, and it really isn't that. It's just that they experience things in a way that they haven't been able to before."
The Huffington Post Canada series "Stifling Science" will examine the plight of publicly-funded science in Canada and the changes that have occurred during the past seven years under the Harper government. This is Part Four of Four. Click here for the full series. Melissa Mancini is a student in the journalism program at University of King's College and worked on this series in partnership with The Huffington Post Canada.