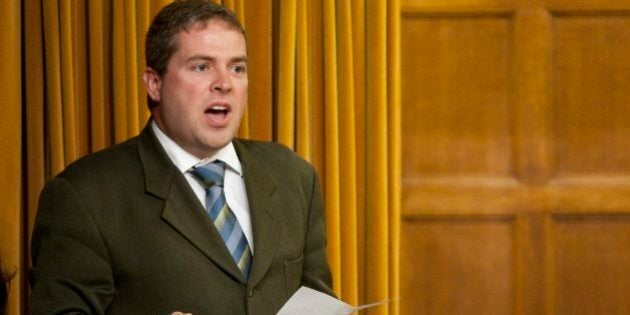 Newfoundland Liberal MP Scott Andrews was suspended from caucus Wednesday on allegations of sexual harassment.
Montreal Liberal MP Massimo Pacetti was also given the boot by Liberal Leader Justin Trudeau for similar accusations.
The 39-year-old Andrews has represented the Newfoundland riding of Avalon since 2008. He previously served on the Conception Bay South town council and was executive director of the Liberal Party of Newfoundland and Labrador.
1. He Has Been A Thorn In The Side Of A Tory Senator
Andrews defeated incumbent Tory MP Fabian Manning in the 2008 election. At the time, popular Newfoundland and Labrador Premier Danny Williams' "ABC Campaign" urged voters to support "Anything But Conservative." Williams was irate over what he saw as a broken promise by Prime Minister Stephen Harper on equalization payments.
The Tories were shut out of the province, with the Liberals capturing six seats and New Democrats winning one. But shortly after the election, Harper controversially appointed Manning to the Senate.
In 2011, Manning resigned his seat in the Red Chamber in order to run again for MP. Though the federal election would prove disastrous for the Liberals and Harper would capture a majority government, Andrews again defeated Manning, this time by 1,259 votes.
Harper turned around and appointed Manning back to the Senate.
2. He Made History After His Private Member's Bill Became Law
In 2010, Andrews became the first MP from Newfoundland to see a private member's bill receive royal assent.
Bill C-464 — dubbed "Zachary's Bill" — amended the Criminal Code of Canada to provide courts the right to refuse bail to someone charged with a serious crime in the interest of protecting children.
The bill was put forward in honour of Zachary Turner, a 13-month-old killed in 2003 by his mother, Shirley Turner, in the waters of Conception Bay South. Shirley Turner was out on bail at the time, accused of murdering the child's father, Andrew Bagby.
"It's pretty amazing to be the first Newfoundland MP to get a private member's bill through Parliament, and in particular through a minority Parliament, too," Andrews told The Telegram that year.
"That's a point that is not lost when you have to find support from all parties and work with colleagues on both sides of the House and get your bill approved."
3. He Was The Grit Point Man On The Peter Penashue Scandal
As his party's ethics critic and a member from the region, Andrews consistently took the fight to former Labrador Tory MP and cabinet minister Peter Penashue, whose campaign overspent during the 2011 election campaign and accepted ineligible contributions.
In 2012, Andrews accused Penashue of "skirting accountability" by blaming a campaign volunteer for election irregularities and publicly called on him to resign.
Penashue would eventually do just that, sparking a byelection in May, 2013.
But Andrews thought it was wrong that the Tories allowed Penashue to put his name forward to run again.
"Lance Armstrong will not be participating in the Tour de France this year. Why? Because he cheated and was banned for life," Andrews said in Question Period. "Peter Penashue cheats and he is made the Conservatve candidate in a byelection. There is no mandatory minimum for Peter Penashue's cheating and stealing an election."
"You know, it's no wonder that Stephen Harper kept a muzzle on Peter Penashue while he was in Ottawa, because every time he opens his mouth he says something stupid," he told CBC's "Power and Politics."
Liberal Yvonne Jones would go on to defeat Penashue, marking the first time the Harper government lost a byelection for a seat it previously held.

Popular in the Community