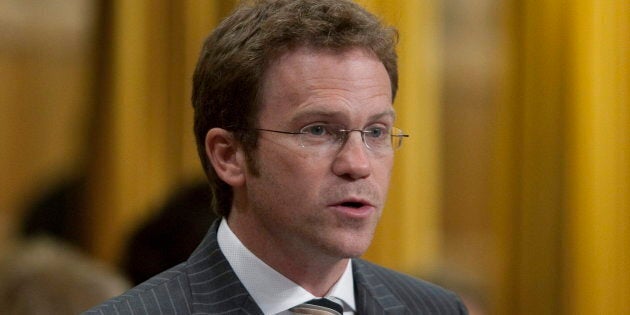 A longtime Liberal MP who voted against the federal government's controversial Canada Summer Jobs attestation has been removed from his job as a committee chair.
Scott Simms was quietly ousted as chairman of the Standing Committee on Fisheries and Oceans Monday — losing a $11,900 salary bump that comes with the job.
"Yes, they removed me from the committee because of my vote," Simms confirmed to HuffPost Canada.
In March, Simms was the lone Liberal to vote in favour of a Conservative motion calling on the federal government to extend eligibility for the summer jobs program to groups that engage in non-political and non-activist work even if they do not check off an attestation that they support individual human rights, including abortion rights.
The attestation was introduced earlier this year after Prime Minister Justin Trudeau's government said it discovered federal funds were being given to groups who hired students to intimidate women entering abortion clinics or to design graphic promotional material for the anti-abortion Canadian Centre for Bio-Ethical Reform.
Simms said he is "OK" with the decision "because they told me before the vote that punishment was coming and taking my chairmanship would likely be it.
"But those are the rules with whipped votes, so I knew what I was getting into to."
Simms raised alarm over the change back in January, after Christian groups in his riding said they were being asked to violate their beliefs in order to apply to the program.
"To me, that's a lack of respect. If I was to say to someone, 'Look, don't worry about it, just tick the box or whatever' — some people have a core fundamental belief that they don't believe in this," the Newfoundland MP told his local CBC radio station. "It ... is not right."
While Simms was the only Liberal to break ranks, Ontario NDP MP David Christopherson also faced backlash from his leadership for voting with the Tories.
"I wrestled with it, of course. You don't vote against your own caucus lightly," Christopherson told the National Post at the time. "To me, at the end of the day, that box took away Canadians' right to disagree with the laws that they have to obey. I had a very strong, fundamental problem with that. And just abstaining wasn't good enough."
Christopherson was initially removed as vice-chair of the Commons' Procedure and House Affairs committee by NDP Leader Jagmeet Singh. But after caucus colleagues Charlie Angus and Romeo Saganash spoke out against his punishment — and national editorials called the move unfair — Singh changed his mind and reinstated Christopherson. A vice-chair earns an extra $5,900.
So far none of Simms' colleagues have spoken out. Ontario Liberal MP John McKay has also expressed his opposition to the attestation calling it a "regrettable error" by the party, but he did not attend the March vote after discussing his feelings with the Liberal whip.
During the 2015 election, Trudeau promised to make free votes the standard for Grit MPs.
"We will give Canadians a stronger voice in the House of Commons by limiting the circumstances in which Liberal members of Parliament will be required to vote with Cabinet," he pledged.
But Trudeau laid out three important caveats, saying votes would remain whipped on all confidence matters, platform promises, and matters related to the protections guaranteed by the Charter of Rights and Freedoms.
"This is not in any way about values and beliefs," she said. "We really want to get at: what are the core activities of your organization? What are the core activities of that student going to be? What is the job description of that student?
"I think there is room to make it more clear ... but again, whatever we do, it will be still with the policy goal of ensuring that we don't in any way support organizations that are in any way working to undermine Canadians' rights," she said.
Popular in the Community