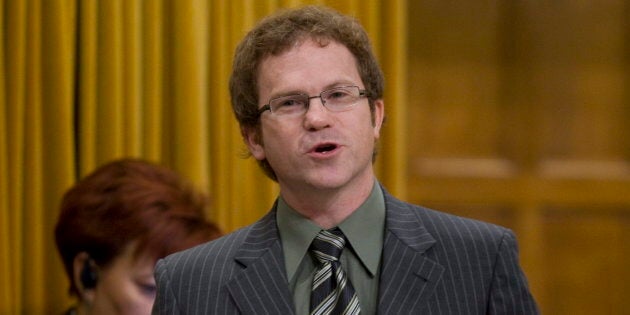 HALIFAX — If Liberal MPs disagree with Prime Minister Justin Trudeau's decision to punish a colleague for voting against the party line, they weren't saying so Friday — in stark contrast to a similar situation in the NDP.
"Scott Simms is a fine member of Parliament and we'll continue to make a real difference for the people of Newfoundland and Labrador and the people of Canada," Treasury Board President Scott Brison said when asked about the decision to strip Newfoundland MP Simms of his committee chairmanship.
"He's a great part of our team," the Nova Scotia MP said of Simms, pressing his lips together. "Nice to see ya!"
'I'm not sharing': O'Regan
Veterans Affairs Minister Seamus O'Regan told HuffPost Canada the decision to remove Simms as committee chair had been something he'd "given a great deal of thought to."
But O'Regan didn't want to say how he felt about it. "No," said the minister, who also represents a N.L. riding, as he entered the Liberals' policy convention. "I'm not sharing."
As HuffPost first reported, Simms was removed as chair of the Fisheries and Oceans committee after voting in favour of a Conservative motion last month. Tories called on the government to allow groups that don't engage in political or activist work to be considered for Canada Students Jobs funding regardless of whether or not they tick off an attestation that states they support abortion rights.
"Those are the rules with whipped votes, so I knew what I was getting into to."
Earlier this year, the MP for Coast of Bays—Central—Notre Dame, who was first elected in 2004, called the Liberals' new attestation an "insensitive measure" to constituents, whether they were pro-choice or not.
John McKay, the MP for Scarborough—Guildwood since 1997, is also opposed to the attestation but chose not to show up for the vote in March. McKay said he and party whip, Quebec MP Pablo Rodriguez, had a conversation and he "stayed in the guidelines that the whip set out.
"He and I arrived at an understanding that I wouldn't vote."
McKay declined to state how he feels about Simms' punishment. "That is entirely up to the leadership as to how they choose to deal with caucus."
But the Toronto MP, who also chairs the Public Safety and National Defence committee, said he still disagrees with the Liberals' attestation and believes the government is "improperly" using the charter to deny services to those who don't agree with the Grits' point of view.
"The charter is to be used to protect the citizen from government, not the other way around and the charter is to be used to sort out various right claims and not preference one right over the other."
Several faith groups, not-for-profits and small businesses have voiced concerns over what they see as government overreach by denying them the right to apply for student jobs funding based on their personal or moral viewpoints.
The government sought to clarify that only groups whose "core mandate" violates individual human rights would be denied funding, but many organizations say they chose not to apply or report being rejected. Employment Minister Patty Hajdu told HuffPost last month that the Liberals are aware of the backlash and may revisit the attestation next year.
Raj Grewal, the MP for Brampton East, has no qualms about Simms' punishment. "Scott Simms knows the rules," the MP said. "I think we have to respect party discipline... because it was clear when we signed up to run for the Liberal party that there were certain votes we were expected to follow the party's line."
During the last election, Trudeau pledged more free votes for his MPs. He often repeated on the campaign trail that he expected Liberal members to be the voice of their constituents in Ottawa, not Ottawa's voice in their riding.
The Liberal leader, however, said Grit MPs would be expected to vote with the party on budget bills and other confidence matters, platform promises, and on all issues related to the Charter of Rights and Freedoms.
Friday morning, former interim Liberal leader Bob Rae tweeted that Simms shouldn't have been punished.
"It shouldn't have happened to Christopherson, and it shouldn't happen to Scott Simms - there needs to be a room for diversity of opinion," he wrote.
Veteran NDP MP David Christopherson also broke with his party line on the attestation vote.
"[Canadians] have the right to say anything [they] want about a law, and that attestation took that right away. I cannot condone that," he told the National Post at the time.
Christopherson was initially stripped of his position as a committee vice-chair but his colleagues Charlie Angus and Romeo Saganash spoke out against new leader Jagmeet Singh's decision.
"It's not how you treat someone who's given so much of their life to the party and to building solidarity in the caucus. It shows a lack of respect," Angus told The Globe and Mail about the punishment.
'Politics makes people stupid'
The outcry from the NDP's parliamentary caucus prompted Singh to reverse his decision.
Friday, an MP who did not want to be named, fearing repercussions from Liberal colleagues, said the Prime Minister's Office had mismanaged the whole situation in an attempt to score political points against the NDP, by appearing more pro-choice, and ended up giving the Conservatives a big win by alienating faith groups.
"Politics makes people stupid."