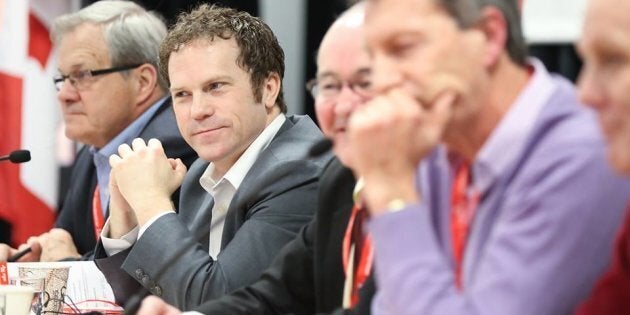 OTTAWA — A Liberal MP who was punished last month for breaking rank on a contentious vote says he understands why parties have whips, but that doesn't mean parliamentarians should be whipped.
Scott Simms lost his chairman position on a parliamentary fisheries committee — and a $11,900 salary bump — after he voted with the Tories on a motion asking the government to drop its attestation clause for groups applying for Canada Summer Jobs funding.
He told HuffPost Canada he thought its wording was "insensitive." He said he voted the way he did because he had already made comments saying it wasn't right, "And I had to back it up."
The longtime Liberal and the NDP's David Christopherson were two MPs who went against their parties on the Conservative motion. Christopherson lost his vice-chair committee position as punishment, but was reinstated after colleagues criticized NDP Leader Jagmeet Singh's decision.
Simms' Liberal colleagues, however, were not quick to come to his defense.
"And it is, for all intents and purposes, a team sport," said the Newfoundland MP about politics. Sometimes votes need to be whipped "otherwise the system falls apart," he said. He used the example of how accountability would be tricky if a cabinet minister breaks apart from the pack.
Listen to our full Follow-Up interview with Simms about party discipline:
Liberal caucus members are typically able to cast free votes — except in circumstances related to the party's election platform, confidence matters, and issues related to the Charter of Rights and Freedoms where they are expected to toe the party line.
There are a number of ways MPs can be punished by their party if they break rank. Members can be stripped of their committee roles, as well as having speaking opportunities taken away in the House of Commons.
Simms said it's this specific type of discipline, losing speaking slots, that he said "almost gets too far." He added that it's a punishment all parties do.
It's the leadership whip's office who decides which MPs get to sit in specific committees, and who speaks in the House of Commons, he said.
"Over the years, it's devolved into the whip gets to decide who goes where. This is is not the whip's fault, it's just the system has devolved in that way," Simms explained.
"So you start looking like an outfit that's proportional representation where leadership decides who sits in the House. When in fact, the citizens decide who sits in the House."
It's an "unfortunate" scenario, he said.
'R
ight on target, but just wide of the mark'
On the controversial Canada Summer Jobs attestation, which requires groups to check off a box to confirm if their mandate is "consistent" with human and Charter rights, Simms maintained his problem was with the wording and not the issue itself.
The attestation was announced last year after the government learned that federal funding issued under the program was being used by the anti-abortion group, Canadian Centre for Bio-Ethical Reform, to produce campaigns with graphic images of fetuses.
Employment Minister Patty Hajdu pointed to the Calgary-based group specifically as an example to explain the reasoning behind the change.
Watch: Liberal Gov't May Review Language Of Summer Jobs Program Attestation
Simms said what the group did with its federal funding, meant to hire students for the summer, was "loathsome" and went beyond the scope of what the money is supposed to be used for.
The minister was "right on target, but just wide of the mark" Simms said. He explained that more attention should have been focused on the group's anti-abortion campaign and not on reigniting the divisive issue of abortion itself.
"She chose the wrong target," Simms said.
The Tories have used the attestation to wield the message that the government's values are out of lockstep with communities with Conservative values, non-profits, and church groups.
The issue has also divided Canadians.
She chose the wrong target.Liberal MP Scott Simms
Breaking down the results to party affiliation, a majority of Conservative voters polled (68 per cent) said they agreed the attestation is unfair and is a government overreach. While 59 per cent of Liberals and 56 per cent of NDP voters called the funding requirement fair.
Simms announced on Tuesday that 720 positions have been approved for Canada Summer Jobs funding in his riding of Coast of Bays-Central-Notre Dame.
Atlantic Canada is a region where the Liberals hold every federal seat.