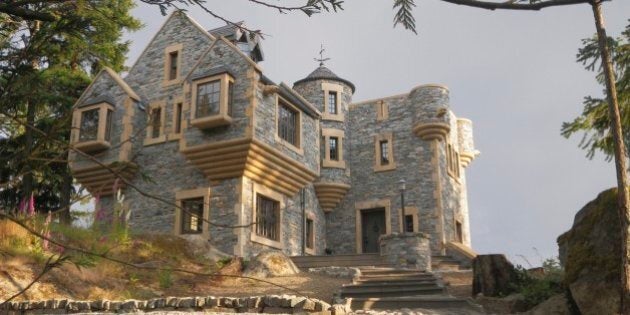 A home inspired by the stone tower houses of Scotland that took three years to build is finally completed on B.C.'s Salt Spring Island.
This past winter marks the first one that the owners spent in the home, which sits on 160 acres atop Mount Tuam, one of the tallest locations in Salt Spring. It boasts breathtaking views over the Southern Gulf Islands to the San Juan Islands and Mount Baker.
George Grams of Inveresk Design Build was commissioned by a retired computer chip designer and his wife to design and build the house.
"I guess [my client's] a romantic at heart," Grams told The Huffington Post B.C. "Nobody builds a Scottish tower house who isn't a romantic."
The lower level, which is made of ledgestone and yellow sandstone, has a dining room kitchen with a fireplace. The upper level has a library with a mezzanine office above. The home also has two staircases — one straight and one spiral — both of which were built in stone. The spiral one is accessed via a yett (an ancient Scottish security gate).
Story continues below slideshow: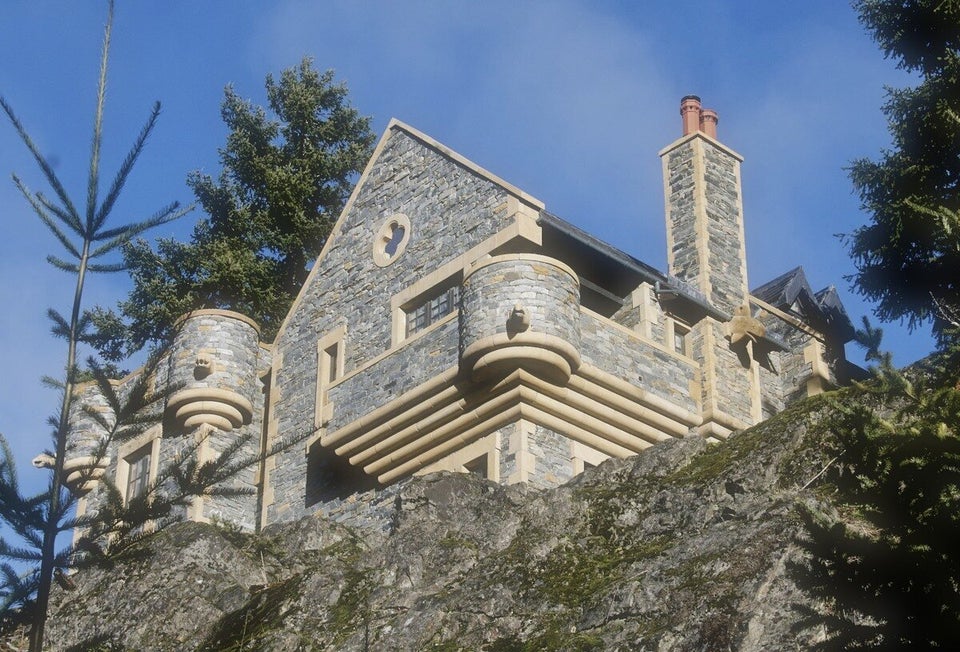 Scottish-Inspired Home On B.C. Island
To add to the whimsy, a miniature ride-on railway train is being built to connect the house to the property's quarry and pond. It could be finished as early as this summer.
"I think anyone who wants buildings like that and plays with miniature railways has a little bit of a boy in him, too," said Grams.
Another unique feature are eight gargoyles around the perimeter that were carved into First Nations animals. Grams said the West Coast flavour was "appropriately characterful for this part of the world." But they're more than aesthetic.
"Gargoyles are a conventional architectural device used in many of these old buildings and they're an easy way to discharge the rain water without using rain water conductors; these old buildings didn't have rain water conductors," Grams said.
Grams would not disclose how the project cost, only saying that it was "well into seven figures."
Though Grams has a 37-year career in architecture and building construction, he cannot use the title "architect" in B.C. because he has not registered with the Architectural Institute of British Columbia. Originally from the United Kingdom where he worked as a chartered architect and ran his own company, Grams semi retired to Canada in 2005.
Though projects like the stone tower house are keeping him busy.
Like this article? Follow our Facebook page

Or follow us on Twitter
Popular in the Community