A stunning picture of a rare sea wolf taken in B.C. has been dubbed one of National Geographic's favourites of 2015.
Ian McAllister, executive director of Pacific Wild, snapped the photo last spring while studying spawning herring near Bella Bella.
"The wolves are well-tuned and emerge out of rainforest to feast on the eggs in the springtime," McAllister told The Huffington Post B.C. on Tuesday.
The photographer watched the animals from the boat for a while, before donning a dry suit and grabbing his underwater camera to get a closer look.
McAllister made his way over, and the wolves came up to say hello.
The resulting photo is stunning: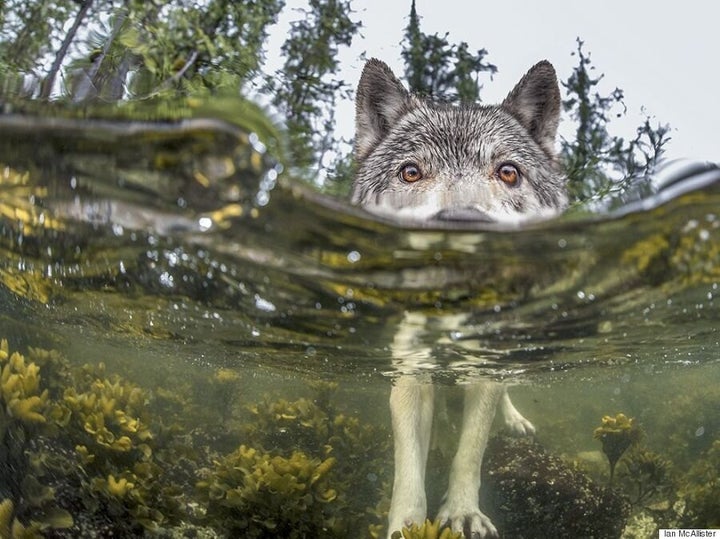 "They just came over and inspected. There's not much you can do but face it, and hope everything is going to be OK."
McAllister said coastal sea wolves are a "generally unique" species, because they live largely off the ocean by hunting seals, salmon, sea lions, and other marine-based prey.
They're smaller than other wolves commonly found throughout the rest of the province, and are "quite rare."
McAllister added that the animals aren't protected.
"The sea wolves are facing a lot of the same threats as the wolves in the interior," he said. "In the interior, there are government-sponsored wolf culls, and on the coast, it's more trophy hunting and indiscriminate killing that hurts them."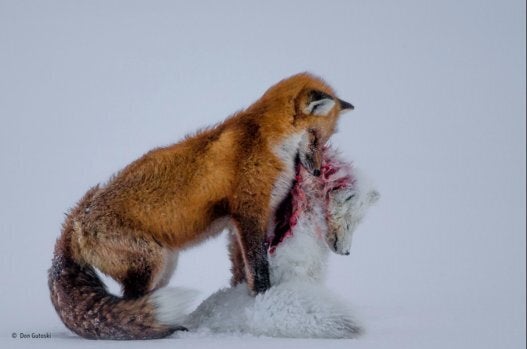 Natureza: Wildlife Photographer of the Year 2015
Popular in the Community