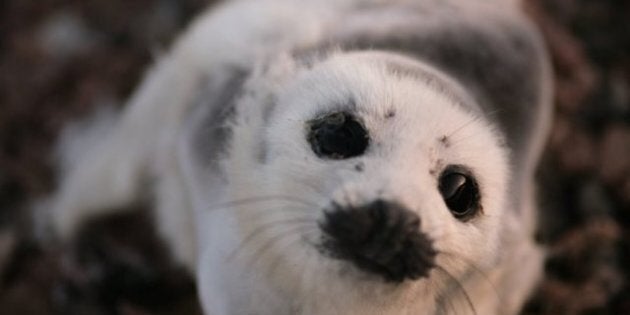 OTTAWA — While MPs prepare to pose Thursday for photographs with seal fur pins on their lapels in support of the sealing industry, one Liberal senator is urging them to take a pass.
"The Conservative government is holding yet another photo op instead of being upfront about the end of the commercial seal hunt," Senator Mac Harb told colleagues and reporters in a press release Wednesday.
"The government must tell sealers the truth. The market is dead."
Harb said the federal government is ignoring Canadian opposition to the commercial hunt and turning a deaf ear to the international community's boycott of seal products. Instead of working towards some sort of compensation scheme for hunters, the Tories are only offering "hollow promises of non-existent seal trade agreements with China, a doomed challenge of the European Union ban at the WTO, and another photo op on Parliament Hill."
Four Conservative ministers have asked their colleagues to support their northern and coastal communities by wearing a seal fur pin Thursday.
"Sealing is an important economic and cultural driver in Canada's eastern, arctic and northern communities. It is a long-standing and integral part of Canada's rural culture and a way of life for thousands of Canadians," ministers Keith Ashfeild, Leona Aglukkaq, Steven Blaney and Peter Penashue wrote in a joint news release.
Harb scoffs at the idea that the commercial hunt provides an economic boost to the region.
"I don't know why they are spending all this money making it look like this is a huge industry. What ever happened to high tech? Natural resources? Cars? And oil? This is an industry that is dead. Not dying. Clinically dead."
When it comes to the seal hunt, Harb is the lone dissenting voice on Parliament Hill. His own party public disagrees with him.
Privately, however, Harb told The Huffington Post, parliamentarians from the NDP, the Conservatives and the Liberals have urged him to continue fighting the seal hunt.
"A lot of my colleagues tell me 'Good for you,' 'Don't give up,' 'We are getting thousands of emails and letters from constituents and we tell them that Senator Harb is fighting for you,'" Harb said. "I tell them, I also need you to speak out."
"I have knowledge of people from all the three political parties who are muzzled and they just don't have the political courage because they feel that the political party will go after them, the whip will go after them. But this is so important, this is our political pride," Harb said, adding he is completely embarrassed that the seal hunt has stained Canada's reputation internationally.
Every time the hunt begins, Canadian embassies in Berlin, London and Paris get eggs and red paint thrown at them, he noted.
Harb, who describes himself as a non-vegetarian who wears leather, believes the East Coast commercial seal hunt is completely unviable and the federal government needs to engage in an honest conversation with sealers.
But instead, Harb said, the government is engaged in "propaganda," spending millions fighting the EU's seal ban at the WTO all for a handful of seats in Newfoundland and Labrador and Quebec's Iles de la Madeleine.
"They need to tell sealers, just like the whale hunt came to an end years ago, this is coming to an end, case close," Harb said.
In December, the federal government confirmed that the world's largest buyer of Canadian seal products — the Russian Federation — had banned importing harp seal pelts.
The European Union banned importing seal products in 2010, and the federal government has failed to deliver on a promise to open the Chinese market to Canadian seal meat.
-with files from the Canadian Press