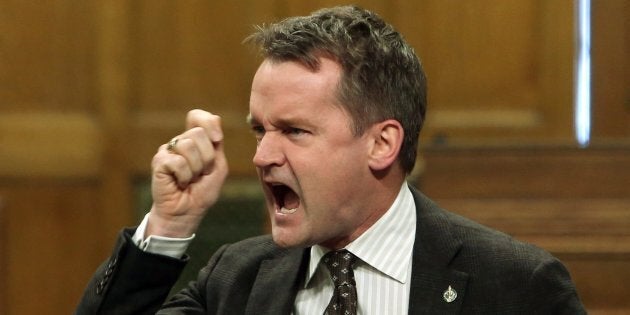 The treatment of Canada's disabled veterans is again sparking heated exchanges in the House of Commons — only now it is opposition Conservatives accusing governing Liberals of having lied to ex-soldiers.
Veterans Affairs Minister Seamus O'Regan faced a grilling in question period Friday morning over some frank comments Prime Minister Justin Trudeau made the night before.
At a town hall in Edmonton Thursday, Trudeau was asked by a former corporal, who lost a leg to a roadside bomb in Afghanistan, why his government is fighting vets in court. In a response that elicited some jeers, Trudeau said that some veterans groups are "asking for more than we are able to give right now."
Earlier this week, a group of six disabled vets said they want to take a longstanding legal battle with the federal government to the Supreme Court. The group seeks a return to the kind of lifetime pensions for disabled vets that existed before 2006, when they were replaced by lump-sum payments and other services.
Liberals promised in the 2015 election to re-establish lifelong pensions as "an option" for injured vets. They say they are accomplishing that with changes unveiled in late December that include a monthly, tax-free payment for pain and suffering that maxes out at $1,150 and a new benefit for those with severe disabilities. The most severely disabled veterans will be paid a maximum of $2,650 a month.
Members of the veterans community say, however, that the changes are less generous than what existed before 2006. A veteran involved in the so-called Equitas lawsuit against the government called the Liberal plan "nothing more than a shell game."
'Did the prime minister of Canada knowingly lie to veterans?'
Conservative MP Erin O'Toole, a former veterans affairs minister, charged in question period Friday that Trudeau is blaming veterans for his own broken promise. The prime minister should just admit he lied to win their votes or didn't "cost, understand or care" about his pledges, he said.
O'Regan read from prepared remarks that the government has "delivered the goods" on a lifelong pension option, as promised.
"Now we know why veterans call the new minister the bad news reader," O'Toole said, a shot at O'Regan's previous career in TV journalism.
O'Toole suggested Trudeau knew all along that a return to the old pension system was never going to happen.
"Did the prime minister of Canada knowingly lie to veterans and Canadians or did he not care that he was making promises he couldn't keep?" O'Toole bellowed.
You would think that some foreign body or some alien species had been in government for 10 years.Seamus O'Regan
It was all too rich for O'Regan, evidently, who accused the Tories of suffering from amnesia.
"You would think that some foreign body or some alien species had been in government for 10 years," he said, highlighting how the previous government shuttered nine regional Veterans Affairs offices that Liberals have since reopened.
"We have delivered, finally, on a pension for life," O'Regan said.
John Brassard, the Tories' veterans affairs critic, then criticized Trudeau for suggesting vets were asking for too much when he "has no problem with billions in deficits, billions to the United Nations, billions more for his pet projects and handing $10-million to Omar Khadr."
O'Regan shot back that he wished he could only accuse his foes of "inaction" on the file.
"But I couldn't do that. Not when they cut budgets for veterans, not when they closed offices time and time again and not when they ignored the voices of veterans," he said.
O'Regan said Liberals have invested $10-billion in new money for veterans since coming to power.
After question period, O'Regan was asked by reporters if he thinks veterans groups are asking for too much. The minister said he did not feel that way and again trumpeted the spending Liberals have made to improve benefits for veterans.
With files from The Canadian Press
Popular in the Community