Standing in the sun in front of Rideau Hall Monday, Canada's new veterans affairs minister couldn't help but reflect on the demons he beat back not so long ago.
Seamus O'Regan admitted it all felt pretty sweet.
"To have this opportunity now, I relish it," the Newfoundland MP told reporters shortly after he was sworn in.
'I have never been this happy'
Mere months after his 2015 election in the riding of St. John's South-Mount Pearl, the rookie Liberal MP checked himself into a wellness program to tackle alcoholism. The former journalist and host of CTV's "Canada AM" announced in January 2016 that alcohol had become a daily part of his life and was keeping him from being his best self.
Now, O'Regan is his province's sole representative at the cabinet table. He replaces veteran Judy Foote, who stepped down this week.
O'Regan told reporters Monday he was grateful for the confidence Prime Minister Justin Trudeau has shown in him. He was gracious towards the constituents who stood by him after he returned from rehab.
"I'm very happy. I have never been this happy," he said. "I've just never been better in my life."
O'Regan said his family had been through a lot on his road to recovery. In his remarks, he made several references to the influence of his brother Danny, a senior naval officer who shared a photo of the pair on Twitter Monday.
He offered little when asked how he'd respond to critics who think he got the job because of his close personal relationship with Trudeau.
"I'm just thankful for the opportunity," he said.
Trudeau told reporters that it's true that O'Regan is a friend.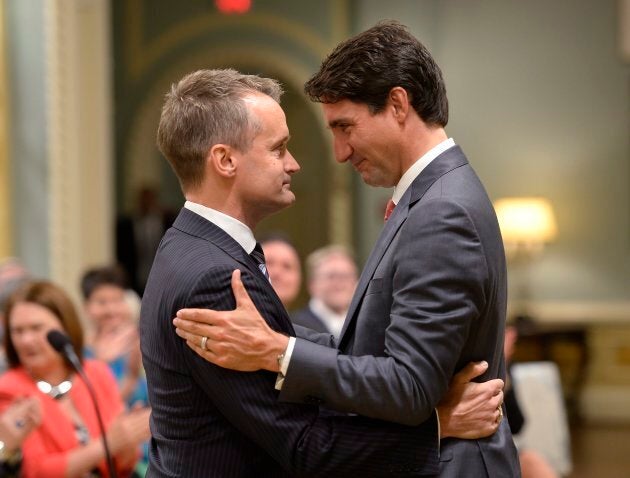 "But he's also someone who has been there to deliver for Newfoundland and Labrador, who's shown his skills and abilities," the prime minister said. "He's certainly going to be an exceptional minister."
When invited to share a timeline on the Liberal promise to restore lifelong pensions for veterans, O'Regan said he still needed to be briefed on the file.
Former Conservative veterans affairs minister Erin O'Toole offered congratulations in a tweet — but noted he preferred someone with "experience in uniform." O'Regan later responded he would look to the Tory MP to hold him accountable.
O'Regan suggested to reporters that the pressures of his new job will help him stay sober.
"The stresses and strains of purposeful work is something that I find completely invigorating," he said. "And it keeps me very healthy."
With files from The Canadian Press