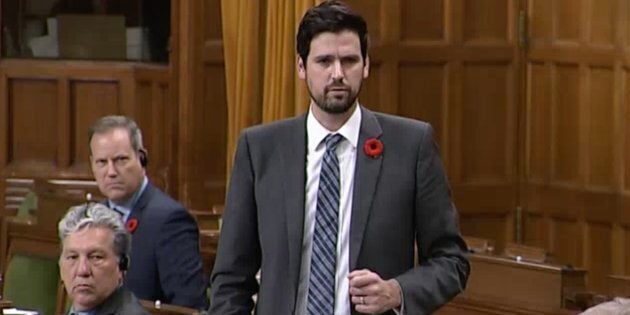 OTTAWA — A Liberal MP called climate change an "existential challenge" in question period Friday after the government was pressed by the NDP to escalate its "grossly inadequate" plan to address global warming.
NDP MP Murray Rankin said that increased heat retention in the world's oceans and reports of a massive iceberg, five times the size of Manhattan, that recently snapped off an Antarctica glacier have raised the stakes.
"The Liberals do not seem to get the urgency of climate change. They think following Harper's targets is just fine," the B.C. MP said in reference to the Liberals' decision not to increase emission reduction targets beyond what the previous Conservative government set.
Watch: Liberal MP calls climate change 'existential crisis'
Sean Fraser, parliamentary secretary to the minister of the environment and climate change, acknowledged manmade global warming as "a great challenge of our time." He lauded Environment and Climate Change Minister Catherine McKenna for her work with the Paris Agreement.
Canada's role at the Paris climate talks "set forth a plan that is going to allow us to make a meaningful difference to reduce our emissions," he said. "We know that after this plan is implemented, we may have to do more after that. I look forward to working with members from all parties to continue to fight this existential challenge."
The statement didn't jibe with some members across the aisle.
We are running out of time.Green Party Leader Elizabeth May
NDP MP Sheila Malcolmson chided the Liberals for calling climate change an "existential" issue. Green Party Leader Elizabeth May later stood to emphasize that the situation "is not a joke."
"We know that some countries have done a huge amount, but collectively we are off course. We are headed for the risk of global extinction," she said. "We are running out of time. We have one chance, and one chance only."
NDP MPs have regularly used the federal government's $4.5-billion purchase of the Trans Mountain pipeline to challenge its commitment to combating climate change. The Liberals have repeatedly defended the decision, saying "the environment and the economy go hand-in-hand."
The topic of climate change has recently dominated House debate since the federal government announced details of its carbon pricing system last week. Liberals assert they're being proactive in implementing measures to reduce pollution; and Conservatives argue the carbon tax unfairly penalizes middle class people, calling promised government rebates an "election gimmick."
A dire United Nations report last month warned countries have 12 years to mitigate their greenhouse gas emissions if they want to limit temperature levels to 1.5ºC above pre-industrial age limits. The report prompted MPs to hold an emergency debate to address concerns about runaway temperature increases.
The next round of United Nations climate change talks will take in Katowice, Poland in December.