U.S. President Donald Trump's press secretary appeared to call Canada's prime minister "Joe Trudeau" on Tuesday.
Sean Spicer was speaking at his daily press briefing, where he summarized the official visit between Trump and Justin Trudeau on Monday as "productive."
"Yesterday the president ... had an incredibly productive set of meetings and discussions with Prime Minster Joe Trudeau of Canada," he said, "focusing on our shared commitment to close co-operation in addressing both the challenges facing our two countries and the problems throughout the world."
Some users on Twitter argued Spicer had merely stumbled on pronouncing "Justin," and obviously knew the prime minister's actual name.
It was too late, however. The apparent flub was a swift spark to the Twitter joke machine:
Even some federal politicians joined the fun. Conservative leadership contender Lisa Raitt said this was the "best Valentine gift ever!"
This isn't Spicer's first tango with mistaken names. Earlier this month, he appeared to call Australia's prime minister Malcom "Trumble" — more than once.
And as the Toronto Star points out, Trump's press team got UK Prime Minister Theresa May's name wrong, calling her "Teresa" in a press release.
Spicer's trouble with apparently tongue-tying names has been parodied on "Saturday Night Live" by Melissa McCarthy, who has also poked fun at his, uh, interesting gum habit.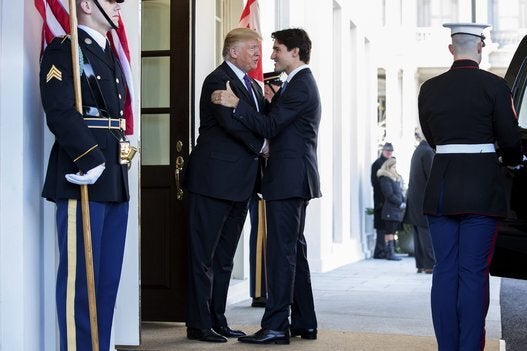 When Trudeau Met Trump
Popular in the Community