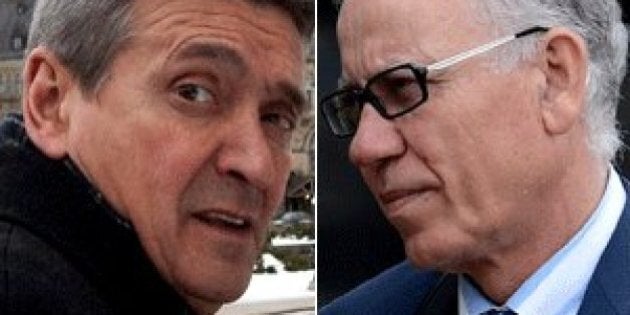 A loophole in Senate rules means Canadian taxpayers can still be on the hook for a disgraced senator's pension, even if he or she is sitting behind bars.
Gloria Galloway of The Globe and Mail shone some light Wednesday on an aspect of lucrative government pensions that many Canadians, particularly those fed up with the controversial upper chamber, may find infuriating.
Galloway pointed out that senators convicted of an indictable offence can miss out on pensions when they are booted from the upper chamber, but if they resign in advance — as embattled former Liberal Sen. Mac Harb did this week — they can still keep the benefits they accrued.
"The loophole in the rules for the Senate has allowed former Liberal senator Raymond Lavigne to collect an estimated $79,000 annually even as he sits in a cell at the Ottawa-Carleton detention centre serving six months for fraud and breach of trust,"
Galloway wrote. "Mr. Lavigne quit the Senate immediately after he was convicted in 2011, avoiding the eviction from the Red Chamber that would have cost him his government-funded retirement plan."
Harb announced Monday he is resigning from the Senate after sending the upper chamber a cheque for $189,166.17, bringing his total reimbursement to $231,659.07, or the entirety of his living-related expenses.
"I have been contemplating retirement for some time as I personally never considered the Senate to be a lifetime position," Harb said in a statement, adding the dispute over his living expenses made work unrealistic.
"Harb could no longer realistically count on keeping his generous pension if he was charged and convicted of any wrongdoing related to the Senate expense scandal," Lilley wrote. "So he quit and that means even if he is found guilty in a court of law his pension is safe."
Harb served as a Liberal MP for 15 years until he was appointed to the Senate in 2003 by former prime minister Jean Chrétien.
The idea of senators collecting a pension behind bars — as in the case of Lavigne — has motivated at least one Tory backbencher to take action.
"I remember the irritation that an awful lot of Canadian taxpayers felt over his fleecing the system," he said.
Lavigne was denied early parole Friday by an Ontario Parole Board panel that found he expressed little remorse for his crimes and should be held to a higher standard.
As a senator, Lavigne gave his staff $50 to drive him to and from Montreal but pocketed $217 from the Senate for each trip.
With files from The Canadian Press
Popular in the Community