OTTAWA — The Liberal government needs to provide Syrian refugees with more resources so they can have a better chance of integrating successfully into Canada, a new Senate report says.
The Senate's standing committee on human rights heard from several witnesses, including refugees themselves, during hearings in Montreal, Toronto and Ottawa, this spring. It was so moved by the testimony it heard that it issued an interim report Monday to spur the government into action.
"It was like being hit with a sledgehammer of emotion," committee chair, Senate Liberal Jim Munson told The Huffington Post Canada. "We want the government to see and feel what we heard."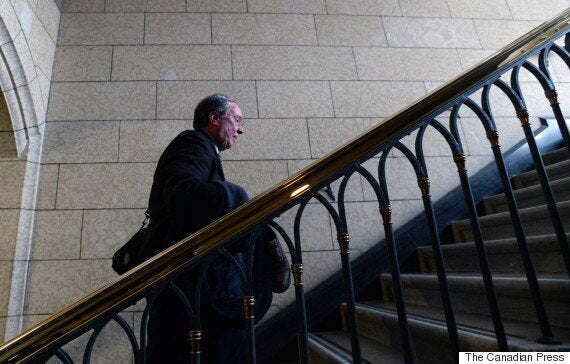 Sen. Jim Munson makes his way from a Liberal meeting on Parliament Hill in Ottawa on Wed., January 29, 2014. (Photo: The Canadian Press)
"Canada has welcomed thousands of Syrian refugees with fine words and open arms," he said in a statement released with the committee's six recommendations. "These alone are not sufficient to address the very real and very urgent problems that lie ahead."
Conservative senator and deputy chair Salma Ataullahjan said she was so troubled by what she heard she had difficulty sleeping at night.
She was particularly touched by the braveness of a 30-year-old single mother of four who recounted being sexually harassed every day in Lebanon when she walked outside with her daughter. "In traditional societies women never talk about sexual harassment," said Ataullahjan, who is originally from Pakistan and identified with the woman. "She was very frank and didn't even mind being identified."
A number of the refugees who spoke to the committee asked to remain anonymous, fearing their families in Syria might face reprimands.
Urgent call for mental health resources
An in-camera session in Toronto was one of the "most gut-wrenching emotional hours" Munson said he'd ever experienced, where refugees talked about what they went through, what they witnessed, and how they are coping.
"You don't see that type of emotion. They really expressed themselves so much that we had to stop for a second so everybody could gather themselves."
Their testimony led the committee to recommend to the government that it work with the provinces and territories to develop a plan to address refugees' mental health needs.
Munson recounted hearing a boy who hid his toys under his bed fearing soldiers would come take them away. And of a woman who forgot her child had a dentist appointment and thought they had been kidnapped when she returned to school and couldn't find them.
Post-traumatic stress disorder should be one of the government's top priorities, Munson said.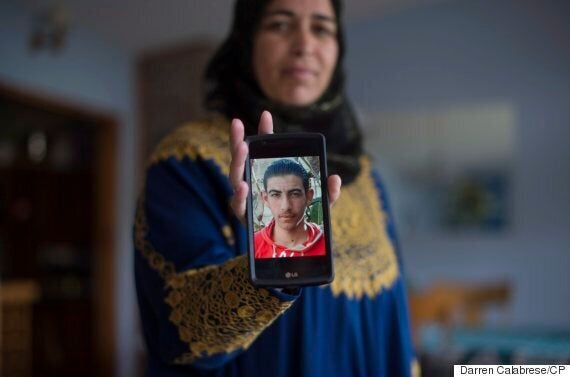 Syrian refugee Wafaa Al Safadi holds a photo of her late son Yasser Al Salayma in her family's new home in Queensland, N.S. on Friday, June 24, 2016. (Photo: Darren Calabrese/CP)
The new refugees are isolated because of language, they are homesick and miss their sisters or fathers, and live in cramped apartments in the city, he said. "They kept saying: 'We don't want to be a burden on Canadian society," Munson said. "[But they] are living in two worlds, and that type of quiet suffering is something that we Canadians don't see, and I think that has to be addressed."
One woman, who testified anonymously, said her 11 and 10-year-old daughters had seen their father slaughtered in front of them and had later spent months in a detention centre where they were "subjected to the kind of torture that even adult men would not be able to stand."
Dr. Meb Rashid, the medical director of refugee-focused Crossroads Clinic, told the committee refugees needed to connect with people who could follow up with them continuously and build a relationship of trust that is crucial to their mental well-being.
But what really helps refugees, Rashid added, is getting a job or being reunited with their families."
"Those issues really intersect, fundamentally, with people's mental health," he said.
"They kept saying: 'We don't want to be a burden on Canadian society. [But they] are living in two worlds, and that type of quiet suffering is something that we Canadians don't see, and I think that has to be addressed."
The committee also recommended that more money be allocated for language-training programs so refugees could make use of programs immediately upon their arrival — and suggested childcare be provided so parents could attend class.
"Some refugees were from such small villages that they weren't even literate, they weren't even able to write or read Arabic also," Ataullahjan said, stressing the monumental learning curve some newcomers face.
The government, she said, must fund language classes because it is the easiest and first step for refugees to integrate in society.
The committee also stressed the importance of adequate youth programming. Young people face unique challenges adapting, the senators were told.
"The youth group is the group that has the greatest difficulty, usually, in integrating because they are at a time in their life when their identity is developing and evolving," Mario Calla, executive director of COSTI Immigrant Services in Toronto, testified.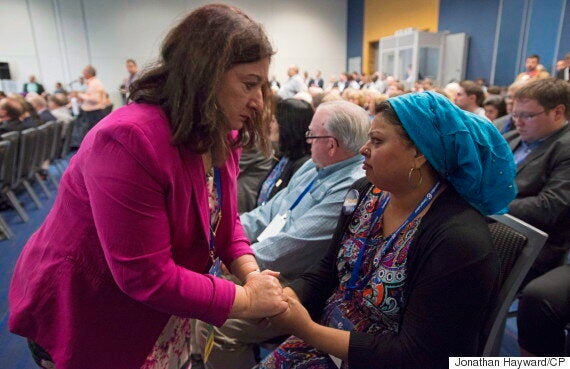 Sen. Salma Ataullahjan comforts a delegate during a policy meeting at the Conservative Party of Canada convention in Vancouver, Friday, May 27, 2016. (Photo: Jonathan Hayward/CP)
Many of the committee's recommendations, however, dealt with the financial stresses and hardships that refugees often face.
The committee urged the acceleration of processing time for child tax benefits so refugees aren't waiting three months to receive benefits.
"Because it takes so long to receive benefits, some of them end up in food banks," Munson told HuffPost. This doesn't just affect refugees but all Canadians, he added, saying shorter processing times of two weeks or one month would be a lot better.
"The last place Syrian refugees want to end up is at a food bank and the first place you want them is walking into a grocery store like any other Canadians."
Loans a 'source of acute anxiety'
The committee suggested grants could replace one-year loans for transportation and other expenses or, alternatively, the government could introduce a debt-forgiveness mechanism or interest-free loans.
Loans are an "economic burden and a source of acute anxiety" for refugees, senators said.
One refugee in Montreal, who arrived in Canada before the Liberals funded airfare costs for the 25,000-plus newcomers that arrived this winter, waved a bill from the government for about $900 during a hearing. That was the cost of his plane ticket that needed to be repaid in two days, Munson recounted. "He doesn't have the money and… he thought this must be done right now, he didn't seem to have any avenues to go to have it explained to him that perhaps he could be deferred for a little while longer," the senator said.
The federal government should revisit airfare costs and other expenses and see if, on compassionate grounds, they could be eliminated, Munson added.
But conscious of the fact more refugee benefits might mean fewer refugees arriving in Canada, Munson told HuffPost, the committee was only proposing options to the government, not dictating what it should do.
'Echoing the voices of the voiceless'
"We are echoing the voices of the voiceless, so to speak," he said.
"As a committee, we are looking at this as a long-term investment," he said. Whatever the government can do to ease the transition and nurture new Canadians is a worthwhile investment in the future of the country, he added.
The committee also recommended eliminating different treatments for separate categories of refugees, from processing times for applications to services provided and loan repayment obligations. Syrian refugees who arrived at different times or through different programs, and non-Syrian refugees should be treated equally, the committee said.
One thing the committee found was that privately-sponsored Syrian refugees were faring a bit better and had a better support system than government-sponsored refugees, Ataullahjan said. "This is one of the things we will be exploring in the full report, are we creating a two-tiered refugee system?"
On the flip side, she added, the committee also heard from privately-sponsored refugees that they are also being "mothered a little bit too much."
"There are no easy answers," she said.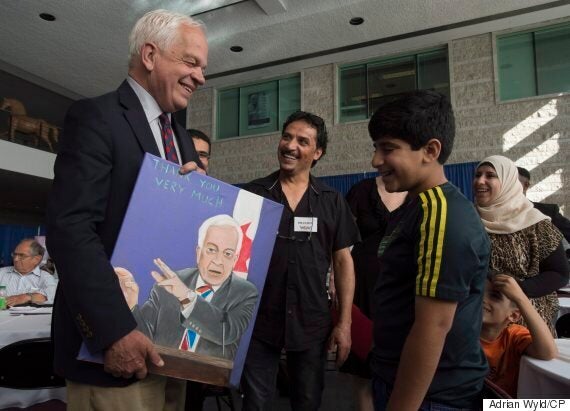 Immigration Minister John McCallum holds a painting Hamza Ali, 13, presented him with as his father Mohammad Ali looks on at an event in Ottawa, Monday June 20, 2016. (Photo: Adrian Wyld/CP)
But both Ataullahjan and Munson stressed the importance of releasing their committee's observations quickly.
Some issues, such as the lack of affordable housing — Ataullahjan described how one family testified they were receiving $1,400 monthly from the government but paying $1,200 in rent — would be part of the committee's full report later this fall.
"It's crazy," she said. "We are very happy we brought these people and the government has done a good job bringing them over but there are so many issues and so many problems and a lot of them don't have the language skills."
If the committee had issued all of its recommendations, she said, "people would just drown looking at them."
Munson said he hoped the human rights committee could be more relevant by issuing reports in "real time" and not just do "long-term learned sober-of-second thought" reports.
McCallum looking forward to full report
Immigration, Refugees and Citizenship Minister John McCallum's office, however, said he looked forward to receiving the Senate committee's full report in the fall and reviewing their recommendations.
"He is aware of the work that they are doing and the valuable input they'll be providing to assist with the resettlement and integration of the Syrian refugees. He is also well aware of the concerns regarding travel loans and extra funding, and had already tasked his department on finding viable options, which is currently underway," said McCallum's spokeswoman Camielle Edwards.
The Liberal government said it is already working to expedite the delivery of child tax benefits and noted that, in the March budget, it had set aside $245 million over five years to process refugee applications, transport them to Canada, and help resettle an additional 10,000 Syrians.
Since Nov. 4, 2015, 28,449 Syrian refugees have arrived in Canada, including 15,768 government-assisted refugees, 10,073 privately-sponsored refugees, and 2,608 blended visa-office referred refugees, the Senate committee said. More than 300 communities across Canada have welcomed the new arrivals.
The Liberal government had pledged during the election to welcome 25,000 Syrian refugees by Dec. 31, 2015. In November, however, it committed $678 million over six years to welcome 25,000 Syrians by the end of February and announced plans to resettle an additional 10,000 by the end of 2016.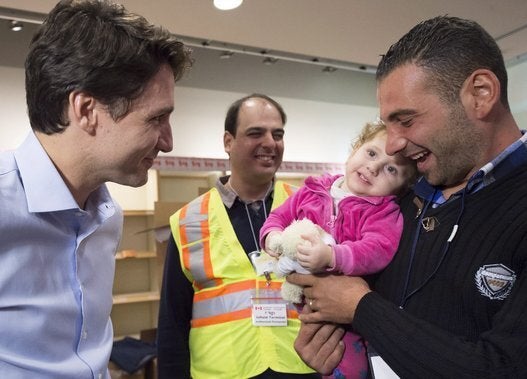 Trudeau Greets Syrian Refugees